U.S. stocks struggled in early action but could find some sector-specific relief as Facebook (NASDAQ:FB) and other select stocks find traction following earnings. A report showing a 5.1% December slide for durable goods orders added to downside pressure on Wall Street.
The tech-heavy NASDAQ Composite (COMP) was holding up better than its broader index counterparts (figure 1), however, as FB cleared $1 billion in quarterly net income late last year for the first time in its history. Microsoft (NASDAQ:MSFT) and Amazon.com (NASDAQ:AMZN) are due with their results post-close and any upside momentum there could trickle down through the tech ranks-of course the opposite is true, too.
Stocks chopped in two-sided trading on Wednesday before succumbing to sharp late losses after the Federal Reserve's statement revealed its concern for the pace of economic growth. At the same time, the panel did not fully back off a pro-rate hike stance.
Oil and stocks remain essentially attached at the hip. And on Thursday, crude prices twisted in and out of positive territory as investors balanced oversupply concerns with speculation that select large producers may be closer to a collective cut. New York-traded futures were near $32.50 a barrel, with London-traded Brent up some 1% to $33.51 a barrel.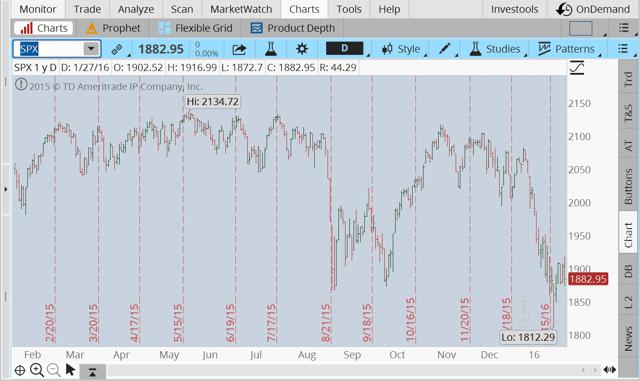 Figure 1: Back-and-Forth Action. The S&P 500 (SPX), plotted here on TD Ameritrade's thinkorswim platform, traded to its highest intraday level in some two weeks earlier in Wednesday's session. But a late-day retreat left it in the red. Data source: Standard & Poor's. For illustrative purposes only. Past performance does not guarantee future results.
Fed Dilemma. The Fed held off on any action on interest rates Wednesday, as was expected, in a 10-0 vote. "Inflation is expected to remain low in the near term," the Fed said in new, more cautious language. The central bank also hinted at stock market turmoil in the U.S. and China, saying it "is closely monitoring global economic and financial developments." It wasn't all gloom. The Fed said it expects the U.S. economy to continue to grow "at a moderate pace," helped by a strengthening labor market.
Facebook Earnings "Liked"; eBay Struggles. Facebook said Q4 revenue rose 52%, to $5.84 billion, up from $3.85 billion in the same period a year earlier, as the social network drummed up more interest from advertisers. Costs, meanwhile, rose 21%, the company said. FB reported net income excluding some expenses, of $0.79 per share. That topped the year-ago comparable and was higher than the $0.68 per share projected by Wall Street analysts. eBay (NASDAQ:EBAY) shares declined after it reported a fourth straight quarter of declining year-over-year sales.
Oil: Change in Position? Oil prices rose in overnight action but could remain volatile. The short-term gain followed news that Russia and Saudi Arabia may consider discussing a cut in current output, the financial media reports. However, a Kremlin spokesman later said Russian oil officials hold frequent talks with their foreign counterparts, but it was too early to talk about any coordinated actions, MarketWatch says, citing Russian state news agencies.
TD Ameritrade, Inc., member FINRA/SIPC. TD Ameritrade is a trademark jointly owned by TD Ameritrade IP Company, Inc. and The Toronto-Dominion Bank. Commentary provided for educational purposes only. Past performance is no guarantee of future results or investment success.
Disclosure: I am/we are long MSFT.
I wrote this article myself, and it expresses my own opinions. I am not receiving compensation for it. I have no business relationship with any company whose stock is mentioned in this article.