Most of the volume in Destination Maternity (NASDAQ:DEST) on Wednesday was short selling in dark pools.
Whenever this happens in a stock that you own - or are considering owning - we think it's worth reconsidering your position, or at least taking a closer look at what might be going on.
Here's what things look like on a sqzme.co chart. The last bar on the right is Wednesday. The red portion of the daily volume bars is the proportion of short selling.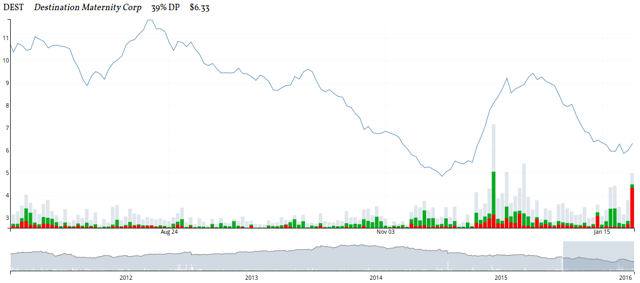 Click to enlarge
That's a whopping 329,545 shares shorted in the dark pools in a single day, over 16x normal, and over 73% of the total day's volume.
What's going on, then?
Well, a lot has happened in the last two months. On December 3rd, the company reported lackluster earnings and guidance, but from the looks of it, some upward momentum developed anyway, sending the price from $5.62 to around $10 just a few weeks later.
Was the price increase warranted? We'd say not at all. However, things got more interesting when an unsolicited buyout offer materialized. Shares continued climbing.
The momentum finally broke as DEST rejected its suitor for what was a primarily stock-based buyout (and an illiquid stock, at that). The price returned to under $6 just as quickly as it had climbed.
Return to Go! Collect nothing.
If you return to the chart we included above, you might notice that dark pool traders were using the upward price momentum - all the way up - as an opportunity to assemble a favorable short position in DEST.
Clearly, they were right to do so, but what about this Wednesday's short?
From the looks of it, we would say it's equally well-informed. If the price-action since early December has all been misguided, then it makes sense that shares should return to around $5.50, and probably even continue their downward momentum (which is what they should have done after that earnings report).
What else does this short sale say?
At a frothy dividend yield of 12.64%, shorting DEST will come at a cost of paying that substantial dividend to the lenders; and at a short float of over 8%, the borrowing costs are likely elevated, too.
The substantial costs of shorting DEST right now make short selling that much riskier, and make it look like the short sellers have that much more conviction about their negative thesis.
In addition, from the looks of it, the short thesis has been steadily gaining momentum since early 2015. Take a look at this chart of short interest (as % of the float) and you'll see what we mean.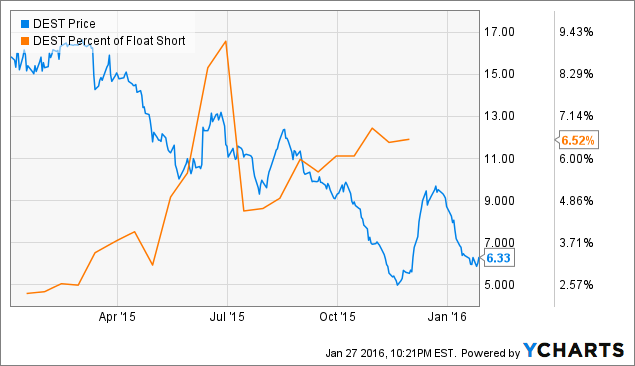 DEST data by YCharts
What next?
The debt position looks reasonable, so the ship probably isn't going down very quickly, but it doesn't look like anyone's fixing the leaks, either.
As a result, I wouldn't feel too safe about that dividend, nor too phlegmatic about near-term growth prospects. So we hope you'll take this into consideration whatever your position on DEST.
---
We think that dark pool short sales offer a unique window into the market sentiment of well-informed investors, but everyone can be wrong. And so can market regulators (in case you didn't know), who make the quoted dark pool data available through FINRA's TRFs.
Are we giving you more questions than answers? Read this, or email us at info@sqzme.co.
Matt
Disclosure: I/we have no positions in any stocks mentioned, and no plans to initiate any positions within the next 72 hours.
I wrote this article myself, and it expresses my own opinions. I am not receiving compensation for it (other than from Seeking Alpha). I have no business relationship with any company whose stock is mentioned in this article.
Editor's Note: This article covers one or more stocks trading at less than $1 per share and/or with less than a $100 million market cap. Please be aware of the risks associated with these stocks.