The British pound (NYSEARCA:FXB) is having a horror run against the U.S. dollar and we firmly believe that it looks set to continue this downward trend over the next few months at least.
At the time of writing the British pound is sitting at 1.4260 having climbed off its seven-year low of 1.4080 from last week. Having fallen by 7.85 percent in the last 6 months we feel there is a strong chance of further declines to as low as 1.3000.

(Source: Trading View)
This supports the view coming out of Deutsche Bank AG which is the world's second largest FX trader and has recently reiterated its bearish view. Analysts at Deutsche are very bearish on the British pound and have called out a decline to 1.2700. This is quite a call considering that it is a level that the British pound has not seen since 1987, but highly possible.
Contrary to this HSBC Holdings PLC have a bullish view on the British pound. They now see the pound climbing up as high as 1.6000 by the end of the year. This is down to their view that rates will rise soon, and being the UK's largest lender perhaps it is wishful thinking to some degree as they will no doubt benefit from better interest margins.
There are a number of economic events on the horizon on both sides of the Atlantic that could cause large moves for the British pound. This does make trading the pair quite risky. These events range from interest rate decisions from both sides, inflation announcements, and the Brexit vote - a vote on whether Britain will remain a European Union member.
The Global Research team from Bank of America Merrill Lynch has stated that it believes there will be negative impacts to the economy and pound sterling if Britain were to vote yes to an exit from the European Union. It has been described as too close to call, and the exit is looking more and more feasible in our opinion.
We believe that the Federal Reserve are more likely to raise rates ahead of the Bank of England causing further strengthening of the U.S. dollar. We feel this view was supported when the Bank of England governor Mark Carney indicated on January 19 that a boost to U.K. rates was still some way off happening.
His words were "The year has turned, and, in my view, the decision proved straightforward: now is not yet the time to raise interest rates." Most market commentators expect the first rate rise to not occur now until January 2017 at the earliest.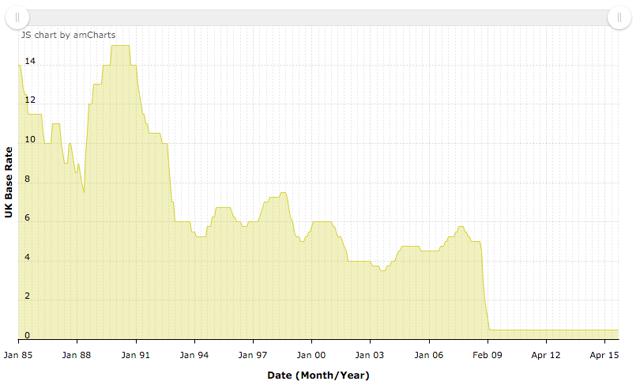 It is worth considering the implication of an earlier rate rise. With the market not expecting one to occur now until 2017, we would expect a very big move up from the British pound if it did. But, the probability of this happening is low, so we maintain our bearish stance.
Takeaway
We are extremely bearish on the British pound and bullish on the U.S. dollar. We see the British pound dropping to as low as 1.3000 in 2016 and as such are shorting it. We have a short term target of 1.3600 for the end of March 2016, after which we believe it will stabilize for a little while before plunging further. 1.3600 represents a decline of 4.62 percent, which makes it a very attractive trade in our view.
Disclosure: I am/we are short FXB.
I wrote this article myself, and it expresses my own opinions. I am not receiving compensation for it (other than from Seeking Alpha). I have no business relationship with any company whose stock is mentioned in this article.