RBC Capital Markets stated in a note that Weatherford (NYSE:WFT) has enacted more effective screening procedures and controls that should ward off future loss generating projects. We do not find that to be the case. As we stated previously, management has consistently attracted low quality projects as a means to meet sales targets without regard for strict cost measures. Given that O&G businesses have cut their capital expenditure schedules significantly and continue to do so in both international and domestic markets, we see sustained pressure on a macro level. The other reality is that stronger competitors will acquire the most attractive project opportunities for a variety of reasons. The most direct causes are that Weatherford has significantly reduced its employee headcount and has put reinvestment at a very low threshold. Why would an E&P or integrated oil company provide a job that is subject to higher lag time, potentially lesser quality, and growing counter-party risk? We are not sure. Hence desperation for "easy" contract revenue will likely persist.
Longer CCC
Despite that free cash flow was slightly positive in the second quarter, the company's ability to convert capital into services and back into cash is becoming increasingly difficult. An interesting picture is that in 2008 oil prices only briefly fell yet the company's cash conversion cycle exploded higher unlike the rest of the industry. We don't think the operating business has improved very much, if any at all. Given we are experiencing a protracted downturn, a larger upsurge in this metric is expected.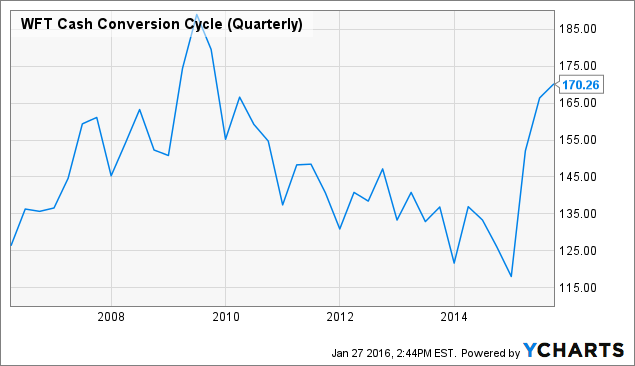 WFT Cash Conversion Cycle (Quarterly) data by YCharts
Absurd Leverage
Weatherford has been and remains one of the most leveraged firm's for its size on both an operating and financial basis. Unless oil prices rebound significantly, we have all the reason to believe downside will magnify during 2016. Based on results from the last three years, we have estimated that the firm holds much more fixed overhead than the typical oil equipment services provider. The third category refers to the degree of operating leverage that each one possesses:

These multiples were calculated by the change in earnings before interest and taxes against the change in sales revenue whilst using a constant time frame benchmark.
Liquidity Risk
Management could meet its average 200 million free cash flow target but our 2016 estimate indicates that it could fall back into negative territory. Here is our updated model:

Click to enlarge
As mentioned in a recent article, the company holds five maturities within the next five years. As it currently stands, the company will exhaust its entire cash balance after the next two principal repayments. We do not see a significant resurgence in free cash flow, thus management will more than likely be forced to seek additional cash via credit at higher interest rates or issue an equity raise. The way we see it, options are slimming and the credit market appears to be souring on any chance of repayment: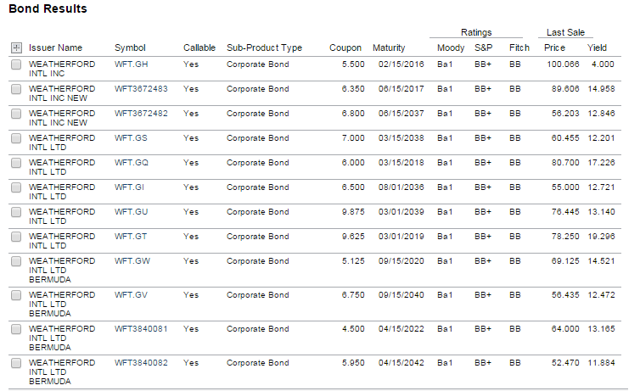 Click to enlarge
Every maturity except for the one due in two weeks is selling for mid-teen yields to maturity. These are actually considered to be higher risk than the ones offered by Petrobras (NYSE:PBR) (which has been nothing less than a shareholder catastrophe). All bonds beyond the 2020 maturity are realizing considerable liquidation, now selling at 40% below par.
Bottom Line
Despite that shares have declined nearly 50% since our initial report (now looking cheaper), macro-economic risks have intensified. If oil prices float near current levels or slide further, management's ability to drive shareholder value will be dismal at best driven by inferior project NPVs and higher costs of capital. We also think investors should not pin their hopes on the chance of a buyout. Putting it all together, we think avoiding the equity is prudent.
Disclosure: I/we have no positions in any stocks mentioned, but may initiate a short position in WFT over the next 72 hours.
I wrote this article myself, and it expresses my own opinions. I am not receiving compensation for it (other than from Seeking Alpha). I have no business relationship with any company whose stock is mentioned in this article.
Additional disclosure: Contingent oil price levels, we will sell shares short above $8.