Having two of the most influential celebrities in the world, Kendall Jenner and Justin Bieber, on board for the latest Calvin Klein campaign, we think PVH Corp. (NYSE:PVH) could be onto a winner here.

Click to enlarge
(Source: Instagram)
While the name Phillips-Van Heusen may not be familiar to many readers, the brands that make up the company will certainly be. PVH operates and markets globally a very diverse portfolio of brands that includes Calvin Klein, Tommy Hilfiger, Van Heusen, IZOD, ARROW, Speedo, Warner's and Olga.
As of the most recent annual report (FY 2014) the Tommy Hilfiger segment contributes 43% of total revenue, the Calvin Klein segment makes up approximately 35% of it, and its Heritage Brands (all other brands) make up the remaining 22% of the company's $8.2 billion revenue.

Click to enlarge
(Source: Company Annual Report)
We feel the Kendall Jenner and Justin Bieber #mycalvins campaign will be a great boost to sales for Calvin Klein and make the brand highly relevant to a younger audience. The Calvin Klein segment is the most profitable segment for PVH with an operating margin of 13%, compared to 12.5% for Tommy Hilfiger, and a lowly 5.6% for its Heritage Brands segment. An increase in revenue for the Calvin Klein segment will therefore have the most benefit to operating profit which is something we find encouraging.
As mentioned previously, these are two of the most influential young people in the world right now with an incredible following on social media. Kendall Jenner has 47.4 million followers on Instagram, and Justin Bieber, who is currently number one and number two on Billboard's Hot 100 and just two weeks ago occupied the top three places in the UK charts, has 55.5 million followers on Instagram.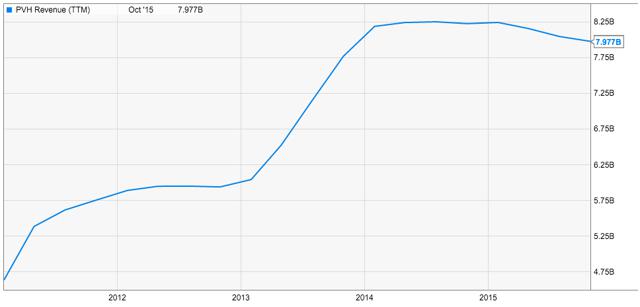 Click to enlarge
(Source: Ycharts)
Such high profile ambassadors of the brand at the peak of their fame should resonate well with the younger demographics, which we see as having long term impacts for the company, especially in the United States.
Which is exactly what it needs right now as it struggles with the strong U.S. dollar causing revenue to stall. As shown below the company has significant exposure to international markets. So much so that it has been forced to cut its guidance for the year recently and now expects its full year revenue to come in 3% lower than last year. The market certainly didn't take kindly to this news and the stock plummeted by 7.5%.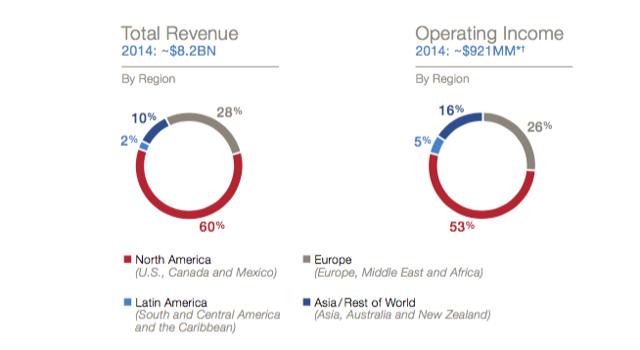 Click to enlarge
(Source: Company Annual Report)
On the third quarter call management said:
"Finally, as we look forward to 2016, the strengthening of the US dollar will negatively impact our 2016 earnings versus 2015 earnings by between $1.50 and $1.60 per share based on current exchange rates. Approximately 80% of the 2016 projected negative foreign currency impact is expected to be on transaction basis, while 20% of the negative impact is expected to be on translation basis. Our exposure at a transactional level is mostly due to the purchasing of inventory in US dollars by our international divisions."
Looking ahead, the operating margin for the Heritage Brands could do with a vast improvement in our opinion and doing so might counteract some of the FX headwinds it is experiencing. Management does believe the Heritage Brands segment will start to become less of a headwind and more of a tailwind now that the company has moved beyond its rationalization of this part of the business. We hope to see the operating margin increase toward the 10% level in the not too distant future.
The company is expecting to generate a healthy sum of around $450 million of free cash flow in 2015, which it will use to pay down debt of about $350 million and allow for continued stock repurchases. We expect the company to finish the year with 83 million shares outstanding.
In fiscal 2016 we believe the company will start to see gains in revenue once again thanks to increased brand awareness and appeal thanks partly to a new audience brought about by Kendall Jenner and Justin Bieber. This will be Justin Bieber's second year with Calvin Klein and we believe the results from his first year must have been highly positive for the company to move forward for a second year, as well as add in Kendall Jenner.
In light of this we see the company bringing in revenue of $8.3 billion in fiscal year 2016, which will be an increase of 3.9% from the consensus estimate of $7.99 billion for fiscal 2015.
As shown below the price to sales ratio is particularly low at the moment compared to its average of 1.15. This is not surprising considering the decline the company has faced with its revenue. The stock has clearly fallen out of favor with the market, which is good news for investors looking to open a position.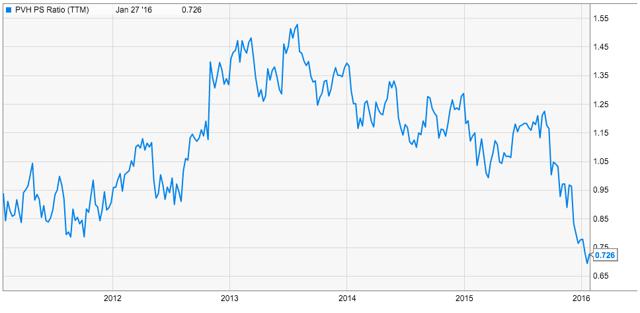 Click to enlarge
(Source: Ycharts)
We feel the shares are undervalued at present and offer significant upside in the future. While we expect it to trade at a suppressed price to sales ratio in the near term, once it starts to increase its revenue year over year consistently we feel it will start trading at higher levels. For now, we believe 0.85 times sales will be about fair for FY 2016.
Based on our revenue forecast of $8.3 billion in FY 2016, 83 million shares outstanding, and a price to sales ratio of 0.85, we have a one-year price target of $85.00 for PVH. As the shares are trading at $69.45 at the time of writing, this would be a return of 22.4% for investors.
The Kendall Jenner and Justin Bieber factor could well be a masterful move by management to make Calvin Klein appeal to a broader audience. We're certainly of the opinion that good things will come from it, and look forward to seeing the results in the next year or so.
Disclosure: I am/we are long PVH.
I wrote this article myself, and it expresses my own opinions. I am not receiving compensation for it (other than from Seeking Alpha). I have no business relationship with any company whose stock is mentioned in this article.