The cardinal rule for investors is to "buy low, and sell high." Such a simple concept, but oh-so-hard to continually execute.
One of the legendary investors who has a history of buying distressed assets at cheap prices and selling them for tremendous gains is Stephen Schwarzman, CEO of The Blackstone Group LP (NYSE:BX). This morning, Blackstone released its fourth quarter earnings report which showed that Schwarzman's company has been extremely busy "buying low" over the last few months.
Here's what Schwarzman had to say about the private equity group's investments during the fourth quarter of 2015:
We simultaneously deployed $32 billion into new investments, a record pace which accelerated in the fourth quarter given the increasingly attractive investment backdrop. With the industry's largest pool of dry powder capital of $80 billion, we remain extraordinary well positioned to move with speed and certainty as investment opportunities arise.
Does this sound like a man who is worried about the recent declines in the market? Not at all...
As a seasoned investment professional, Schwarzman knows that turbulent markets offer opportunities to invest capital at very attractive prices. And with one of the largest pools of available capital to invest, Schwarzman is more like a kid in a candy shop, picking and choosing between which exciting opportunity he likes the most.
During the financial crisis of 2008, Blackstone made some very shrewd investments in the housing market, buying distressed homes from banks at pennies on the dollar. Real estate investments like these led to significant profits which can now be harvested.
This time around, Blackstone is likely to commit billions of capital into distressed energy assets thanks to the plummet in oil prices. Over time, these investments have the potential to generate similar returns, only this time Blackstone has even more capital available to put to work.
Let's take a look at the company's fourth quarter report to see how Blackstone is performing both with its portfolio of existing investments, and with its massive stockpile of cash available for new opportunities.
Current Investments Continue To Generate Profits
Heading into this morning's earnings report, investors were worried that weak global markets would prevent Blackstone from generating performance fees during the fourth quarter. (Blackstone generates these lucrative fees when it sells assets for a profit. The company's private investors typically pay Blackstone a portion of profits when Blackstone realizes gains.)
Despite generally weak global markets in the fourth quarter, Blackstone was still able to generate these lucrative fees by closing out profitable investments. According to the company's Q4 presentation, Blackstone realized $708 million in performance fees which left the company with $0.72 per share in "distributable earnings." This is a measure of realized gains and provides the basis for Blackstone's quarterly distributions.
The chart below shows Blackstone's distributable earnings for the last seven years, indicating a strong trend of realized profits over time.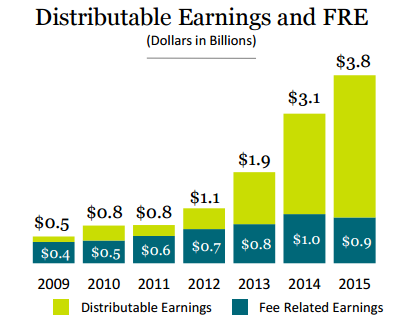 (source: Blackstone Presentation)
I wouldn't have been disappointed if Blackstone had reported weak distributable earnings for the quarter. Given the weakness in global debt and equity markets heading into the end of the year, it would have made sense for Blackstone to sell fewer assets and wait for better opportunities to capitalize on investment gains.
So given the challenging environment, it was extremely encouraging to see BX generate strong distributable earnings along with a generous distribution to investors.
As part of the quarterly report, Blackstone announced a distribution of 61 cents to investors of record on February 8. This distribution is naturally a bit below the $0.78 distribution from February of 2015, but represents an increase over the last quarterly distribution of $0.49. In short, this distribution is a major win for investors.
Once the February distribution is paid, Blackstone will have generated $2.73 in distributions over the last year. This nets out to a historical yield of 10.7% when compared to the current stock price near $25.50. While there is no guarantee that Blackstone's future distributions will remain at this level, the company's ability to realize investment profits even in challenging markets should continue to support a healthy income yield from BX shares.
Speaking of future distributions, let's take a look at what Blackstone is doing with their billions of available capital today...
New Investments Accelerating
During the fourth quarter, Blackstone deployed $15.7 billion into new investments. This figure represents an acceleration in the pace of investments. To put this number into perspective, consider the fact that Blackstone only invested $32.4 billion for the entire year. So during the fourth quarter, Blackstone invested roughly half of the amount of capital that it put to work for the entire 2015 period.
As I mentioned earlier this month, Blackstone is crushing the competition when it comes to raising new capital. The company started the fourth quarter with $85.1 billion in dry powder. According to the company's presentation, Blackstone then invested $15.7 billion into new investment opportunities.
At the end of the fourth quarter, however, Blackstone still had $80 billion in dry powder. This means that Blackstone was able to add roughly $10.6 billion to its war chest of dry powder leaving the firm plenty of ammunition to take advantage of new opportunities in 2016.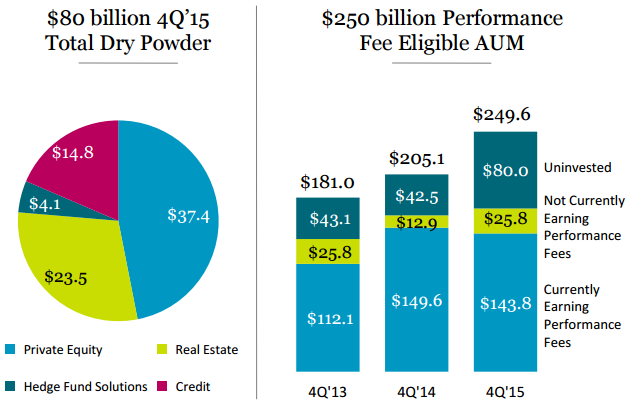 (source: Blackstone Presentation)
Now if Blackstone was able to find $15.7 billion worth of great investment opportunities in the fourth quarter of 2015, imagine what the company's investment opportunities looked like during the first month of this year when global markets fell sharply.
It stands to reason that Blackstone is likely to report an even bigger deployment of capital during the first quarter of 2016, and buying at these distressed levels will set the company up for some very lucrative performance fees when the market eventually recovers.
Investor's Perception of Blackstone Is A Gift
Over the last eight months, shares of Blackstone have dropped precipitously. Today, you can buy shares of this top-tier private equity company for roughly a 40% discount to Blackstone's peak valuation from May of 2015.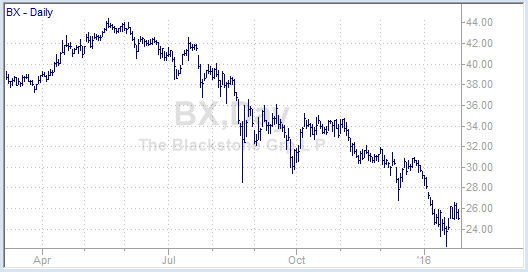 (source: TradeStation)
What has changed for Blackstone since shares were trading hands near $44?
The answer is, the global economy has weakened significantly leading to a decline in prices for a wide variety of asset classes.
So the next question is "how does that affect Blackstone's business?"
There are two categories that investors need to look at.
First, the company's existing assets: It goes without saying that a large investment manager like Blackstone will see valuations drop for some of its existing investments. Fortunately, Blackstone had significant unrealized profits built up, so the company has still been able to sell investments to generate performance fees. But weak global markets will certainly take a toll on the company's existing investments.
Second, the company's investment opportunities: Investors seem to be forgetting that Blackstone is able to take advantage of lower asset prices by plowing massive amounts of capital into new investment opportunities. This second side of the business sows the seeds for new profits (and performance fees) for years to come. And while it is hard to quantify exactly what those profits will be, Blackstone has a history of successfully "buying low and selling high."
Based on the company's fourth quarter report showing solid fourth quarter realized profits (and performance fees), a generous 61-cent distribution, and massive opportunities to invest tens of billions into new investments, I believe Blackstone is a buy.
Investors need to take a long-term perspective as these new investments may take time to generate gains. But over the long run Blackstone is still in an excellent position to create value for BX unitholders.
Disclosure: I am/we are long BX.
I wrote this article myself, and it expresses my own opinions. I am not receiving compensation for it (other than from Seeking Alpha). I have no business relationship with any company whose stock is mentioned in this article.
Additional disclosure: I own a BX covered call position in the Growth Stock Income Generator model portfolio.