Intuitive Surgical (NASDAQ:ISRG) reported fourth quarter and full year 2015 results last week. The company beat estimates for the top and the bottom line -- again. The company's fundamentals remain very attractive, but the valuation is not as compelling as it was a couple of months ago.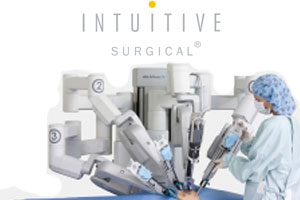 (source)
Numbers recap
Intuitive Surgical grossed revenues of $677 million in the fourth quarter, which is 13 percent higher than in the previous year. Intuitive Surgical shipped 158 new da Vinci systems (up fifteen percent yoy), the number of da Vinci procedures grew fifteen percent yoy as well.
Net income grew 22 percent to $224 million, earnings per share grew 20 percent yoy to $5.89, beating estimates by $0.85 (or seventeen percent).
The positives
The first strong positive is the fact that demand for da Vinci systems is very strong: This is visible by high da Vinci sales, which are up significantly yoy, and also by the fact that the number of da Vinci aided procedures increased fifteen percent yoy -- surgeons and patients seem to like da Vinci's aid. This is positive for two reasons: Intuitive Surgical should be able to continue to sell a growing amount of devices globally, and Intuitive Surgical should be able to sell a growing number of instruments (and services) to those who own and operate da Vinci devices. Instruments and services make up a growing share of Intuitive Surgical's revenues -- the segment grew 16 percent in the fourth quarter -- and the good thing about these revenues is that they are recurring. As the number of da Vinci devices in use grows over the years, the revenues (and earnings) of the company's services & instruments segment will grow as well.
The next positive I see is the development of Intuitive Surgical's margins: One year ago the company reported a profit margin of 24.6 percent, for the fourth quarter of 2015 the margin was 28.1 percent -- an increase of 350 base points. This was due to higher gross margins (68 percent in the fourth quarter, up 270 base points) and better economics of scale: Revenues grew thirteen percent, whereas operating expenses were up just three percent yoy, which allowed for a nice boost to the company's net margin.
The balance sheet remains superb as well, Intuitive Surgical has $3.3 billion in cash (up $850 million yoy), whereas total liabilities increased by just $8 million (to $588 million). Goodwill and deferred tax assets are unchanged versus the prior year, inventories declined slightly (which is likely the result of strong demand from Intuitive Surgical's customers), accounts receivables grew twenty percent. Overall the balance sheet looks very clean.
The negatives
There is not really much to complain about, but I want to mention two things:
Intuitive Surgical's share count keeps growing, which is unfavourable for the company's shareholders: Through a growing share count the earnings per share growth rate (which ultimately determines each share's worth) is lower than the net income growth rate. This was visible in the fourth quarter -- EPS grew twenty percent, net income grew 22 percent. I would like Intuitive Surgical to utilize some of its cash flows (or cash position) to buy back some of its shares, in order to keep the share count stable and prevent further dilution. This leads us to the next point, which is not really a problem, but rather something that could be optimized: Intuitive Surgical generates vast amounts of cash and has a large net cash position, but the company doesn't really utilize this cash so far. In times when interest rates are incredibly low it doesn't make a lot of sense to hoard cash, I believe, thus I would like it if management decided to either pay out cash to shareholders (via dividends or share repurchases) or to make meaningful acquisitions with this cash. By acquiring Luna Innovation (NASDAQ:LUNA) -- the deal closed in December -- Intuitive Surgical has made a move into this direction, but since this was a very small acquisition (totaling just $30 million), it won't have any material effect on Intuitive Surgical's results in the near future. Maybe management has some acquisition targets and is waiting for the right time to buy, but we don't know that.
Valuation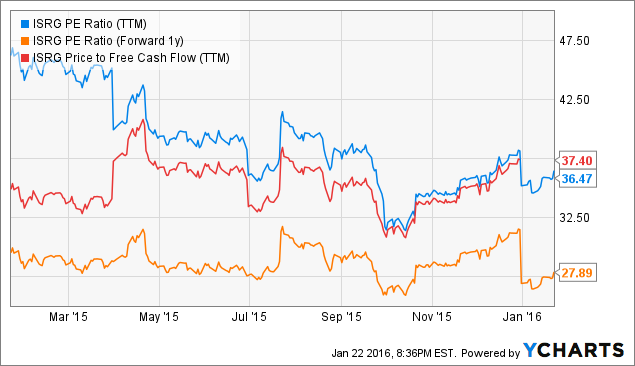 Intuitive Surgical trades at 36.5 times trailing earnings, which is not a low valuation at all. Companies with great fundamentals and high growth rates obviously deserve a premium valuation over the broad market, but I don't think that it is a very good time to buy Intuitive Surgical right now: Shares are up almost thirty percent from the 52 week low, and the earnings multiple is up by a double digit amount as well. The company's free cash flow multiple of 37.4 gives the company a free cash flow yield of 2.7 percent, which is not especially high, either.
Intuitive Surgical's forward PE ratio of 27.9 is not low, although it has been higher for most of the last year.
I believe that, based on these metrics, Intuitive Surgical isn't overpriced right now, but further upside seems limited. Waiting for a better entry point doesn't seem like a bad idea right here.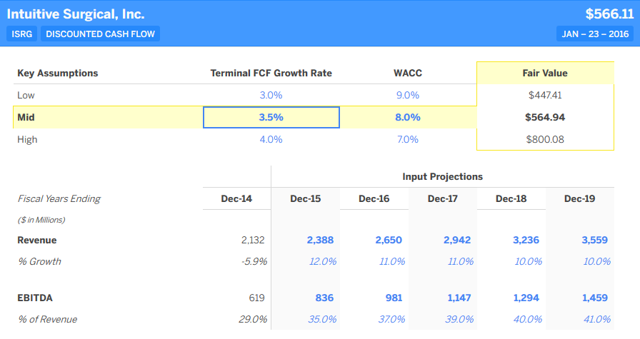 Click to enlarge
I also used the finbox.io valuation model to determine a fair value for Intuitive Surgical's shares, according to my calculations the company's shares are priced fairly right now.
For my model I used the company's beta of 0.60, a market risk premium of seven percent, a risk free rate of four percent and the company's debt to equity ratio of 0.00, which got me to a WACC (weighted average cost of capital) of 8.0 percent. I calculated with further margin expansion, due to improving economics of scale (which reflects the company's recent margin performance). I believe revenue growth will slow down over the next year, but remain at a double digit growth rate through 2019, due to da Vinci systems growth and growing services and instruments revenues.
I believe this underlines what I said above, Intuitive Surgical is a great company, but the price is not very attractive right now, it might be better to wait.
Takeaway
Intuitive Surgical continues to beat expectations, the company keeps growing revenues, the margins are increasing, and the company's cash balance is up substantially. With its great fundamentals and strong growth rate the company is interesting for investors, but the current price is not too attractive.
Disclosure: I/we have no positions in any stocks mentioned, and no plans to initiate any positions within the next 72 hours.
I wrote this article myself, and it expresses my own opinions. I am not receiving compensation for it (other than from Seeking Alpha). I have no business relationship with any company whose stock is mentioned in this article.
Editor's Note: This article covers one or more stocks trading at less than $1 per share and/or with less than a $100 million market cap. Please be aware of the risks associated with these stocks.