It looks like BlackBerry (NASDAQ:BBRY) CEO John Chen's long-term plan of benefiting from India's burgeoning smartphone segment isn't going as per the original plan. In 2014, top brass at BlackBerry was projecting that its Indian sales contribution would drive the company's overall growth going forward, but this ambitious roadmap doesn't seem to have materialized in terms of sales. The latest data reveals that BlackBerry's handset imports in India have dropped to alarmingly low levels. Let's take a closer look at what's happening here.
Import Trends
Let me start by saying that BlackBerry doesn't manufacture any of its devices in India and it doesn't publish country-specific sales data to provide insights about its sales performance in the country. However, the handset maker imports its devices in India and these import logs are published online by Zauba.com on a daily basis. We can, in turn, analyze this import data and its associated trends to gain valuable insights about the sales progress of BlackBerry India. After all, sales are generally correlated with shipment volumes.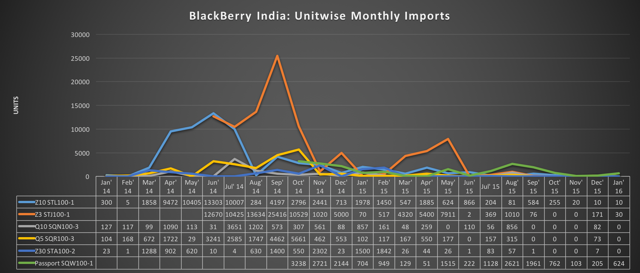 Click to enlarge
Source: Zauba.com, Source 1, Source 2, Source 3, Source 4, Source 5
The chart above adds clarity on BlackBerry India's model-wise imports over the past few months. Imports have clearly dropped significantly across all devices. The key factor to note here is that the devices - Z3 and Q5 - that were designed and priced specifically to target mid-income customers in emerging markets appear to be struggling as well. The company had slashed its prices dramatically over the course of 2015 across all categories, but apparently that wasn't enough to cease the continuous decline in imports.
So what does this indicate? Granted that import numbers don't always accurately reflect the sales performance of a product over the short-term period. But if the import quantity keeps on declining over prolonged periods of time, or stays stable at levels lower than historical averages, it does signal a slowdown in demand. In this case, there could be three reasons that can justify this drop in BlackBerry India's imports:
BlackBerry Global could have run out of inventory.
BlackBerry India may not have received priority in inventory allocation.
The demand for BlackBerry devices could have critically plunged in India.
Although all three reasons genuinely impact businesses across the globe, I don't think the first bullet holds true in this case at all. There haven't been any reports of late that suggest BlackBerry is running low on inventory anywhere across the globe, let alone India. If BlackBerry was truly running low on inventory, and demand was outstripping the supply, I'm sure the management of either BlackBerry or Foxconn (OTC:FXCOF) would have come forth about how the former's devices are in huge demand. But none of this happened.
The second bullet holds some weight, but not enough to provide a convincing argument. India hasn't historically been a major revenue growth driver for BlackBerry - revenues amounted to $22 million during FY14, which was the last time BlackBerry reported financials for the country - so one can stipulate that BlackBerry India could've been ranked low on the priority list for inventory allocation. But there's a catch.
If this were the case, we would have seen some kind of a divergence in shipment trends of BlackBerry's Indian-bound budget and premium devices. The company wouldn't have limited its Indian-bound inventory of mid-range devices that were designed specifically for emerging markets such as India and Indonesia. More to the point, the company has had enough time to readjust its supplies if there truly is a robust demand from India.
It just doesn't make any sense to limit inventory for BlackBerry India if there is a solid demand for BlackBerry devices in the country. Also, had this been a temporary issue, BlackBerry India would have fixed this inventory issue by now. But this looks like a long lasting trend. The decline in BlackBerry India's imports has been going on for about a year now and we can't call it a short-term issue anymore. I believe that this isn't because of inventory issues but instead because the company is actually experiencing a serious demand slump in India.
What it means for investors
BlackBerry has been locked out of the Chinese market over security concerns and its management has been counting on its Indian arm to make up for the lost opportunity. But the way things are progressing at BlackBerry India - along with the import trends that we just saw - I just don't think that its Indian division will stand to deliver any meaningful topline growth whatsoever going forward.
John Chen has made it clear that the company will be shutting down the handset division if it doesn't become profitable over the course of 2016. This may very well come to fruition if its handset division continues to languish in India and abroad. The company is planning to launch two smartphones, both Android-based, over the entire course of 2016. How can we expect BlackBerry to turn its handset business around and reinvigorate market demand at the same time with just these two smartphones?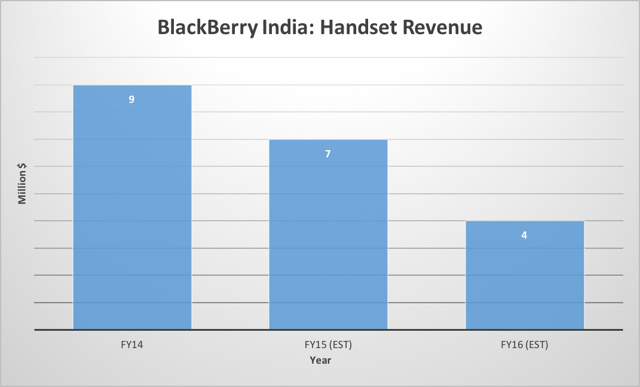 Click to enlarge
Source: Author's estimates, Zauba.com, Financial Express
The handset maker developed a few smartphones for emerging markets - such as India, Indonesia - and I believe it should try to sell them in volumes at razor thin margins, if needed, instead of simply abandoning the BB10 platform entirely and moving over to Android. Until that happens, I believe that BlackBerry India's handset division will stay distressed going forward.
Final words
Management may have forecast that India will be a crucial growth driver for BlackBerry Global in 2015 and beyond, however, data points available to us suggest that such a scenario clearly isn't playing out. I recommend investors entirely remove BlackBerry India's growth contribution from their FY16 projections.
Disclosure: I/we have no positions in any stocks mentioned, and no plans to initiate any positions within the next 72 hours.
I wrote this article myself, and it expresses my own opinions. I am not receiving compensation for it (other than from Seeking Alpha). I have no business relationship with any company whose stock is mentioned in this article.