Introduction
Missed earnings are generally bad news, but sometimes they create great opportunities.
Cambian Group (OTC:CMBGF) is one of those opportunities. The British healthcare provider took a major plunge in October of last year, but shows great opportunity in both fundamentals and M&A potential.
The stock can also be bought on the London Stock Exchange (LON:CMBN) where the average trading volume totals 460,929. Given the current exchange rate, buying on the LSE may provide long-term investors with lucrative FX gains when the GBP appreciates back to the level of previous years. As I am convinced that LON:CMBN offers more value to US investors than its OTC counterpart, I shall use GBP as standard currency in this article (with USD provided in brackets). This will help potential investors to compare prices and numbers mentioned in this article with other information sources, which will also mainly be denominated in GBP.
Cambian Group, a British specialist behavioral healthcare provider
Cambian is one of the largest specialist behavioral healthcare providers in the United Kingdom. The company targets both children and adults who require mental related health treatment. The services offered to adults range from brain injury and mental health services to learning disability and residential care services while the children service offering is divided into specialist mental, residential and educational services in addition to foster care services. The total portfolio consists of 23 schools, 35 hospitals, 188 specialist care homes, day services and 3 fostering offices. The company employs over 6,000 employees, of which 572 are part of a clinically-led multi-disciplinary team, making Cambian one of the largest private healthcare providers within the UK.
What went wrong?
On October 22, the company announced it would not reach the previously expected EBITDA levels for the year 2015, mainly due to staffing issues, which led to a smaller number of admissions in the schools and children's services.
2015 EBITDA is expected to fall to £54m ($77.05m) which represents a 7.5% growth in comparison to the 2014 EBITDA but a 15% shortfall to the initially anticipated EBITDA numbers for 2015. General expectations are that this lower EBITDA growth will translate itself into an EPS loss in the 30-33% range for the year 2015.
The market however seems to have lost confidence in this management and reacted by making a harsh one-day drop of no less than 53.2%. An overreaction, which creates an opportunity for long-term value investors

Five reasons why Cambian is an interesting investment opportunity?
In my opinion, there are five elements that make Cambian a very interesting investment opportunity for long-term value investors.
The first one being the upside value that the market created by overreacting to the profit warning. Clearly, the market is taking in a discount to reflect the loss in confidence in Cambian's management team, but I believe that the management is well aware of the impacts of missing an earnings forecast and that this earnings miss has put everyone on edge within the company. This earnings miss certainly did not pass without consequences, as on November 2, a couple of days after the profit warning, Andrew Griffith, Chief Financial Officer of Cambian announced that he will leave the company after the 2015 full year results are released in March of this year. Cambian has not yet announced who will replace Griffith as CFO.
A second reason is the industry and market in which Cambian is operating. For those that are unfamiliar with healthcare in Europe, it should be noted that in Western Europe, healthcare is not considered a privilege, but an acquired right. While healthcare in Europe is heavily subsidized and is therefore strongly dependent on government spending in the sector, it is highly unlikely that harsh cuts in the healthcare budget will be made as the decision will face immense public protest and negative publicity. While the United Kingdom cannot be compared to markets such as France and Belgium where the slightest budget cuts in healthcare may lead to several days of national strikes and newspapers headlining "Government creates social bloodbath," the British population and especially the political opposition will still have a strong vocal reaction to cuts in the healthcare budget. A reaction strong enough to leave a long lasting negative image on the political party introducing the cuts and thereby strongly deterring all policy makers to make cuts in the healthcare budget.
Furthermore, it must be stated that the services that Cambian provides for its clients are relatively unaffected by the rough macroeconomic climate that we are facing this year. Services such as children sexual trauma treatment, one of Cambian's most profitable segments, simply cannot be postponed because Chinese manufacturing companies are facing overcapacity. This makes Cambian one of the safer investments given the current climate and only adds to the attractiveness of this investment opportunity.
The most appealing industry argument, however, is simply the fact that there is excess demand in the market. The profit warning resulted from the fact that Cambian had problems supplying its services due to failure to hire sufficient staff. If Cambian can solve its staffing issue then it will be able to immediately capitalize on this additional capacity due to the unsaturated demand in the market. This excess demand furthermore puts Cambian in a strong position in terms of pricing power and growth potential.
A third reason is the fact that Cambian is trading at a discount to its net asset value. In 2014, the company's real estate was valued at £577m ($828.5m). Around £15m ($21.54m) needs to be added to that amount to incorporate the value of new buildings and renovations. For the net debt, I have taken the £240m ($342.6m) that is listed on Thomson One over the £230m ($330.26m) listed on the Cambian H1 report as it is more conservative. The net asset value is thus currently situated around £362m ($507.4m) while the market capitalization totals £208.14m ($297m). This indicates a 42.5% discount to the net asset value.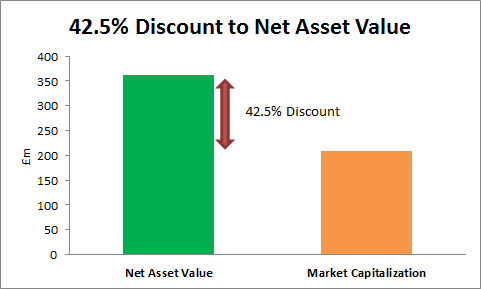 The fourth reason relates to the dividend yield that Cambian offers at its current trading price. While the dividend yield at normal trading price of around £2.50 ($3.57) is limited to 1.08%, at this price level, the dividend yield has more than doubled to 2.44%.
The huge upside M&A potential that Cambian offers is the fifth and final argument that I would like to raise in regards to Cambian's potential.
Recently, a couple of interesting acquisitions have taken place in the UK healthcare market that shed light on the huge M&A potential that Cambian offers. In 2014, two big transactions took place on the UK healthcare market. Universal Health Services (NYSE:UHS) acquired Cygnet Healthcare and Acadia Healthcare (NASDAQ:ACHC) bought Partnerships in Care. In late 2015, Acadia Healthcare once again struck on the UK private healthcare market by acquiring Priory Group at very interesting multiples (from a Cambian perspective at least). One of the reasons that the multiples were so high is the fact that Acadia Healthcare was not the only one interested in buying Priory Group. There were at least two more parties interested in this opportunity. The wide interest shown and the willingness to buy at elevated valuation multiples reveals the potential that healthcare groups see in the UK private healthcare market.
Applying these multiples on Cambian's 2016E EBITDA and sales provides the following results: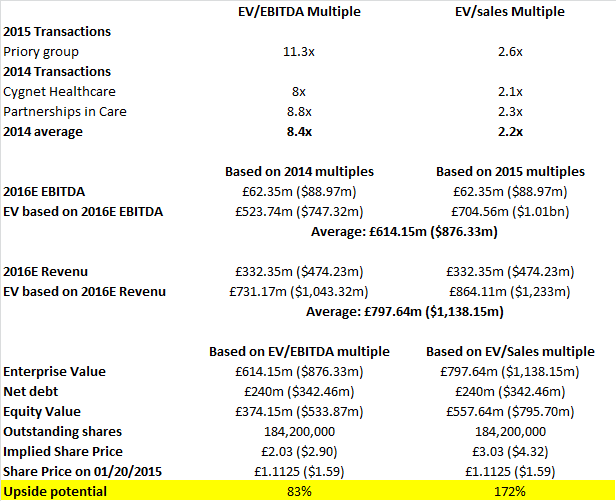 Even with the older and lower 2014 multiples diluting the multiples applied on the 2016E EBITDA and revenue, it is clear that the upside potential from M&A is gigantic at current share price levels. Given the proven attractiveness of the UK private healthcare market and Cambian's unique position, the company is likely to attract the attention of larger healthcare groups in the near future
A short look at the financials
I used the new consensus estimates from Thomson One to make the following overview of the firm's financials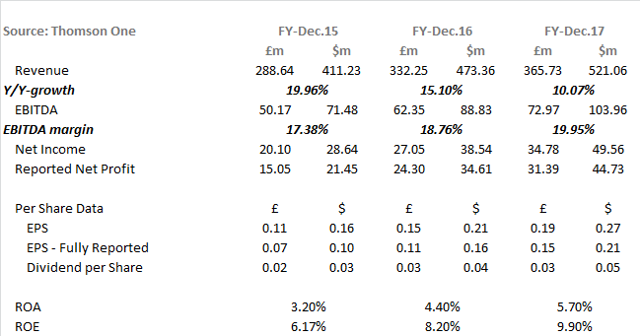 Revenue for 2015 is expected to total £288.64m ($411.23m) which represents a year-on-year growth of 19.97% growth. Growth mainly originating from the extra beds that were created in the first half of 2015. This strong growth is expected to continue in 2016 as the company manages to staff its facilities, thereby being able to immediately capitalize on that part of the 2015 investments that Cambian could not turn operational due to insufficient staff. For financial year 2017, the revenue growth is estimated at 10.08% and will strongly depend on Cambian's ability to create extra beds, something which may not turn out to be that easy given the covenants on their debt.
Cambian is expected to achieve a 17.38% EBITDA margin for the financial year 2015 and is expected to slightly improve this margin to 18.76% and 19.95% respectively in FY2016 and FY2017. As mentioned earlier, it will be key for Cambian to pass on any additional salary costs resulting from the new UK living wage to the customer as any costs the firm fails to transfer will result in a direct cut in EBITDA.
Net income is forecasted at £20.10m ($28.64m) for FY2015 which translates itself in consensus earnings per share of £0.11 ($0.16). This number is expected to grow by 36.4% in FY2016, subsequently growing by 26.7% to £0.19 ($0.27) in FY2017. This drives the return on equity from 6.17% in FY2015 to 9.90% in FY2017.
Which elements could limit the upside potential?
There are two points that I would like to highlight in addition to the value potential in order to make potential investors able to make a correct assessment of this opportunity.
The first one being the impact that wage increases may have on the firm's EBITDA. In April 2016, the living wage will be introduced in the UK, which will increase the minimum wage for employees above the age of 25 to £9/hour ($12.84/hour). Cambian is convinced that it can pass through these increased costs to its clients. Failure to do so will be a straight cut in the expected EBITDA numbers. While Cambian generally pays their staff far above the minimum wage, it remains to be seen whether Cambian will remain unaffected by the living wage.
The second attention point that I want to raise relates to the covenants on the current debt. The covenants are currently set at 4.95x Net debt/EBITDA, a ratio that will drop to 4.5x in June 2016. With a net debt of £240m ($342.6m) and an EBITDA number totaling £50.17m ($71.59m) for 2015, Cambian has a 2015 net debt to EBITDA ratio of 4.78x. The new consensus estimate on 2016 EBITDA is £62m, which would lower the ratio to a multiple near 4x EBITDA and thus safely below the 4.5x covenant which becomes active in June 2016. It must however be stated that this does not leave much room for aggressive growth, which may force the management to focus on occupancy rates instead of growing the capacity.
Investment summary
Cambian's share price dropped 64.1% from last year's high of £3.10 ($4.42) in June 2015 due to a profit warning resulting from the fact that Cambian did not manage to attract enough staff to operate the new beds it created in 2015. This forced the company to deny admissions in a lucrative market facing excess demand. While the profit warning remained limited to a 15% drop in EBITDA and a 30% drop in net income, the market reacted by making a 53% drop on the day of the profit warning. An overreaction driven by lost credibility in the Cambian management team, fear of substantial impact of wage increases and fear of Cambian breaching its covenants.
While I understand the market's concerns, I personally believe that it strongly overreacted and that it created an enormous potential for long-term value investors by doing so. Not only is the company currently trading at a discount of 42.5% to its NAV, but recent M&A transactions in the UK healthcare market indicate an upside potential of up to 172%. Given the continued interest in a strong and growing UK private healthcare industry, it is not only likely that Cambian will attract potential acquirers in the near future but it equally increases the likeliness that the sale would take place in a competitive sales process, leading to the very same multiples that we saw in other recent UK private healthcare sales.
Even in the event that Cambian does not attract any M&A activity, then the share price should still surge to pre-profit warning levels as the management gets to work on making the new facilities operational and capitalize on the strong demand in the market. The limited downside risk and the huge upside potential make Cambian a very interesting opportunity for long-term investors.
Disclosure: I am/we are long LON:CMBN.
I wrote this article myself, and it expresses my own opinions. I am not receiving compensation for it (other than from Seeking Alpha). I have no business relationship with any company whose stock is mentioned in this article.