While Apple (NASDAQ:AAPL) posted another record with its FQ1 results, the truth is that they were nothing to cheer about. Sure record revenue of $75.9 billion for the quarter is great, but that only compares to $74.6 billion the same period last year.
And while Apple is the most profitable company on planet Earth, the $18.4 billion in after tax profits are only slightly higher than the $18 billion it reported the same period last year.
Apple global saturation
Apple claims that it has an install base of 1 billion devices. The problem with that big of a number is this. Today, there are 7.4 billion people living on planet Earth, and only half of them have Internet access. With North America and Europe comprising 18% of the world population and two-thirds of Apple's revenue - because that's where most of the developed world resides - everyone on planet Earth who could afford an iPhone probably has one already.
There are about 500 million iPhones in circulation, and Apple sold almost 75 million iPhone devices last quarter. To be sure, between upgrades, people losing and breaking their iPhone, I think Apple can sell this number of iPhones indefinitely. In fact, the figure might go to 80 million devices per quarter. However, this does not mean much when investors are seeking long-term growth.
Services were a bright spot, but not enough
The only bright spot as far as growth seems to be Services, which increased by 26% to $6 billion y/o/y to (which includes revenue from Internet Services, AppleCare, Apple Pay, licensing and other services).
However if we look at Apple's 10-Q report (page 25) it reads:
During the first quarter of 2016, the company received $548 million from Samsung Electronics Co., Ltd. related to its patent infringement lawsuit, which was recorded as licensing net sales within Services. The remainder of the year-over-year growth in net sales of Services was due primarily to higher App Store and AppleCare sales.
So in the absence of the $548 million from Samsung, services actually grew by only 14%.
Revenue from other stuff such as Apple TV, Apple Watch, Beats products, iPod and Apple-branded and third-party accessories increased by 62% y/o/y, but unfortunately Apple does not break this down for us.
I'm guessing that a big chunk of this has to do with Apple Music, which has 10 million paying subscribers already. So over the past two quarters there might have been a lot of front end purchases in this category that I think will not be repeated many quarters down the road.
In any event, while I also think that all this "other stuff" will contribute to Apple's growth, I doubt if it will be in the order of 62% forever.
More importantly, both of the above categories only comprise about 20% of Apple's total revenue. So while this rate of growth is great, in my mind it will not make up for the stagnation in hardware sales (iPhone in particular).
If we assume that long-term rate of growth in the above two segments will average about 15%, then overall that will contribute about 3-4% to Apple's growth, assuming stagnant hardware revenue. So while I think Apple will continue to grow, it will not be what the market was used to until recently.
When you have everything, you have everything to lose
But there's another problem with Apple, and that is profit saturation. I think we have all seen the chart below in some form or another over the past year: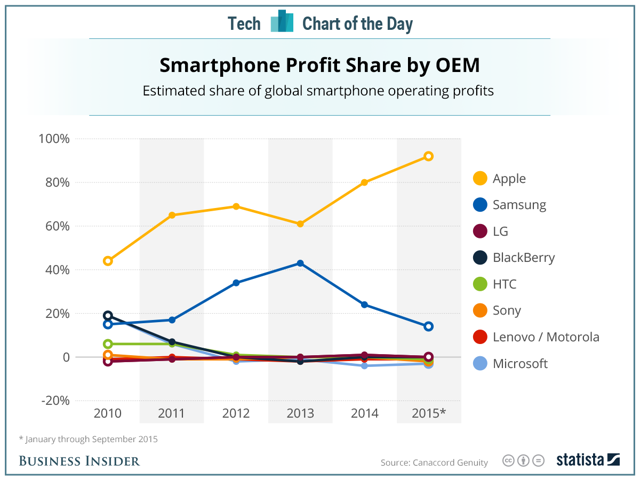 Click to enlarge
According to Concord Research with data from IDC, Apple is earning 94% of all profits in the smartphone space. How can this be a problem? Well it's not a problem. I mean, being absolutely successful is never a problem. The problem however is when you have almost 100% of the profits, there are no more profits to be had.
In other words, Apple has just hit a brick wall. In fact, I think that the chances of Apple forfeiting this profit percentage over the next few years is probably more likely than Apple edging up by another percent or so.
Because just as when you have nothing you have nothing to lose, when you have everything you have everything to lose. And while Apple has been very successful until now, it does not mean that this will always be the case in the future, and some other company will not make a device that will take Apple's market share.
Repurchases have not been enough
To be sure, the only reason for keeping Apple in your portfolio is the fact that it has a shrinking float. Like I said recently in another article (please consider: Only Invest In Mega-Cap Stocks If You Think Stock Repurchases Are Worth It), the only reason to buy stocks like Apple is the dividend and stock repurchases.
According to Apple's press release, the company has now completed $153 billion of the $200 billion capital return program. But guess what, the stock has not moved much over the past two years.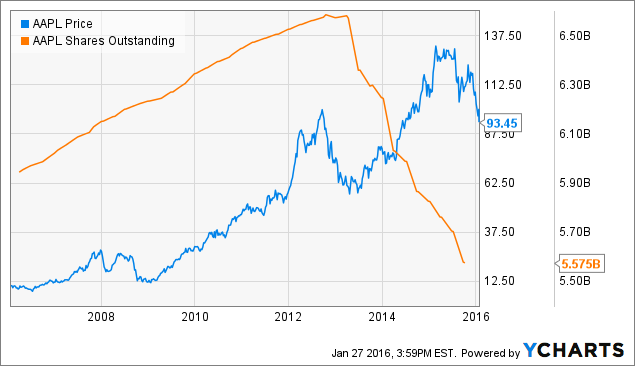 AAPL data by YCharts
And part of the reason (I think) has to do with my large-cap stock theory (please read the article above).
In theory Apple's stock will appreciate over time if the company continues repurchasing shares. However please remember it has taken on some debt to do this, and I personally I doubt we will see another $200 billion program again soon.
So if $153 billion in share repurchasing firepower has not done much to the stock up to now, why should we think that the remaining $47 billion will do the trick?
In any case, Apple has no other choice than to repurchase shares with the cash it generates. In the long term it will benefit the stock, and that is probably the only reason I can think of to be a holder of Apple shares.
Finally there is another reason why I can not be bullish on Apple
Wall Street Axiom: If something is not a screaming buy, then it's a sell.
Please embed the above Wall Street axiom because this is the way the market operates. If something does not have the potential to make money for investors fast, then it is a sell, even if it is trading at fair value or even cheap (meaning had a hold rating). And Apple today is not a screaming buy anymore.
Bottom line
Apple's success has finally caught up with it. It has basically conquered the world, and there is not much more to conquer. And that today is part of the problem.
While I do not doubt iPhone sales might run at an even higher quarterly rate in the future, the reality also is that even if they do, it will be nothing to get excited about.
And if I am right, revenue from services and other revenue also will stall. Coupled with flat hardware sales, this will make Apple a boring stock, as boring as they come.
I would not short Apple (expect for trading purposes). However I'm not interested in receiving a dividend either. I would however be a buyer on technical strength, for swing trade purposes only.
Disclosure: I/we have no positions in any stocks mentioned, and no plans to initiate any positions within the next 72 hours.
I wrote this article myself, and it expresses my own opinions. I am not receiving compensation for it (other than from Seeking Alpha). I have no business relationship with any company whose stock is mentioned in this article.