By Jeremy Schwartz, CFA, Director of Research, WisdomTree & Christopher Gannatti, Research Analyst, WisdomTree
Traditional Views on Dividends-Challenged
Dividend strategies have been given particular attention recently in the ultra-low interest rate environment that characterizes the market today. Historically, most investors have tended to focus on large-cap blue-chip companies in developed countries when looking for the most significant generators of dividends. The thought process is simple-dividends are a trait of established, mature companies. Another component of this reasoning relates to where companies are within their cycle of growth. Typically, younger, less mature firms need to re-invest greater shares of their profits into opportunities that are meant to grow and nurture their business models with the goal of ultimately increasing their earnings. Commonly, these are referred to as growth companies, which don't tend to pay as high levels of dividends until they are more mature and no longer need to reinvest as great a share of their profits.
However, much of this view would be centered on a bias associated with living within and being exposed to how firms behave in the U.S., rather than the nature of what the data on dividends suggests globally. As of the last screening date for its Global Dividend Index, 5/31/2011, WisdomTree showed that over 17% of the global dividends paid over the prior 12-months came from the emerging markets (1). This share of global dividend stream has also been growing substantially since 5/31/2008, the date of the first live screening of the WisdomTree Global Dividend Index when emerging markets only comprised 12.8% of the global dividend stream.
There is no doubt that emerging market economies-and the firms within them need to grow substantially to support their burgeoning populations. Seemingly, the data suggest that, from 5/31/2008 to 5/31/2011, economic "maturity" (2) has not always been the best proxy to use when searching for either the existence of strong dividends or the ability to exhibit positive growth in dividends (3).
Changing the Characterization of Emerging Market Equity Investments
Another widely prevalent view of the emerging markets vs. developed markets characterizes emerging market equities as "high-octane" and focused on capital appreciation while developed market equities are more appropriate for lower risk allocations that may have greater dividend income. It may surprise many to learn that the emerging markets not only had higher dividend growth over the last decade, but also had higher trailing 12-month dividend yields (4) than the United States (5).
In one of our latest research commentaries, we dissected the importance of trailing 12-month dividend yield and dividend growth in the total return of regional indexes.
In the chart that follows, we indicate the importance of dividend growth to long-term total returns through the deconstruction of 10-year total returns over the past decade. Dividend growth has been a critical factor in contributing to the positive returns in the emerging markets over the past decade, and we believe it will be a major factor going forward.
click to enlarge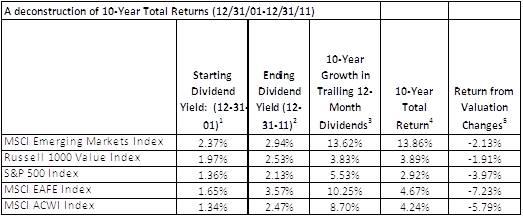 Click to enlarge
Source: WisdomTree, Zephyr StyleADVISOR
Past performance is not indicative of future results.
(You cannot invest directly in an index. Index performance does not represent actual fund or portfolio performance. A fund or portfolio may differ significantly from the securities included in the index. Index performance assumes reinvestment of dividends but does not reflect any management fees, transaction costs or other expenses that would be incurred by a portfolio or fund, or brokerage commissions on transactions in fund shares. Such fees, expenses and commissions could reduce returns.)
Chart Legend:
Total Return = Starting Trailing 12-Month Dividend Yield + Dividend Growth + Return From Valuation Changes. The Return from Valuation Changes results from a difference in dividend yields from the beginning to the end of the period.
1Starting dividend yield: Trailing 12-month index dividend yield on 12/31/01.

2Ending dividend yield: Trailing 12-month index dividend yield on 12/31/11.

310-year growth in trailing 12-month dividends: Growth rate of the sum of trailing 12-month index dividends over the period from 12/31/01-12/31/11.

410-year total return: Average annual index total return for period 12/31/01-12/31/11, which includes both price return and dividend return effects.

5Return from valuation changes: Average annual effect of a decreasing price per unit of specified relative value metric, such as earnings or dividends. Examples could be decreasing price-to-earnings (P/E) ratios or increasing dividend yields. P/E ratios take the share price and divide it by earnings per share, and in this case, a price that is declining at a faster rate than earnings per share is declining indicate a falling ratio and a negative drag on overall total returns.
The chart illustrates three major takeaways from its depiction of the past decade:
Widespread Valuation Compression: In each of the four major regions shown the return from valuation changes was negative over the decade ending 12/31/11.
Dividend Growth and Total Return: The MSCI Emerging Markets Index had the highest total return because it had the highest 10-year dividend growth, and more generally the dividend growth over this specific period was except in the case of the Russell 1000 Value Index and the S&P 500 Index, a good proxy for the rankings of the total returns.
Comparison of Lowest Total Returns and the Importance of Starting Dividend Yield: When comparing the returns of the S&P 500 Index and the Russell 1000 Value Index over the past decade, it is apparent that a higher starting dividend yield has the potential to buffer the effect of negative returns from valuation changes on an equity index's total returns.
Conclusion: The Cohesion of Dividend Yield and Dividend Growth
High trailing 12-month dividend yield (an important valuation metric) cannot be viewed in isolation from the concept of high dividend growth, as the two factors clearly work together to increase the probability of favorable performance results. Over the past decade, trailing 12-month dividend yields and dividend growth have not been the sole province of developed countries and the equity markets therein-emerging markets look to us to be a viable hunting ground potentially favorable to both.
Please click here to view our full analysis as well as standardized index performance.
Index Definitions:
WisdomTree Global Dividend Index: WisdomTree's broadest Index weighted by cash dividends, essentially measuring the performance of all dividend-paying equities in both emerging and developed markets and including the U.S.
Russell 1000 Value Index: Measure of to the large-cap value segment of the U.S. equity universe, selecting from the Russell 1000 Index.
S&P 500 Index: Market capitalization-weighted index of 500 stocks selected by the Standard & Poor's Index Committee designed to represent the performance of the leading industries in the United States economy.
MSCI ACWI Index: Market cap-weighted index that measures the performance of the world stock market indexes covered by MSCI.
MSCI EAFE Index: Market cap-weighted index composed of companies representative of the developed market structure of 21 developed countries in Europe, Australasia and Japan.
MSCI Emerging Markets Index: Market capitalization index that is designed to measure equity market performance of emerging markets.
There are risks associated with investing, including possible loss of principal. Foreign investing involves special risks, such as risk of loss from currency fluctuation or political or economic uncertainty. Funds focusing on a single sector generally experience greater price volatility. Investments in emerging, offshore or frontier markets are generally less liquid and less efficient than investments in developed markets and are subject to additional risks, such as risks of adverse governmental regulation, intervention and political developments. Please read the Fund's prospectus for specific details regarding the Fund's risk profile.
Investors should carefully consider the investment objectives, risks, charges and expenses of the Funds before investing. To obtain a prospectus containing this and other important information, call 866.909.WISE (9473) or visit wisdomtree.com.
Read the prospectus carefully before you invest.
WisdomTree Funds are distributed by ALPS Distributors, Inc.
Jeremy Schwartz and Christopher Gannatti are registered representatives of ALPS Distributors, Inc.
WIS003899 2/2013
[1] Data refers to WisdomTree's annual screening for its Global Dividend Index. For every eligible constituent, shares outstanding x dividends per share indicate a value. The sum of these values is the global dividend stream.
[2] Maturity in this context refers to developed countries over emerging market countries.
[3] "Growth in Dividends" refers to growth in the trailing 12-month index dividends. This is the case throughout this piece.
[4] Trailing 12-month dividend yield: the sum of the past 12-months of dividend payments divided by the current share price.
[5] United States refers to U.S. equities, specifically shown through the S&P 500 Index and the Russell 1000 Value Index. The comparison is between the trailing 12-month dividend yield of the MSCI Emerging Markets Index and these indexes.
Disclosure: I am long DGS.