Tobacco giant Altria (NYSE:MO) has long been one of the winners in my portfolio. The company has consistently put up strong results, despite the obvious headwinds for the US cigarette market. This was put on display again when Altria reported its Q4 2015 results.
A look inside the numbers
Overall, Altria's numbers were solid, but comparisons to last year were rough. The company saw adjusted EPS of $0.67, up 1.5% from last year and penny below estimates. While revenues were higher by 2.6% to $4.73 billion, though a slight miss given the estimates.
For the full year, Altria reported adjusted EPS of $2.80, up 8.9% from $2.57 in 2014. In other words, 9% earnings growth -- not bad for a no-growth tobacco stock.
As for what drove Altria's results, the big profit generator are obvious from the cigarette "smokable products" division, led by Marlboro. This unit saw revenues net of excise taxes grow 2.6% to $4.0 billion. Thanks to cost cutting, adjusted operating income was up 4.3% to $1.8 billion. As for margins, these improved by 80 basis points to 44.7%.

Click to enlarge
This performance was despite cigarette volumes falling 2.6% 30.5 billion units as Altria's price increases more than offset this decline. Though, Altria was less hit than its peers, Marlboro actually saw its market share increased 20 basis points to 44.0% while total cigarette market share stood 50 basis points higher at 51.4%. This indicates that Altria pricing power is stronger than ever.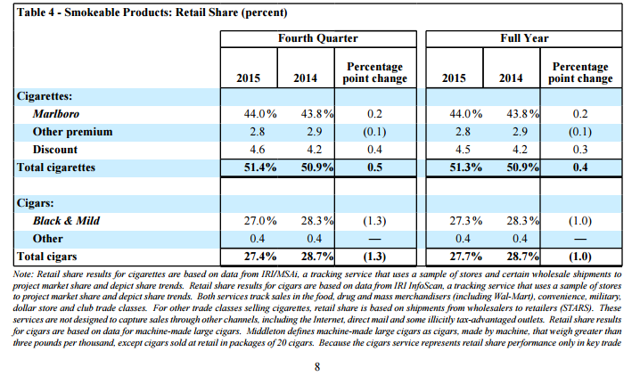 Click to enlarge
As for Altria's smokeless business (mostly chewing tobacco), revenues after excise taxes grew 5.8% to $453 million, operating income was up 8.2% to $278 million, while margins were up 140 basis points to 61.4%. This performance was largely due to strong volume growth, up 4% to 208.5 million units, and higher prices. Though, when adjusting trade inventory movements, volumes were up closer to 2.5-3%.

Click to enlarge
Lastly, Altria's small wine business, an often overlooked business, grew revenues by 7.4% to $222 million, operating income at slower 3.8% clip to $55 million, while margins fell 80 basis points to 24.8%. This performance was largely due to strong volume growth, up 5.9% to 3.0 million cases, though offset by higher costs which impacted margins.
2016 guidance is looking bullish
As for 2016, Altria is expecting the following:
Altria forecasts 2016 full-year adjusted diluted EPS to be in a range of $3.00 to $3.05, which excludes the restructuring charges (approximately $0.05 per share) mentioned above. This range represents a growth rate of 7% to 9% from an adjusted diluted EPS base of $2.80 in 2015, which excludes the special items shown in Table 1. Altria expects that its 2016 full-year effective tax rate on operations will be 35.3%. This guidance does not include any impact from the anticipated AB InBev and SABMiller business combination, as the transaction remains subject to certain approvals and the closing date has not yet been determined.

Altria expects capital expenditures for 2016 in the range of $140 million to $180 million and that depreciation and amortization will be approximately $200 million.
A few quick takeaways:
The earnings guidance of 7-9% implies a similar growth rate in 2016 from 2015. This is impressive given that Altria is no longer benefiting from the NPM adjustments.
Assuming an 80% dividend payout ratio, which is Altria's long-term target, the dividend for 2016 could be increased to as much as $2.42 per share, 7% higher versus the current $2.26 per share level.
Not included above is that Altria is implementing productivity changes which should result in $300 million in SG&A savings by 2017. This will impact Q1 2016 earnings by ~$140 million, or $0.05 per share
The guidance does not include the impact SABMiller (OTCPK:SBMRY) and AB InBev (NYSE:BUD) merger.
SABMiller merger remains a major upside catalyst
As noted in the guidance, SABMiller is a big piece of the picture when evaluating Altria as an investment given that it contributes ~20% of total earnings. While the merger is still pending regulatory approval, both companies are selling assets, Altria, and thus its shareholders, stand to be big winners.
Keep in mind that Altria is slated to get mostly equity instead of cash and will end up as a major owner of BUD with a ~11% stake after its restricted shares are converted to common after the 5 year lockup.
Conclusion
With the robust 2016 guidance, upside coming from the SABMiller merger, and the near 4% dividend yield, Altria remains a solid long-term hold. While the stock is pricey trading at 20x earnings, this is an acceptable premium for a company that has been able to consistently grow and flourish in its sector.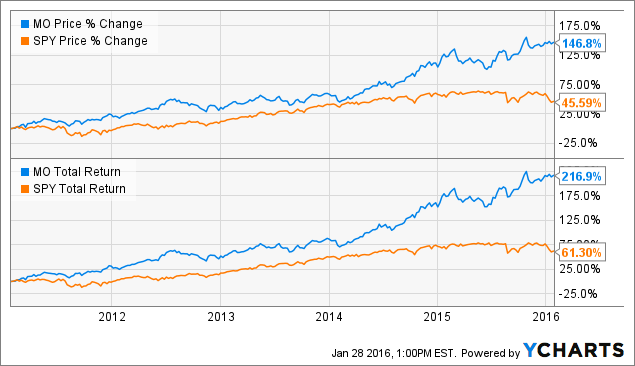 MO data by YCharts
Disclaimer: The opinions in this article are for informational purposes only and should not be construed as a recommendation to buy or sell the stocks mentioned. Please do your own due diligence before making any investment decision.
Disclosure: I am/we are long MO.
I wrote this article myself, and it expresses my own opinions. I am not receiving compensation for it (other than from Seeking Alpha). I have no business relationship with any company whose stock is mentioned in this article.
Editor's Note: This article discusses one or more securities that do not trade on a major U.S. exchange. Please be aware of the risks associated with these stocks.