Disappointing 4Q'15 Results And 2016 Outlook

Tupperware Brands (NYSE:TUP) reported 4Q'15 results that were clearly short of expectations, sending the stock down over 15% to levels not seen since 2010. The main culprit was the strength in the US dollar as net sales in the quarter were up 2% in local currency terms, but were down a sharp 13% in dollar terms. The bottom line was even more severely impacted as reported earnings plummeted 29%, but would have been down only 1% without the currency impact. Total active sellers worldwide grew 2% in the quarter.
Guidance for the current 1Q'16 includes a similar year over year sales decline of 10% - 12% in dollars versus 1% - 3% local currency growth. Full year 2016 sales guidance calls for a 4% - 6% USD contraction on a 3% - 5% local currency sales increase.
Local Currency Results Show Resiliency
Despite the drop in US dollar sales, which should not be too surprising given the strong domestic currency, the fact that TUP was able to generate local currency growth in very challenged economies highlights the strength of its sales model. During the quarter, the company saw growth in Argentina, Brazil, China, and Tupperware Mexico (however, the beauty business in Mexico suffered from intense price competition). In fact, 63% of sales came from the company's Emerging Market Units. Not many other companies are reporting sales growth in these markets.
As a reminder, TUP employs a distribution network of independent sales organizations and individual reps who buy the company's products, but mainly sell them to third party customers through demonstrations and events. In many cases, these networks are comprised of women who may be a significant contributor to, or the only earner in, the family. Historically, recessions and financial stress in these markets have incentivized them to work even harder to sell more products and have helped the company recruit new associates. In 2015, the total sales force increased by 5% and the active sales force grew 2%.
Dividend Yield - Now 6.2% - Is Safe
Tupperware Brands also declared a regular quarterly dividend of $0.68 per share, indicating a yield of 6.2% at yesterday's closing price. During the earnings conference call, management indicated that while this 62% payout ratio exceeds their long-term goal of 50%, nevertheless they intend to maintain this rate until results improve rather than cutting the payout. Ok, this isn't the first management team to say you can count on the dividend. Dividends are paid based on management's willingness and ability to return capital to shareholders. In Tupperware's case, they can back it up.
The operating cash flow forecast for 2016 is $225mm - $235mm with capital expenditure guidance of $65mm. The total amount of the dividend would be $138mm, so it is well covered by the cash flow.
Regarding the balance sheet, the company managed to reduce debt modestly in 2015, ending the year with a debt-to-EBITDA ratio of under 2x versus a covenant requirement of 3.25x. Net debt of $700mm is reasonable at 24% of total enterprise value.
Correlation To Emerging Markets
In constructing diversified portfolios, I am always looking for correlations among securities. What inspired me to look more closely at TUP was the way it seems to track the iShares MSCI Emerging Markets (NYSEARCA:EEM) ETF: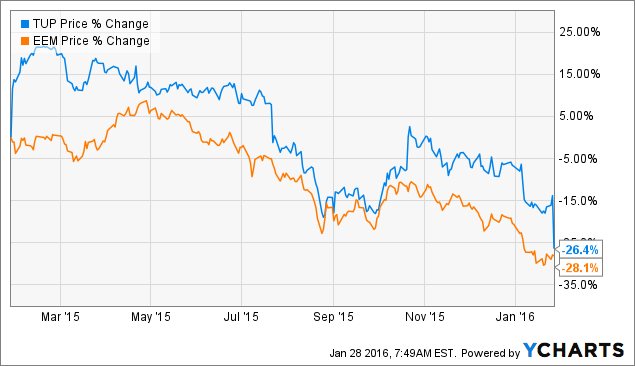 TUP data by YCharts
My conclusion is that TUP may be an excellent way to gain exposure to emerging markets and global markets. In addition to a healthy dividend yield, investors will have the benefit of investing in a U.S. based SEC reporting company run by a solid, experienced management team. TUP is in the early stages of several programs to enhance sales, including the rep onboarding and retention process and spreading best practices across geographies. Tupperware also recently added another board member who understands a thing or two about marketing - namely, Meg Crofton, the former president of Walt Disney Parks and Resorts' U.S. and France operations.
I purchased TUP after the earnings shortfall and I will look to further enhance my return with covered calls in a few days after I see if TUP is going to rebound from its current oversold levels.
Disclosure: I am/we are long TUP.
I wrote this article myself, and it expresses my own opinions. I am not receiving compensation for it (other than from Seeking Alpha). I have no business relationship with any company whose stock is mentioned in this article.