Just as I am always hesitant to make a stock market forecast, I never like to pick out just a few stock picks as my favorites, yet around this time of the year, I get persuaded to do it anyway. Before discussing those stocks, it is worth talking about why I don't like choosing favorites.
The main reason is the very real need for diversification: a handful of stocks are not enough to provide adequate diversification to reduce risk - even though I try to pick stocks from different industries. Secondly, picking favorites from my purchase recommendation list always feels a little like picking favorites among your children. I like all of my stock picks or else I wouldn't have recommended them in the first place. The final reason may verge on superstition: In the past, when I have been asked to zero in on one or more favorites, those stocks have often done badly - for at least a while.
With those caveats in mind though, I have selected my "favorite" value investing opportunities for the current challenging investing environment. The less than stellar market results of 2015 have created an exciting turnaround investing environment in 2016. I name three of the most promising stocks here and an additional two - as well as general market commentary and analysis - can be found in my recently-published report: "Top Five Turnaround Stocks for 2016."
Globalstar, Inc.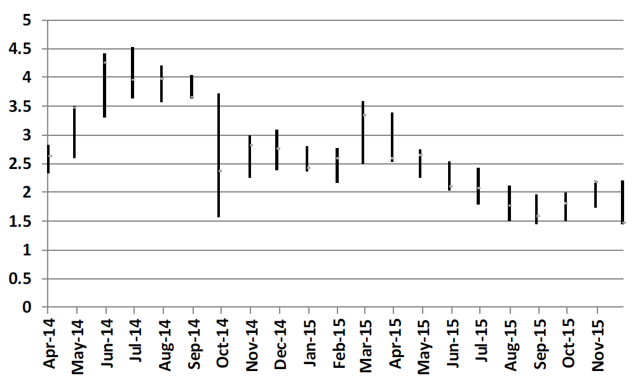 Click to enlarge
Background: Globalstar (NYSEMKT:GSAT) is a leading provider of satellite-based communication services. It was originally founded in 1991 as a partnership between Loral Space and Qualcomm. In the course of building its satellite telephone business, the company acquired a large block of radio spectrum that it is currently developing for possible use as a new Wi-Fi network.
Analysis: With an upgraded satellite network and reduced operating costs, Globalstar is now able to offer superior satellite telephone services, and it appears to be taking market share in that niche away from its competitors. But the real upside in the stock comes from the value of the spectrum that it controls.
Globalstar is developing this spectrum to offer Wi-Fi through what it calls Terrestrial Low Power Service (or TLPS). Since the traditional spectrum used for Wi-Fi has become overcrowded in many areas, there could be a substantial market for TLPS, both in the U.S. and globally.
The company is quite far along in the process for obtaining Federal Communication Commission approval for TLPS. Moreover, a number of large companies such as Amazon (NASDAQ:AMZN) and Cisco (NASDAQ:CSCO) have expressed interest in the TLPS product. In late 2014, Globalstar announced a test of the service with another party that was not identified but appears to be a major technology company.
As with any new technology, there are certainly risks that TLPS will not perform as expected. But we believe the upside potential in the stock outweighs those risks. Moreover, even if TLPS proves disappointing, Globalstar's substantial holdings of spectrum could have value for other uses. All of the currently useable spectrum is getting increasingly crowded, and over the years, we've seen a number of companies be acquired at good prices just for their spectrum.
I also take comfort from the fact that Globalstar's controlling shareholder, Jay Monroe, has recently purchased more than a million shares of the company's stock on top of his already very large holdings. Monroe is an experienced telecommunications investor, and he has a substantial incentive to create value for Globalstar's shareholders.
There are signs that Globalstar may be close to obtaining FCC for its TLPS Wi-Fi technology. When (and of course, if) that happens, the stock should really pop.
Mattel, Inc.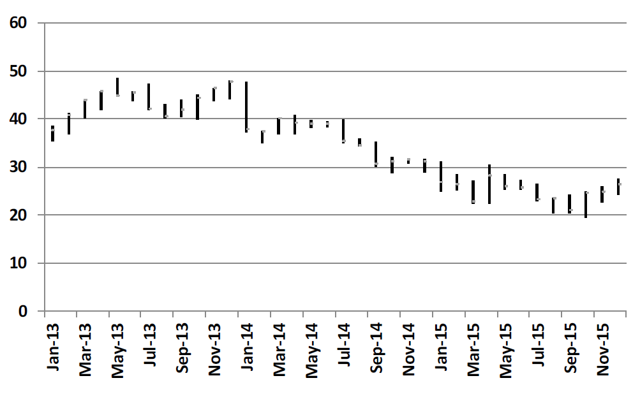 Click to enlarge
Background: Mattel (NASDAQ:MAT) is one of the world's leading toymakers. It controls a stable of iconic toy brands such as Barbie, Hot Wheels and Fisher Price. However, over the last few years, the company failed to keep up with shifts in consumer preference towards electronic playthings and other innovations.
Analysis: A new CEO took over in January 2015, and he has shaken up the product development and marketing teams to make the company more creative and responsive to market opportunities. They are also forging partnerships with innovative companies outside the toy industry, such as a collaboration with Google (NASDAQ:GOOG) (NASDAQ:GOOGL) that uses virtual reality technology to bring the classic Viewmaster toy into the 21st century.
At the same time, the company is working to take costs out of the business and expand its presence in international markets. Management appears to be making good progress in its announced program to reduce costs by $250-300 million. And it is reinvesting some of those savings to expand its sales and distribution capabilities in key emerging markets such as China and Russia. Moreover, the new leadership team is implementing basic management "blocking and tackling" such as reducing and improving Mattel's notoriously boring and unproductive internal meetings.
Early returns on these efforts look promising, but the turnaround at Mattel is still a work in progress. Nevertheless, there is still a great deal of value in the company's brands, and with a yield above five percent, you get compensated nicely while you wait for that value to be unlocked.
Royal Dutch Shell plc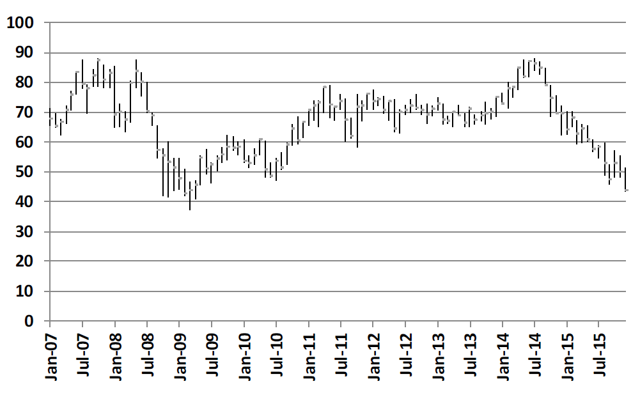 Click to enlarge
Background: Royal Dutch Shell (NYSE:RDS.A) (NYSE:RDS.B) traces its history - and part of its name - back to a London antique dealer, who in the 1830s, began importing decorative shells from the Far East. The next generation of the family began importing oil, and over the decades, the company expanded into all aspects of the oil production, refining and distribution businesses. It is now one of the world's largest integrated oil companies.
Analysis: We are pretty certain that the price of oil will rebound from its current low levels, but we have no idea when. This leads us to believe that this is a good time to invest in an oil stock, but to do so in a conservative way. Royal Dutch stock fits the bill perfectly. The stock is down almost 50% from its mid-2014 high, and the company boasts a rock-solid balance sheet and pays a generous dividend.
Royal Dutch's business is well diversified in several different ways. On the production side, the company has good assets in most of the major oil producing regions around the globe. On the revenue side, the business is well diversified geographically with 38% of sales in Europe, 34% in Asia, Africa and Oceania and 28% in the Americas. Moreover, the company makes money from a number of different lines of business beyond exploration and production, including oil transportation and refining, retail gasoline distribution and chemical production.
The company's balance sheet and cash flow are both very strong. The company appears to be committed to returning cash to shareholders, now mainly through dividends but previously through stock buybacks as well. As a result, the stock carries a generous dividend providing a decent return even if oil prices stay low for some time. Interestingly, the CEO, who took the helm early in 2014, underscored the shareholder focus by requiring top management to own significant multiples of their salaries in company stock.
I believe that the decline in Royal Dutch's stock price over the last eighteen months provides a great opportunity to add a first class company in an important sector to your portfolio.
Disclosure: I am/we are long GSAT.
I wrote this article myself, and it expresses my own opinions. I am not receiving compensation for it. I have no business relationship with any company whose stock is mentioned in this article.