It's no secret that all things MLP-related have suffered massively over the past year amidst the low oil price environment. The benchmark Alerian MLP ETF (NYSEARCA:AMLP) has declined by -38.6% over the past one year. Two leveraged ETNs, the 2xMonthly Leveraged Long Alerian MLP Infrastructure Index ETN (NYSEARCA:MLPL) and the 2xMonthly Leveraged S&P MLP Index ETN (NYSEARCA:MLPV), are being mandatorily redeemed.
Another way of investing in the MLP space is through close-ended funds [CEFs]. Towards the end of 2014, I conducted a comparative study on MLP CEFs in an article entitled: "Benchmarking The Performance Of MLP CEFs: Is Active Management Worth It?" I found that three of the largest MLP CEFs had outperformed AMLP over the last three years (to 2014), even after accounting for leverage: the Kayne Anderson MLP Investment Company (NYSE:KYN), Tortoise Energy Infrastructure Corporation (NYSE:TYG) and ClearBridge Energy MLP (NYSE:CEM) (the two other MLP CEFs that I analyzed had less than a 3-year history). Of those three funds, I picked TYG as my favorite due to its historical outperformance and reasonable expense ratio.
In my previous article on MLPL, I was asked by various readers to provide an updated MLP CEF article with my recommendations. Meanwhile, other readers offered their suggestions on MLP funds that they would rotate to from MLPL, or were on their watchlists. Two of those funds struck my eye, and not in a good way: the Goldman Sachs MLP and Energy Renaissance Fund (NYSE:GER) and the Duff & Phelps Select Energy MLP Fund (NYSE:DSE).
As I prepared the analysis for this article, I was struck by the uncanny resemblance between these two underperforming funds. Identifying these many similarities became a game unto itself. I hope that my readers would forgive my indulgence in this as I continually point out their bizarre similitude in my analysis below.
1. Short and poor historical performance
What's worse than a short track record? A short and poor track record. DSE was launched on June 21, 2014, while GER's inception date was September 26th of the same year. In fact, a significant number of MLP CEFs were launched in 2014, presumably due to the raging bull market in MLPs that had been occurring until summer of that year, and investment houses probably didn't want to miss out on the opportunity to cash in. Perhaps the number of CEFs launched can be a viable indicator of a market top? (Similarity #1: GER and DSE both launched relatively recently and within months of each other!)
Anyway, both CEFs have significantly underperformed the benchmark. Over the past year, GER has declined by -67.8%, while DSE has declined by -68.1%, compared to -38.6% for AMLP. TYG, my favorite MLP fund, declined by -43.9%. (Similarity #2: GER and DSE's total return performance differed by only 0.3% over the past year!)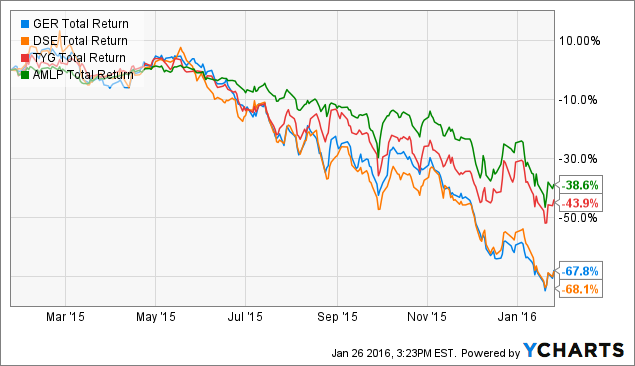 GER Total Return Price data by YCharts
However, one needs to be remember that most MLP CEFs are leveraged. GER is leveraged by 28%, while DSE is leveraged by 31%. TYG has a leverage of 37% (source: CEFConnect). Therefore, we ought to normalize the funds for their leverage to compare them to the benchmark. Additionally, the price total return chart shown above is actually a composite of the NAV total return (the most important metric, in my opinion), and the change in premium/discount value of the fund during that timeframe.
The following chart shows the adjusted (accounted for leverage) 1-year NAV and price total returns for the four funds (source: CEFConnect). As above, we can see that GER (-54.92% adjusted NAV return) and DSE (-53.40%) have significantly underperformed the benchmark (-38.00%), while TYG has slightly outperformed (-33.49%). (Similarity #3: GER and DSE both significantly underperformed the benchmark and had adjusted NAV returns less than 2% different than each other!)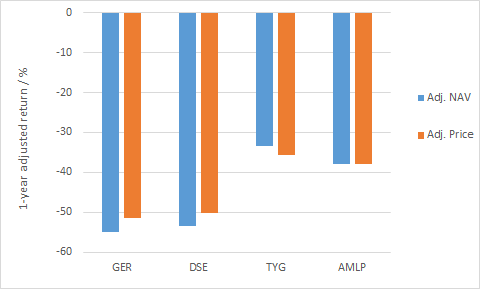 While poor recent performance can sometimes be a sign of value, a consistently inferior historical track record against peers may be a sign that the manager should be avoided.
GER incepted at $20.00 one year and four months ago, and its current share price stands at $3.96. DSE incepted at $20.00 one and a half years ago, and its current share price stands at $3.98. (Similarity #4: GER and DSE's unit prices are trading within two cents of each other!)
GER has a current NAV of $4.35, while DSE's is $4.62. Unfortunately, this makes them the two funds with the lowest NAV values out of CEFConnect's list of 26 MLPs CEFs. (Similarity #5: GER and DSE have the lowest NAV values of all of the MLP CEFs!)
2. Distribution cuts imminent
GER and DSE both current offer mouth wateringly-high yields of 33.84% and 31.66%, respectively. In fact, the two funds rank first and second in yields out of all MLP CEFs. (Similarity #6: GER and DSE have the highest yields in the MLP CEF space!)
GER has paid a slightly increasing distribution over the last four quarters: $0.325, $0.330, $0.335, and $0.335, while DSE has paid the same distribution of $0.315 over the past four quarters. (Similarity #7: the distributions paid by GER and DSE over the last year are within 5% of each other!)
Unfortunately, this distribution is very unlikely to be maintained. Even with leverage accounted for, there is no mathematical way that the portfolios of the two funds can be throwing off +30% yields. A distribution cut is imminent, and as we saw for Cushing MLP Total Return Fund (NYSE:SRV) in "Cushing MLP Total Return Fund: A Lesson For CEF Investors", the simple act of announcing a cut can be disastrous to the price of a CEF (even though it theoretically has no impact on the intrinsic value of a fund) as investors who previously purchased the fund for its yield may now find the reduced income much less desirable and seek to sell the fund.
Of course, what happened to SRV may not be directly comparable to the present situation. SRV was trading at a 30% premium before the distribution cut during a time far before the depths of the oil crash, while GER and DSE are currently trading at 52-week low discounts of -8.97% and -13.85%, respectively. One can argue that a distribution cut is already priced in due to their already-low prices and large discount values, although this is never known for certain (Kinder Morgan (NYSE:KMI), anyone?).
In any case, investors in these two funds should know that they aren't going to be receiving 30% yields for much longer.
3. Inexperienced fund houses and suspect portfolios
While I cannot comment on the personal pedigrees of the portfolio managers of the two funds, I note that neither Duff & Phelps nor Goldman Sachs are powerhouses in the MLP arena, unlike Kayne Anderson or Tortoise. Duff & Phelps are more known for their utility expertise, such as their flagship DNP Select Income Fund Inc. (NYSE:DNP) fund, while Goldman Sachs, well... let's just not mention their $150 oil call just a few short years ago to save them some embarrassment, shall we? (Similarity #8: neither fund house is a leader in the MLP space!)
Perhaps as a result of this inexperience, the portfolios of both funds appear somewhat suspect from my point of view. Neither GER and DSE have Enterprise Products Partners (NYSE:EPD) and Magellan Midstream Partners (NYSE:MMP), which are considered to be the "gold standard" MLPs and the ones that are least likely to cut their distributions, in their top 10 holdings. On the other hand, TYG has MMP as its largest holding and EPD as its third-largest holding. (Similarity #9: neither fund have "gold standards" EPD and MMP in their top 10 holdings!)
Granted, as CEFs don't have to report their daily fund composition, some of these holdings might have changed since the date they were last reported (as far back as 8/31/2015 for DSE). Still, let's compare how the top 3 holdings of each fund, at whichever date they were reported, have fared over the past year.
GER: Energy Transfer Partners (NYSE:ETP), DCP Midstream Partners (NYSE:DPM) and Nustar Energy (NYSE:NS)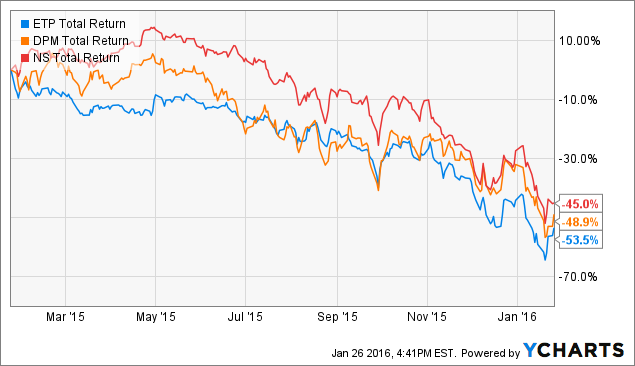 ETP Total Return Price data by YCharts
DSE: ETP, Williams Partners (NYSE:WPZ), Enbridge Energy Partners (NYSE:EEP)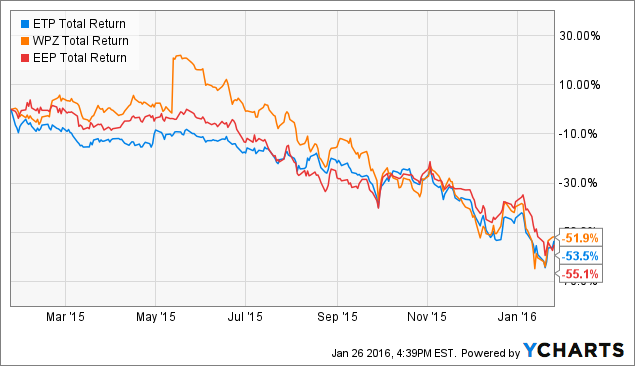 ETP Total Return Price data by YCharts
TYG: MMP, Buckeye Partners (NYSE:BPL), EPD.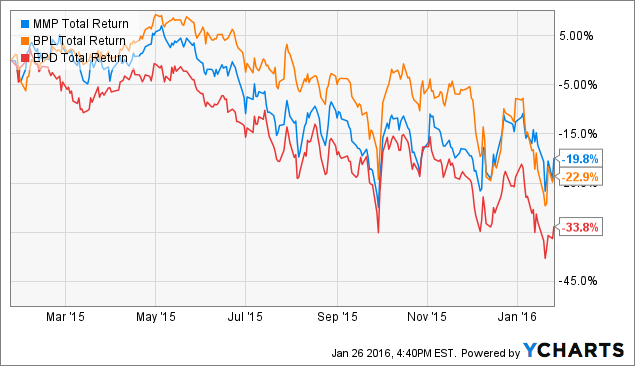 MMP Total Return Price data by YCharts
BIG difference! (Similarity #10: the top 3 holdings of GER and DSE have all returned between -45% and -55% over the past year!)
We can now realize why TYG offers the lowest yield of 12.00% out of all 26 MLP CEFs in the database. The TYG portfolio managers have wisely decided to favor safer, lower-yielding MLPs in recent times, resulting in a portfolio that although throws off less income, has better withstood the oil crisis compared to its peers.
On the other hand, GER and DSE, as newer funds, would understandably market a higher headline yield to attract investors to buy into their IPO. Unfortunately, this may have caused them to invest in riskier, high-yielding MLPs to generate their higher required level of income, and these have done significantly worse than their conservative counterparts over the past year.
One blooper in GER's portfolio is definitely Teekay Offshore Partners (NYSE:TOO) (8th largest holding), which recently slashed its distribution by 80%, citing a weakness in the global energy and capital markets. Perhaps GER's investments into the riskier MLPs reflects their conviction in $150 oil after all.
Summary
GER and DSE are two eerily-similar underperforming MLP funds that should be avoided. Their 30%+ yields are not sustainable, and their historical performance leaves much to be desired. The launch of these CEFs in 2014 seems more like a play to cash in on the popularity and rise of MLPs rather than a leveraging of MLP expertise (of which there is scant evidence for, as of yet) within the respective fund houses.
We will know soon whether a distribution cut will be made at these two funds, or whether it will be maintained (at the detriment of NAV). GER declared their last quarterly distribution on 11/3/2015, while DSE last declared theirs one day before, on 11/2/2015 (per CEFConnect). This makes their next declaration due at the start of February, or about a week's time. (Similarity #11: GER and DSE declared their last quarterly distribution within one day of each other!)
Disclosure: I am/we are long TYG, KYN.
I wrote this article myself, and it expresses my own opinions. I am not receiving compensation for it (other than from Seeking Alpha). I have no business relationship with any company whose stock is mentioned in this article.