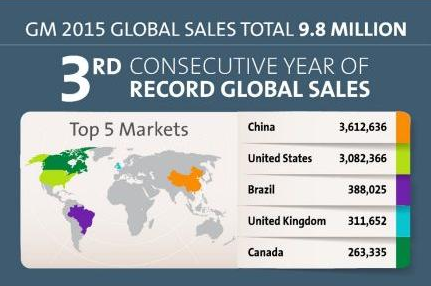 Traditional automakers such as GM (NYSE:GM) and Ford (NYSE:F) have long been complacent about their supremacy. They're both over a century old and have seen more ups and downs of the economy than anyone would care to. Unfortunately, they've only recently realized that new companies can disrupt their industry with the power of technology alone.
Take Uber (Private:UBER), for example. To say that Uber transformed the Taxi industry would be an understatement. In fact, they have completely disrupted the market and have shown the world that technology can be a huge enabler even for something as old as the travel industry. Uber is, in a way, a huge threat to the traditional carmakers: the more convenient and cheaper they make their pick-up and drop services, the harder people will think before buying a car of their own. This is especially true in high population cities where parking a car comes at a premium and taxi services are already a widely used form of transportation.
What Does GM's Maven Move Mean in This Scenario?
GM is stepping up to the plate like a seasoned pro rather than the tired veteran that most people think it is. Before Uber can pose a real threat of any sort, GM wants to take the fight to them.
Here are some interesting statistics:
According to University of Michigan researchers, the number of American's with driving licenses in the age group of 45-69 has been declining since 2008, after growing for 25 years. In 1983, nearly 87% of 19 year olds had a license, now that number has come down to 69%. Overall, the % of Americans holding a license in the 1980's has seen a steady decline over time. With companies like Uber ramping up their reach intensively, this number should only progressively decrease.
So what has GM done to counter all of this?
As I observed in my earlier article on GM, the company shocked people with their lightning-fast introduction of their all electric Chevy Bolt. The largest and oldest automaker in the world showed us that the company has the ability to compete with new age competitors such as Tesla (NASDAQ:TSLA) and go one up on them. As Tesla kept talking about its Model 3, GM went ahead and showed its car to the world. Now GM wants to stay a step ahead of the future Uber.
In a series of transaction in the last few weeks, GM purchased Sidecar, an Uber competitor, invested 500 million in Lyft, a ride sharing Technology Company and launched Maven, a car-sharing program in Ann Arbor, Michigan, with hourly rentals as low as $6. It is extremely heartening to see a company like GM - with its history and size - being ready to think out of the box and get ready for future competition.
Some will, of course, point out that Maven will be testing the waters in specific cities before expanding to other areas but, if the program is successful, GM will be looking to roll out all over the world. With their scale and reach, regulatory hurdles wouldn't bother the company.
To be honest, the prospect of an all electric Chevy Bolt fleet being made available to Chinese customers for ride-sharing in the over polluted Chinese cities is just too exciting to ignore. And that's exactly what I believe is working under GM's hood as the next major three to five year plan.
Until now I have favored Ford over General Motors because I was impressed with the way the company turned things around after the recession, but General Motors has been steadily chipping at my faith in the Big F.
First was the release of Chevy Bolt, which made Ford's investment of nearly $5 billion towards electrification of 40% of its lineup by 2020 seem like pocket change - a mere penny gamble. Second was the launch of Maven, which has made Ford's very own mobility efforts look like a first time entrepreneur's clumsy attempt.
GM's global supremacy remains intact, as you can see below: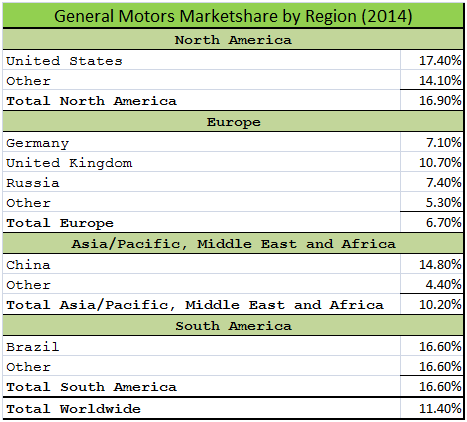 Investor-speak: My Money on GM
I understand that lot of GM's effort will take a few years to pay off. Chevy Bolt is long way away from being mass produced. Maven has just been launched in one city and no one knows how the company will be able to handle the pressure of growth that will come along with it - not to forget the technology nightmares that will keep them awake most nights.
Innovation comes with its own set of problems, and GM is no stranger to problems. I believe it can handle contingencies with a dexterity that a Tesla or an Uber just can't exhibit.
That said, with $3.6 million sales last year in China, GM is already the number one U.S. carmaker in China, they are the number one in terms of market share in United States. That's two critical markets where they need a big presence - one is their home ground and the other the biggest potential market in the world. With that already in place, and with the seeds for the future now being sown, I'd be very confident of putting my money on GM for the next several decades.
Disclosure: I/we have no positions in any stocks mentioned, and no plans to initiate any positions within the next 72 hours.
I wrote this article myself, and it expresses my own opinions. I am not receiving compensation for it (other than from Seeking Alpha). I have no business relationship with any company whose stock is mentioned in this article.