The Franklin Rising Dividends Fund A (MUTF:FRDPX) is a two-star fund that has been outpaced significantly over the past few years in terms of performance. The fund has not outperformed the S&P 500 or its Morningstar Large Blend Category on an annual basis since 2011. At that time, the fund outperformed the S&P 500 and its Morningstar Large Blend Category significantly with a paltry return of 7.21%. The fund was ranked 3rd in its Morningstar category and showed strength in a down period for the market.
Between the next four years, the fund performed below average in terms of return. The fund's annual performance in 2015 was disappointing given that the fund showed underperformance in a market downturn similar to 2011. The fund's annual performance in 2015 was -3.58%, well below the S&P 500's 2015 return of 1.38%. Given the fund's increasing downside capture ratio, one can see that the fund has lost a great deal of control with regards to limiting losses in market downturns over the years. This can be seen in the graph below: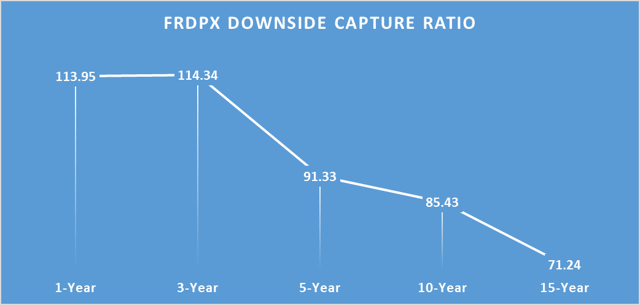 Click to enlarge
Therefore, it is quite interesting to see this fund's sturdy performance in this market downturn that has consumed investors so far in 2016. The fund's YTD performance is -5.51%, 2.27% lower than the S&P 500 and 2.52% higher than the Morningstar Large Blend Category. Currently, the fund is the 7th best performing fund in the Large Blend Category.
In the same way that NFL analysts will dissect game film to break down Super Bowl 50 in a week and a half, let's break down the key reason for the above-average sturdiness by the Franklin Rising Dividends.
For instance, the fund has a very paltry concentration in the financial services sector. By comparison, the fund's benchmark and category average concentration in the financial services sector is at least 12% greater. This can be seen below.
| | | | |
| --- | --- | --- | --- |
| Sector | FRDPX | Benchmark | Category Avg. |
| Financial Services | 2.84 | 14.95 | 16.32 |
According to the Sector ETF section of the Seeking Alpha forum, the Financial Select Sector SPDR ERF (NYSEARCA:XLF) is the second worst performing U.S sector fund with a -11.0% return total. Thus, the fund's lack of exposure in this sector is a major plus.
In addition, the fund has more weight than its benchmark and category average in defensive sectors such as healthcare and consumer defensive.
| | | | |
| --- | --- | --- | --- |
| Sector | FRDPX | Benchmark | Category Avg. |
| Consumer Defensive | 16.92 | 9.18 | 9.77 |
| Healthcare | 19.65 | 14.99 | 15.17 |
The fund's concentrated exposure in the consumer defensive sector is quite favorable given the performance of the Consumer Staples Select Sector SPDR ETF (NYSEARCA:XLP). This sector ETF has stood strong with a -2.5% YTD return. It is the second best performing U.S Sector ETF. On the other hand, the Health Care Select Sect SPDR ETF (NYSEARCA:XLV) has a sturdy YTD performance of -7.0%. This is third best performing sector so far this year.
From an investor standpoint, the attractiveness of this fund is also enhanced by an expense ratio that is less than 0.15 points lower than its Morningstar Category Average and 0.25 points lower than its Fee Level Group Membership Median.
BOTTOM LINE:
I believe it is best to operate under a wait-and-see approach to see if the fund's sturdiness continues for the next two months. Given its recent history of underperforming its benchmarks in market upswings, one would have to see how this fund will perform in case the bulls make a comeback against the bears in 2016. Yet, this fund should be given a closer look.
In addition to outperforming its benchmarks for the year, the Franklin Rising Dividends Fund A has also outperformed its benchmark for the last three months. I believe that the fund's lack of exposure to a struggling financial services sector is a significant defensive advantage in this bear market. Therefore, it is quite possible that the Franklin Rising Dividends A fund may have turned a corner.
Disclosure: I/we have no positions in any stocks mentioned, and no plans to initiate any positions within the next 72 hours.
I wrote this article myself, and it expresses my own opinions. I am not receiving compensation for it (other than from Seeking Alpha). I have no business relationship with any company whose stock is mentioned in this article.