When I think of the best stocks in Europe, Novo Nordisk (NYSE:NVO), Diageo (NYSE:DEO) and Unilever (NYSE:UL) come to mind, but Nestle (OTCPK:NSRGY) might be the best. Nestle is easily the best dividend growth stock nobody talks about.
I don't understand why Nestle doesn't receive more coverage on Seeking Alpha. There have been 10 Nestle articles on this website since the start of last year. How many "Procter & Gamble (NYSE:PG) is a great dividend stock" articles can dividend growth investors bear? There were 127 Procter & Gamble articles since the start of last year. A lot of things you like about other DGI stocks, you will like about Nestle. It is the largest food and beverage company in the world, a dividend growth stock, has ~30 $1 billion dollar brands, and a proud history.
Some of my earliest childhood memories are spooning out some brown Nestle chocolate powder into milk. Of course, a quick test sample would taste so good, I'd mix more chocolate powder into my milk, until it got to the point that I was drinking Nestle mud instead of Nestle chocolate milk.
So why don't more Dividend Growth Investors own Nestle?
1. The company is foreign.
Yeah they are foreign, but Nestle is really global. Sales come from: Americas 43%, Europe 28%, Asia, Oceana, Africa 29%. Apple (OTC:APPL) had more foreign sales than domestic, so did Nike (NYSE:NKE), so did many other highly successful companies. The United States is by far their largest market with CHF 23.5 billion of sales.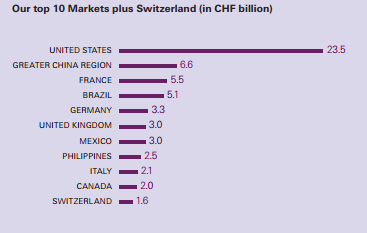 A few years back everybody wanted to invest in "Emerging markets." Instead of buying that Brazil, Russia, China, or India ETF, why not buy Nestle? 56% of sales are from Developed Markets, 44% are from Emerging Markets. When I say Emerging Markets, they sell everywhere, so you are getting "Frontier Markets" as well.
2. You are most likely purchasing an ADR.
NSRGY or NSRGF. These are the American Depository Receipts. This is a new variable for the American investor; it's a road many aren't willing to cross.
3. Foreign stocks have added tax considerations.
Here is a good article talking about the tax considerations for foreign dividend payers. Keep in mind Switzerland has a 35% foreign withholding tax on dividends.
4. Information.
There is less information readily available about Nestle, and a lot of the information is presented with figures denominated in Swiss francs.
These are valid reasons for not owning Nestle and other foreign dividend growth investments. I've been on Seeking Alpha for 7 years and I've seen dividend growth investing explode in popularity. I've seen dividend growth stocks get bid up as investors are hungry for yield. Bonds don't pay, so why not buy DGI stocks that will give me 3%+ yield that will grow over time? The trade got crowded and investors had to look elsewhere for value. You never want to lose sight of value.
Company
Nestle is the largest food and beverage company in the world. They operate in 197 countries, have 339,000 employees and have 442 factories. The company boasts over 2,000 brands and has roughly 30 billion-dollar brands.

Click to enlarge
Owning Nestle is like owning 7 large companies in one: Powdered and Liquid beverages, Milk Products and Ice Cream, Prepared Food dishes, Petcare, Confectionery, and Water.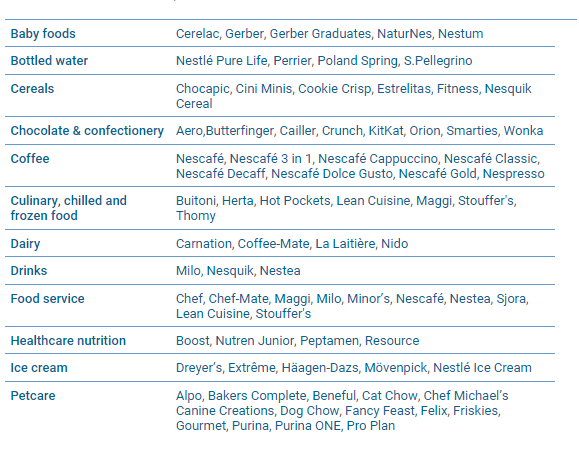 As you can see, Nestle has many household brands like: KitKat, Crunch, Haagen-Dazs, Dryers, Nescafe, Gerber, Purina, Alpo, Stouffer's, Hot Pockets, Lean Cuisine, etc.
Dividend
Nestle has kept the dividend the same or raised it every year since 1959 (as far back data as I could find). They have raised the dividend every year since 1990.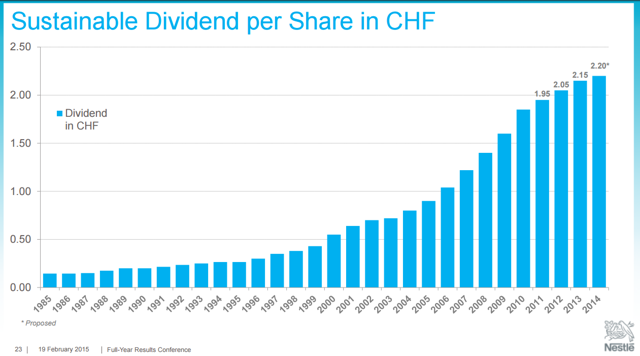 Click to enlarge
If you had invested 10,000 Swiss Francs into Nestle shares on Jan 2, 1991, you would have purchased 1,430 shares. Today those shares are worth 103,103 Swiss Francs, for a 931.47% return or 9.76% annualized.
If you had reinvested the dividends, that 10,000 investment would be worth 164,201 Swiss Francs for a 1542.72% return. That works out to 11.82% annualized.
The dividend is paid out annually. Ex-Dividend date per Yahoo Finance is April 17th, with a payout date of May 29th.
Long-term debt is currently rated AA, Aa2 and AA+ by the three major ratings agencies. That combined with a < 50% payout ratio and organic growth lead me to believe the board of directors has an excellent chance at extending this winning dividend streak well into the future.
L'Oreal
Nestle owns a 23.29% stake in L'Oreal. In 2014, they divested an 8% stake in exchange for half of skin treatment division Galderma (worth $4.2 billion) and $3.4 billion in cash. The newly acquired Galderma specializes in treatments for skin care like acne.
Nestle has been with L'Oreal for the long haul and they strategically want to stay that way. They have some joint ventures, and maintain 2 directors on the board. L'Oreal is a successful company in its own right, but moves like this could be a future avenue to get into consumer and health products.
So Nestle is like many companies in one. Add L'Oreal to the mix, and this company is like a global mutual fund, not a one-trick pony.
Scandals
Maggi noodles in India. Regulators are said to have found higher than allowed led levels in a number of the popular instant noodles. Nestle owns 80% of the instant noodles market in India, and they represent 30% of Nestle's business in that country. Their product also tested positive for MSG, but Nestle maintains the positive tests were triggered from L-Glutamate, a common amino acid protein.
Tests in other countries like the UK and Australia show up safe, and the company says the Indian tests were flawed. All in all, product was destroyed, and there was a $77 million loss.
Fresh tests ordered by the Indian court show the product is safe and Maggi noodles are back on sale in India.
Nestle water in Sacramento. About 20 people protested outside a Nestle water factory in California. They were mad that Nestle didn't shut down their business during the California drought.
"This corporate welfare giveaway is an outrage and warrants a major investigation," Coalition spokesperson Andy Conn said. "For more than five months we have requested data on Nestlé water use. City Hall has not complied with our request, or given any indication that it will. Sacramentans deserve to know how their money is being spent and what they're getting for it. In this case, they're getting ripped off."
So basically, people that have no idea how much water Nestle was using were protesting how much water Nestle was using. They called it a corporate give away. They asked their elected officials for data, accused Nestle with being in bed with the government... yet they protested Nestle not their leviathan government who was "granting" favors. So they protested in the blind.
On to Valuation
I selected Pepsi (NYSE:PEP), Unilever and Danone (OTCQX:DANOY) as peers. If I had to identify the most accurate peer, I'd argue it is Pepsi with their size and global food and beverage footprint.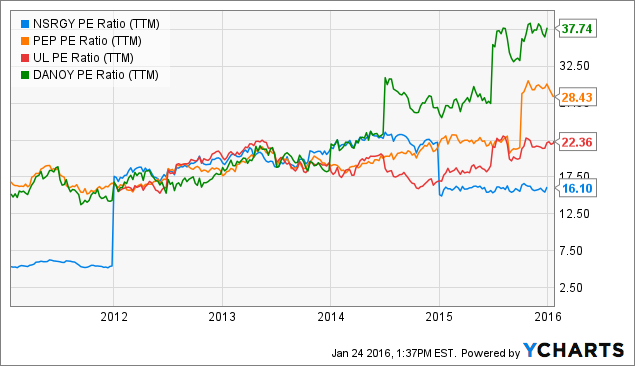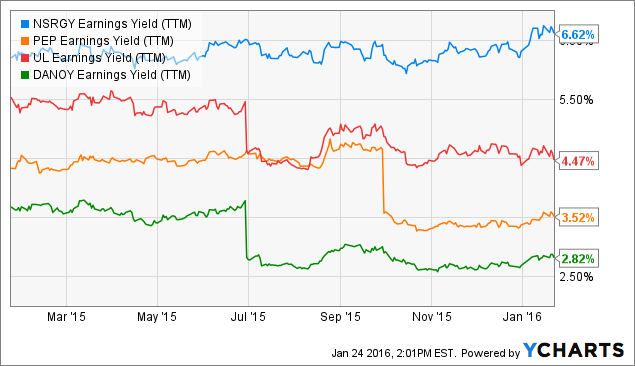 When looking simply at Price to earnings, Nestle is cheaper than identified peers.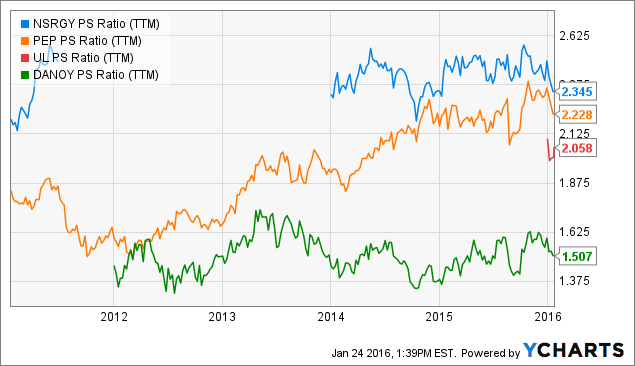 Price to sales, Nestle doesn't fare as well. Part of that could be product mix/margins. Nestle is in line with strictly food/beverage competitor Pepsi.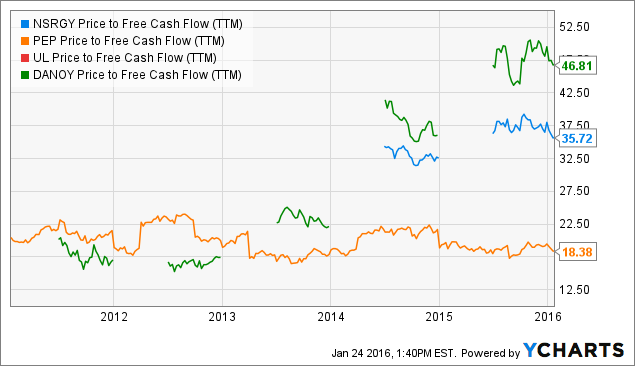 Pepsi has the best Price to Free Cash Flow.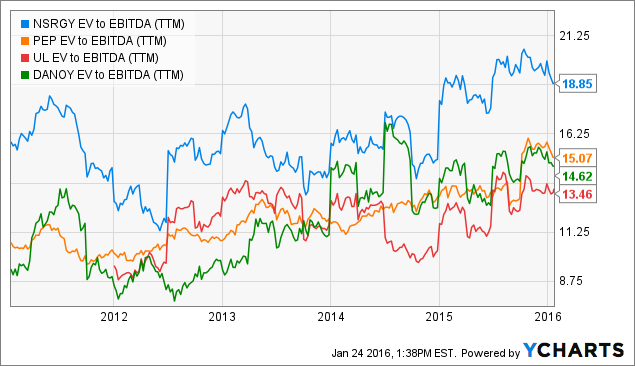 On EV to EBITDA, which factors in debt, Nestle doesn't fare as well as peers, but their number doesn't look too crazy.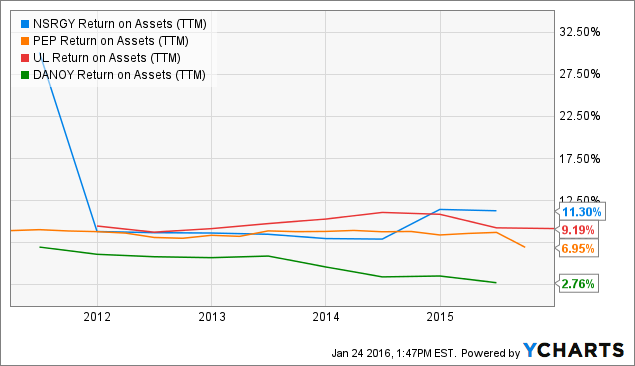 Nestle gets the best Return on Assets among peers.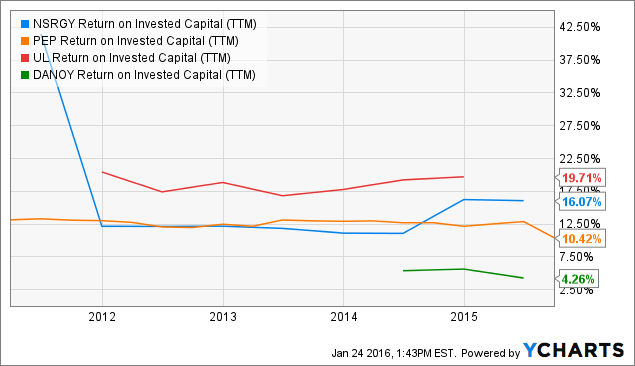 Nestle is second in class in Return on Invested Capital.
I also plugged in the Dividend discount model since this stock would be part of my dividend growth portion of my portfolio... Nestle's dividend growth hasn't been good the last 5 or so years with token ~5% or less dividend growth rates. Plugging in a 2.28 dividend with a more normalized 7% dividend growth rate and a 10% discount rate gets us to $76 per share. If we used an 8% dividend growth rate and an 11% discount rate, that also gets us to $76 per share.
With a payout ratio below 50%, I am hopeful Nestle can get back to double-digit dividend growth increases and exceed projections. Even if they don't, I still think $71 per share is a fair price. The 200 day moving average is north of $75 per share and the high touched $80. Nestle is a great company that sells products everybody needs and the entire world is their market.
If you look at the company against peers, I think it fares very well. If you look at it as a dividend growth stock, it also fares well.
Conclusion
I'm already on record saying that Winter is Coming. What happens during recessions? Stocks go down, people panic, growth is hit harder than value, people flock to quality, people flock to necessities. You will hear people say things like, "People need to eat, people need to brush their teeth, etc."
I initiated a position in Nestle in a taxable account. If shares go down, GREAT -- I will pick up more at a better price. This is a stock that I plan on owning for the long haul, much the same as Coke (NYSE:KO), Pepsi, and Johnson & Johnson (NYSE:JNJ). I own these Dividend Growth stocks in what I call my dividend growth machine.
Nestle is a great company, at a fair price. It's the best dividend growth stock nobody talks about.
Disclosure: I am/we are long NSRGY, PEP, KO, JNJ, AAPL.
I wrote this article myself, and it expresses my own opinions. I am not receiving compensation for it (other than from Seeking Alpha). I have no business relationship with any company whose stock is mentioned in this article.
Editor's Note: This article discusses one or more securities that do not trade on a major U.S. exchange. Please be aware of the risks associated with these stocks.