BHP Billiton (NYSE:BHP) is my top iron ore pick for 2016. Unlike lower-cost competitors like Vale (NYSE:VALE) and Cliffs Natural Resources (NYSE:CLF). Being able to trade BHP is going to largely depend on my ability to understand the short-term catalysts surrounding iron ore prices, but keeping in mind the longer-term opportunity. The increased volatility in January has begun to be a nightmare for traders and creating visibility on BHP has been incredibly difficult. With an improved risk/reward scenario, potential supply-side reform coming from China, and incremental curtailments from other producers, we're starting to see some bullish support for the company.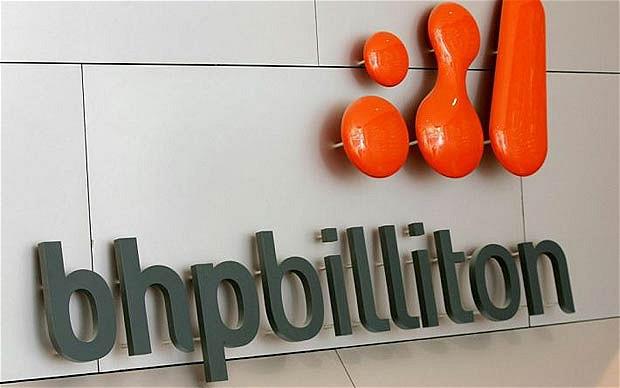 Potential Catalysts
There's a lot of fear in the iron ore industry right now that the low level prices are creating instability and two targets, BHP and Rio Tinto (NYSE:RIO) are consistently on watch due to their exceptional balance sheets and cost management. Here's the best part about BHP: they are realistic with their expectations. If currency and commodity headwinds persist or even if prices stay at current levels, this company is going to see downward pressure. Last week, the company said that they do not expect a recovery in iron ore in 2016, which is largely the consensus. The largest fear, however, comes from the World Bank with the expectation that "lower for longer" iron ore prices will persist through 2020, only hitting $50 (62% Fe) at that point.
Samarco was a complete disaster, but nonetheless an anomaly. Looking forward, the proposed $4.8 billion fine is going to cause a large impairment on BHP's books. Not only that, but the loss of the Samarco JV in future quarters will be reducing the top-line. Is that necessarily priced into expectations? That's hard to say considering BHP's correlation to iron ore prices, so we'll gain more color on that on the next ER. Furthermore, we'll likely get more visibility on this settlement amount next month.
With the exception of iron ore, BHP Billiton did post lower production levels for metallurgical coal, petroleum, copper and energy coal. These were naturally due to price weaknesses as well as several one-time factors. I'd expect BHP in future quarters to diversify out of energy coal and make up the ground in petroleum and copper, according to their guidance, as coal has largely seen the worst decline in the last 18 months. Those levels are seen below.

Source: Investor Presentation
A key takeaway from this recent operating update is that BHP has three major projects under development set to boost the top-line and that's one of my primary motivations behind buying the stock. It comes at a time where smaller producers are already in a bind with a gluttonous oversupply in the market and cannot afford to have prices take another dip. Furthermore, I believe we'll begin to see BHP take the direction of other competitors like Fortescue (OTCQX:FSUMF, OTCQX:FSUGY) Metals in the aggressive cost-cutting and decreasing leverage in order to have a lower break even per ton level.

Source: Investor Presentation
We're also starting to see incremental support for iron ore prices. The speculation that China can push supply-side reform is hanging in the back of traders' minds. Until we can see efficacy from China on that front, iron ore prices will be volatile and so will BHP's equity. While I believe we'll see some support in 2016, I believe it is going to take the exit of one of the smaller players, like Vale or Cliffs for a real rebalance to occur, especially when we have Fortescue projecting to increase shipments this year. Furthermore, we saw Vale close down its Tubarao port due to environmental issues, which was crucial in setting a ST bottom.
Iron ore is currently trading at $40.85 on the Globex, which is up slightly from the dip we saw over the last two months. While expect much volatility moving forward, the pressure will be on China to announce the specifics behind their supply-side reform plans and ideally, IO prices will start to see more stable, longer-lived upside.
The extent to which BHP has curtailed production is drastically better than its competitors, too. BHP has released full year guidance that it will decrease iron ore production by 10 million tonnes to 237 million tonnes, but it should be noted that this wasn't by choice as this is the production loss from Samarco. BHP can afford to keep increasing production in the face of other players. Staying steadfast with production and maintaining market share is one of the other key reasons why I like BHP through this downturn.
Trading At Current Levels
The most immediate thing I noticed was the improved risk/reward scenario after suffering a 45.81% loss in 2015 and already 17.12% loss in 2016. While I'm largely a pessimist on commodities until China truly pushes supply-side reform, I'll likely be staying long with a portion of these shares and day trading some sort of allocated remainder just for some incremental profit potential. That being said, we can really see the aggravated decline the shares have taken in last few months, but notice where my trade is taking place - at nearly the 52-week lows. That's an excellent justification for a long trade on an improved risk/reward mindset, as well as with the stock trailing its moving averages so heavily.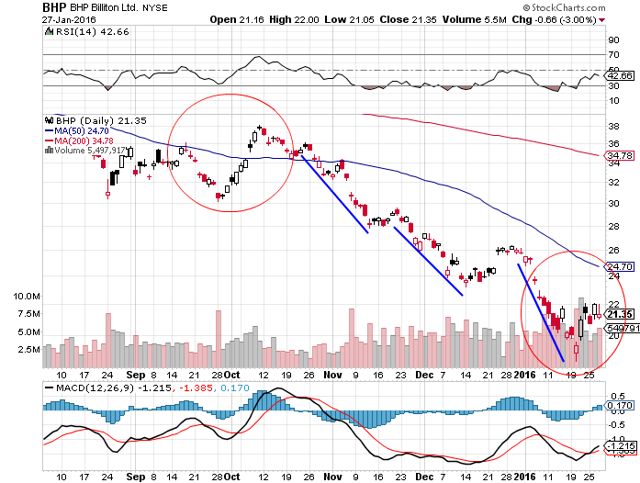 Source: StockCharts
Certainly, there could be some very negative events this year for BHP shareholders, notably a potential dilution through an additional capital raise. Since Moody's put BHP on credit review last month, everyone is uneasy about this company's liquidity. The additional capital raise could amount to $15.4 billion, which would likely rattle the equity. This is a company with a solid A rating from Moody's, well above the Baa3 from competitor Vale, who's on credit watch for being downgraded to junk. Now, the review really revolves around the commodity price risk, but it should be noted that they expect BHP's debt/EBITDA to increase 2.0-2.5x by summer 2018. If BHP can combat this and effectively reduce debt not at the expense of liquidity, they will maintain their solid credit rating.
Naturally, another consideration I have to maintain is the AUD/USD as BHP has experienced FX losses in past earnings reports. While we can expect the pair to largely be influenced by commodity prices as well as the rate hike pacing of the Federal Reserve, it remains that this depreciation against the dollar has cut into BHP's earnings.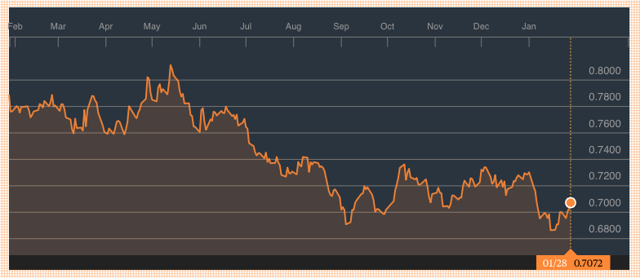 Source: Bloomberg
Dividend At Risk?
The stock is current yielding 11.49%, a substantial yield for a commodities company, let alone any company. The payout ratio is lofty at 240.8%, but grew 2.5% YOY. BHP is different from other public companies in that they report earnings every six months, so they report a much larger distribution each earnings report. There are currently many pessimists when it comes to BHP's high yield and rightly so given the current state of iron ore and other commodity prices, but I think their concerns are merited at this point in the downturn. Why would BHP cut now and not months ago like other commodities companies, especially with solid liquidity and a strong credit rating?
Historically, the ex-dividend dates have been in the first half of March, as well as the first half of September. That means there's still more than an adequate amount of time for investors to tack on a solid first half yield. If we continue to see iron ore test new bottoms, then there is going to be a swelling of speculation as whether or not BHP will cut their dividend to preserve liquidity.
Conclusion
The long-term investment with BHP continually looks attractive. An improved risk/reward scenario justifies a long entry, but my largest concern is that I'm in place too early. If you've ready any of my articles, you'll know I'm impatient with returns (we'll chalk that one up to my generation), but I believe iron ore is attempting to find a bottom and there's much more limited downside risk with an investment in BHP Billiton.
Disclosure: I am/we are long BHP.
I wrote this article myself, and it expresses my own opinions. I am not receiving compensation for it (other than from Seeking Alpha). I have no business relationship with any company whose stock is mentioned in this article.