In biotechnology there are a number of stock moving developments that can change the direction of a stock. Biotech stocks can be the most rewarding investments, but if chosen incorrectly they can also be the most devastating to a portfolio. In a previous article I discussed diversifying a portfolio with biotechnology stocks that serve a purpose, such as: large biotechs with high yields, aggressive-growth biotech companies, and small speculative biotechs. In my opinion, there has never been a better time to invest in biotechnology, with the distinction in value being so great.
I can't remember any period over the last 8 years where the value between similar biotechnology companies has been greater. A long chain of events created optimism among investors, allowing for a company to be valued much higher than its actual worth. Because in all reality, when investing in a speculative biotech company, we have no idea if a lead candidate will be awarded approval. All we have is what the company provides from clinical trials, and then we hope it's enough to satisfy the requirements from the FDA. Therefore, with the distinction in value being so great, I am looking at the growth drivers for small, speculative biotech companies so that investors know what drives a biotech stock higher during clinical trials.
It's truly amazing how fast a small biotech stock can appreciate if given the correct data and the right amount of optimism. Just look at Amarin (NASDAQ:AMRN), back in February 2010, when the stock was trading at just $1.00. Following a series of encouraging data from two pivotal Phase III trials, along with the belief that its transcendent drug, AMR101, could garnish an approval, the stock reached nearly $20 in just 15 months. The stock is now trading at $8.57, which is still a hefty premium over the last two years, and shows how quickly the tide can turn for a speculative biotech company if given a glimmer of hope.
A few weeks ago I was given a chart, courtesy of Campbell Alliance, that shows the growth drivers for biotech companies with market capitalizations under $500 million. This chart reflects research of market-moving events for small biotech companies. Most biotech companies with a cap under $500 million are speculative, are in late-phase testing, or possibly a company with a newly approved drug. Therefore, the chart below, which shows market-moving data, is fairly accurate for identifying what drives investor optimism.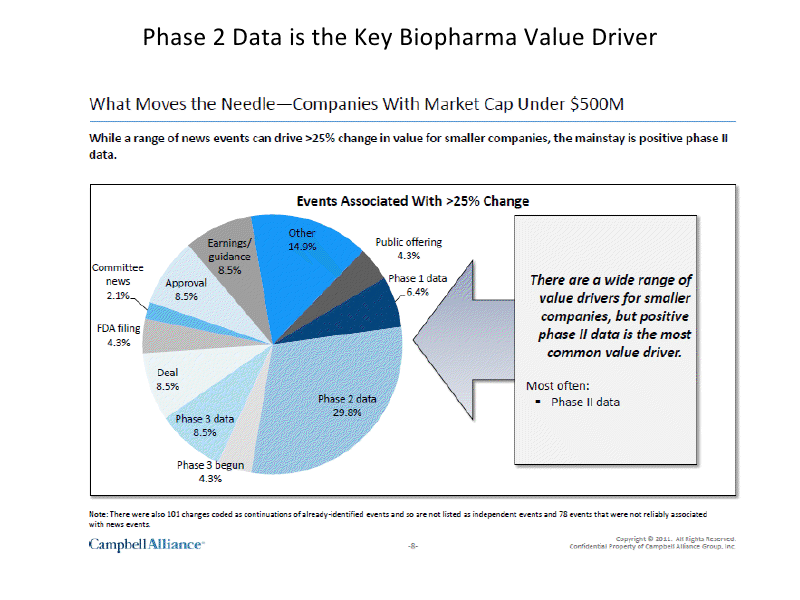 Click to enlarge
The chart above highlights a variety of events that produce gains of at least 25% in a three month period for biotechnology companies. There are events such as phase data, FDA approval, guidance, etc. that all drive a stock higher. Most would assume that an FDA approval or an FDA filing would be the largest contributor to a market-moving development. But in fact, the most common driver of gains of at least 25% in biotech stocks with a valuation under $500 million is Phase 2 data, accounting for nearly 30% of the chart.
I have a couple theories as to what's so significant about Phase 2 data. First, in the realm of biotechnology where the distinction in value is so great, there are many speculative biotech companies with valuations that exceed $500 million by the time it reaches Phase III or an FDA filing. Therefore, a large number of speculative biotech companies in Phase three don't qualify for this research because of market caps over $500 million. But second, and most importantly, I believe it's because Phase II is where the true potential, or identity, of a drug is realized. Phase I trials usually identify a drug as being safe, effective, and deem it usable among a large number of patients. But in Phase II the testing is usually very precise and it gives investors an idea of a drug's likelihood for being awarded an approval. Therefore, most biotech companies remain small with little positive movement until entering Phase II; but once in Phase II if the data is encouraging then a micro cap stock can become worth billions in a short period of time.
My favorite time to purchase a small speculative biotech company is in Phase II. I've never felt comfortable purchasing stock in companies that are yet to be awarded an approval but trade with billion dollar valuations, while in late-phase testing. I would much rather purchase a sub $100 million company that is entering Phase II with strong initial data. Because by the time Phase II begins we already have an idea of the candidates potential and usually have initial data to suggest the success of a candidate's trial.
Over the last two weeks I wrote a three part series entitled "10 Biotech Stocks With Big Potential Upside in 2012." The series covered stocks in the biotech industry that presented upside greater than 100% over the next 52 weeks. I used a variety of factors including a company's valuation, key announcements, earnings or data, and investor expectations. Although there are a variety of companies that fit into this category I felt as though Immunocellular Therapeutics (NYSEMKT:IMUC) was the stock with the most upside potential in 2012 because of its valuation, initial data, and its Phase II developments later this year.
As we've already discussed, Phase II data has the ability to significantly move a stock. However, the goal is to find stocks that present the most upside prior to entering Phase II. Over the years there have been many stocks to move by a remarkable amount in a short period of time, while in Phase II trials. Below is another chart, which shows 20 stocks that added significant value in a period of 3 months as a result of Phase II data.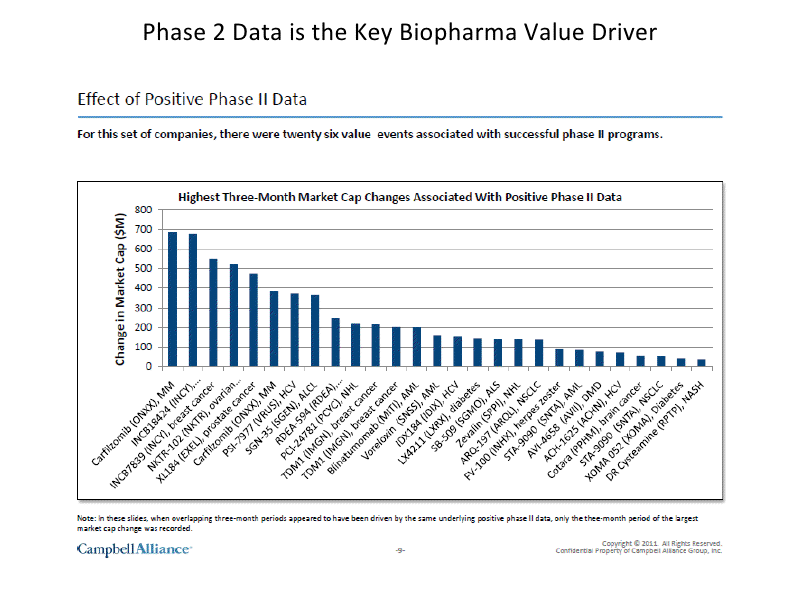 Click to enlarge
Unfortunately, the initial gains don't always last, but if bought while in Phase II some stocks present the possibility for once in a lifetime gains. Just look at Onyx Pharmaceuticals (NASDAQ:ONXX), the leader on the board, from 2003 till 2004 the stock went from a $300 million market cap to a $3.7 billion cap with strong data. It has since lost 40% of its value but the gains were still significant for investors who rode the gains higher. Nektar Therapeutics (NASDAQ:NKTR) returned 300% from 2009 till 2010, and Pharmacyclics (NASDAQ:PCYC) is currently trading higher with a 350% return over the last year. Even Micromet (NASDAQ:MITI) which uses similar immunotherapy technology as Immunocellular has returned 52% YTD after being bought by Amgen (NASDAQ:AMGN) due to successful trials.
The truth is that until a company begins Phase II it's usually undervalued but then if the company can continuously provide encouraging results then it will trade higher, and may even become overvalued. Usually investors choose to invest in a stock once it begins to trade higher. But the smart investors can realize potential and buy before the market recognizes a biotech company's potential, much like IMUC.
I believe that IMUC has the potential to return mind boggling gains from its current position. The company's now enrolling patients for its Phase II trial for the treatment of glioblastoma. So far, IMUC's lead candidate ICT-107 is showing much better results compared to standard care alone in treating glioblastoma, a disease with an average life-expectancy of just 14 months. During Phase I, ICT-107 treated patients with glioblastoma, and 100% of the patients exceeded their first year of treatment, 40% were disease free in three years, and the company's expecting 18% of the patients to survive through 2012, which would be 5 years. This data is simply incredible especially considering only 6% of glioblastoma patients had surpassed three years with standard care alone.
Immunocellular trades with a market cap of just $50 million which means its upside could be even more significant. The stock has returned a YTD gain of 35% and its volume has been steadily increasing, which suggests momentum in the stock. I believe that IMUC is a stock that is poised to reap the benefits of successful results in Phase II and that its stock will trade higher in the near future as investors anticipate strong results. This treatment could be one of the more transcendent technologies that we've seen in the treatment of cancer. Therefore, I don't expect its $50 million market cap to last too long and that Phase II will result in large movement. However, IMUC is not the only company in Phase II with significant upside. As technology and research continues to improve, there will be more companies with this level of upside. And because of the large number of companies trading remarkably cheap I believe that there has never been a better time to buy biotech stocks with lead candidates in Phase II.
Disclosure: I am long IMUC.OB.