I like a company led by a management team which makes good on its promises. I particularly like a company that claims it is on the verge of profitability, has a thin float, has relationships with large industry players and has a market cap that is discounted to larger peers. VirtualScopics Inc. (NASDAQ:VSCP) is a company that is closing in on profits as it serves a unique niche for biotech startups and larger pharmaceuticals alike. It is led by a management team that is forthright, focused and not afraid to make the necessary changes to succeed on a planned turnaround.
Recent financial performance shows profitability is imminent
CEO Eric Converse stated multiple times throughout 2015 that he expected the company to achieve profitability and positive cash flow in short order, possibly by the end of the year. While VSCP appeared to be on the right track by Q2, profits still seemed quite far away. Revenue increased 17% for the first six months of the year while the operating loss dropped 21% from $1.38 million in 2014 to $1.09 million. An admirable improvement, but it was still a burn rate of $0.7 million during the second quarter and $1.7 million for the first quarter of 2015. Mr. Converse's promises sounded just like any other microcap company headed in the right direction - profits could come at some point in time, but who knows how long it would take and if further dilution was coming.
Then came Q3. Revenue increased 18% which was in line with what VSCP achieved in the previous two quarters. However, the company stunned the market as it was essentially break-even with an operating loss of only $11,000 and a net loss to common shareholders of $67,000. The company achieved positive adjusted EBITDA of $132,000. The stock reacted positively by jumping 150% in one day.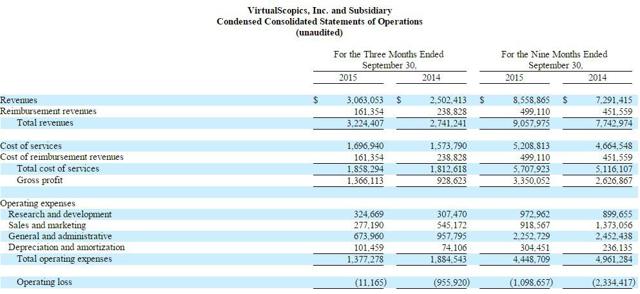 Source: VSCP's Q3 10-Q
VSCP has been able to drastically improve its financial performance as Mr. Converse's strategy of seeking ways to maximize revenues through existing customers while making tough choices in terms of restructuring and marketing focus has started to pay off with revenue growth coupled with cost containment. Sales and G&A costs were down by more than a third combined due to lower marketing costs, a new compensation plan and reduced headcount, coupled with costs in 2014 not reoccurring such as the search expenses for hiring the CEO and legal fees.
Future revenue under this leaner version of VSCP looks as good as ever as its contract award backlog and bookings are at multi-year highs. On the Q3 conference call, the company disclosed that backlog at the end of Q3 was approximately $31.9 million after removing projects at risk. The company conservatively reports backlog only after a contract has been signed, so shareholders can be sure that it isn't presenting unrealistic numbers. Bookings and awards were $24 million at the time of the call for 2015, building on $26 million booked in 2014. Prior to 2014, the company had bookings in excess of $20 million only once in 2009.
Taking these numbers into consideration, one could reasonably believe that VSCP is headed towards record revenue figures in 2016. But even sooner than that, I predict that VSCP will build on its success seen in Q3 into Q4 and report not only positive EBITDA numbers, but positive cash flow and operating profit as well.
VirtualScopics' unique niche: FDA standardization offered through all clinical stages
I would have been excited to invest in VSCP just from its vastly improved financial performance and promises of profitability in the near-term, regardless of what type of "widgets" the company sold. After speaking with VSCP's management, I got a good grasp on what exactly the company does and believe it is well-positioned for growth in the future and may even be subject to a takeover bid.
A review of VSCP's recent news release describes the company:
VirtualScopics, Inc. is a leading imaging CRO/Central reader, providing clinical trial imaging solutions to accelerate drug development. Medical and scientific expertise, operational flexibility and responsiveness are hallmarks of our daily work and collaborative approach. We understand the risks and time constraints that clinical trial study teams, medical directors, radiologists, and imaging scientists face. We focus on addressing these challenges by consistently delivering quality imaging data and imaging services on time and within budget. It's these exceptional performance advantages that truly set our clinical trial imaging services apart. For more information about VirtualScopics, Inc., please visit virtualscopics.com.
I feel it is necessary to really dive into what the company does in order to understand its unique niche. VSCP offers a full-service solution for a standardized double-blind clinical trial program throughout all three phases of the FDA approval process. This includes:
Project management: VSCP designates a dedicated project manager for each trial who helps to set it up in order to ensure that milestones are met while identifying and mitigating risks within the program from pre-Phase 1 through Phase 3.
Image acquisition: VSCP has developed a systematic site qualification process to ensure that its radiologists have the correct client data required for image analysis.
Image quality inspection: Every image that is received by VSCP as part of the program goes through scrutiny by qualified technologists to ensure that image acquisition adheres to study protocols. These inspectors are cross-trained and their work is audited each month to ensure that each member is adhering to appropriate processes and procedures designed for the trial.
Image analysis: VSCP's technologists partner with an extensive network of in-house and contract radiologists in their respective fields of expertise. The company leverages its Scientific Advisory Board to stay up-to-date on new imaging endpoints and response assessment criteria and has developed proven processes to conduct analysis with quick turnaround times for patient eligibility and/or confirmation of disease progression requirements. VSCP's robust image analysis system ensures participants who are selected for the double-blind study meet the necessary criteria within the study's parameters and it does so in the most timely fashion possible.
Image analysis transfer: VSCP ensures that it can provide the highest-quality clinical trial data management possible on time and on budget. This gives the confidence sponsors need in order to determine efficacy and monitor patient safety throughout all stages of the program.
When a clinical study fails to meet its endpoint, biotech companies often point to poor study setup as an excuse for the lack of efficacy. Using a company like VSCP to assist with this process will ensure that honest biotech companies minimize the risk of throwing money down a hole due to a poorly set up or unrealistic trial.
VSCP is not the only firm that provides integrated clinical research technology solutions to pharmaceutical and biotechnology companies. What differentiates it from all of its competitors and helps to carve a monopolistic niche for itself is its roots in science. The larger companies which provide clinical trial management services come from a logistics background which better serves Phase 3 needs. VSCP's science background and process described above is better equipped to serve Phase 1 which heavily involves defining the basic parameters of the entire program. The trend in biotech is headed towards one program manager throughout all three study phases. It has been much easier for VSCP to expand to offering solutions from Phase 1 to Phase 3 than it has been for its competitors to expand from Phase 3 to Phase 1.
I believe that VSCP's unique position makes it a strong buyout target as competitors look to strengthen their position in offering early-stage study solutions. VSCP has found that it has an additional competitive advantage - smaller startup biotech firms prefer to work with a company that is of a similar size and has a science background. But that doesn't preclude larger pharmaceuticals from using the company as it boasts a client list that includes 11 of the largest 15 pharmaceutical companies. VSCP discloses one of these companies as a related party as it is an investor, leading to my next section.
Share structure, financing and other risks and relationship with Merck
So far I have shown that VSCP is a thin-float stock with a unique position in the healthcare industry that is on the verge of profitability. In this section, I will show that one of the world's largest pharmaceutical firms has an investment stake in VSCP and in the following section, I will show that it is highly undervalued. However, all good things have caveats to them and that includes VSCP. This is in the form of a relatively complex share structure that includes preferred shares. While the company has positive working capital, minimal long-term debt or capital lease obligations and no immediate plans to finance, it has left the door open for future financing if a larger strategic opportunity was to present itself. Some investors may wish to see more than one quarter of improved performance to establish a trend.
Merck & Co., Inc. (NYSE:MRK) is a client and an investor in VSCP as it owns a preferred share stake through the Merck Global Health Innovation Fund, LLC. MRK owns 3,000 Series C-1 Preferred Shares which are convertible into 249,107 shares of VSCP and Series C-1 Warrants which are exercisable to purchase 136,132 shares of the company.
While Merck is classified as a related party, it is large enough to assume that no favoritism takes place when companies try to procure client trial management business. VSCP has confirmed that MRK's investment management team is completely separate from the division that the company deals with when managing its clinical trials, so all business has been earned. However, I do envision a scenario where the investment wing of Merck sees how well the company's relationship is going with VSCP and might consider a greater investment.
According to VSCP's Q3 SEC filing, "revenues generated from Merck were $403,098 and $88,932 for the nine months ended September 30, 2015 and 2014, respectively". Revenue from MRK is up an impressive 353% on the year, but still only represented 4.5% of VSCP's revenues for the first nine months of the year. Excluding MRK's growth rate, VSCP's revenues are up 12% for the year instead of 17%. Even if MRK's business was something that shareholders should raise as a related party red flag (which I don't believe it is), it does not drastically impact VSCP's financial performance.
In addition to MRK's preferred shares, there are 2,165 Series A and 600 Series B Preferred Shares outstanding, respectively. In aggregate, the Series B & C-1 preferred shares have a relatively minor dividend payable of $335,000 and accrue dividends at $42,000 per quarter, so they don't significantly impact VSCP's balance sheet nor its valuation potential going forward. However, all three series convert into 83.036 common shares per preferred share, leading to a potential dilutive impact of 478,701 shares. The company also has a combined total of 616,379 options and warrants, leading to a fully diluted share count of 4.09 million.
As one could assume with a stock of $9 million market cap, VSCP's balance sheet does pose some risk of future dilution: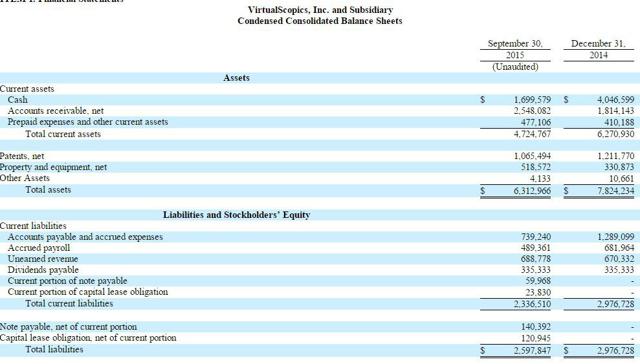 The company is closing in on profitability at an opportune time as its cash has dwindled from $4 million to $1.7 million throughout the year and its working capital at the end of Q3 sits at $2.4 million, down from $3.3 million at the start of 2015. While this is far from the worst balance sheet you can find for a microcap, if VSCP were to continue at the same pace of Q1 or Q2 2015, it would likely need to finance some time in 2016. The company has procured a $2 million line of credit from Silicon Valley Bank which is currently not in use, so that would extend the timeline into 2017 if needed. Investing in VSCP requires a leap of faith that Q3 wasn't an anomaly, but it's one that I am willing to take after discussions with the company.
In my conversation with VSCP, I asked the team point blank - "Do they expect the need to finance to support operations in the near future?". Mr. Converse scoffed at the idea, saying that he does not commute from Pennsylvania to Rochester, NY every week to lead a money-losing company. He has led the recent positive developments achieved by the company through difficult cost-cutting decisions and holding frank discussions with clients surrounding price increases. I believe that he will continue to build on that success going forward and that VSCP's need for equity financing in the short term is essentially non-existent. Investors can either take that leap of faith with me at $3, or wait for Q4 results in a few weeks to see a more established trend but potentially pay a higher price upon good results.
VSCP did leave the door open to the possibility of financing down the road (and at higher valuations) to fund an expansion opportunity or chance to improve margins. The company stated that it has a pretty good idea of its revenue growth rate and market strategy in the next three years, but left the possibilities open for any time frame beyond that. I think it is reasonable to assume that VSCP will not be going to the market with a cup in its hand anytime soon. I believe that any financial or strategic partnership (including a buyout - friendly or hostile) would likely come from the behest of a third party's desire to stake a claim on VSCP.
While I believe that VSCP is in a unique market position, there is no guarantee that the company can procure more clients for future growth. The good news is that backlog has been disclosed at $31.9 million and has been scrubbed for projects at risk so investors can be assured that the majority of this figure will eventually turn into revenue. Assuming that 100% of the backlog turns into revenue earned over the next two years, that would be an average of $16 million per year, a decent 33% lift on the current $12 million revenue run rate. As little as 75% of the backlog could turn into revenue in the next two years and still leave the company at current revenue run rates, assuming it procures no other sources of income. As long as VSCP remains lean, current backlog should provide enough revenue to remain break-even or pull in profits in the next two years while it looks to expand.
Given the minimal risk for financing in 2016, I believe using VSCP's fully diluted share count of four million is reasonable for any attempt at trying to value the company.
A deal from 2013 shows that VSCP's backlog is undervalued
Part of the problem with being a small company in a unique industry is that there are few pure comparables for which to come up with a valuation. Looking at VSCP's key statistics on Yahoo! Finance, the company is trading at around 0.8x of revenues which sounds quite low as the vast majority of health care services stocks trade well in excess of 2.0x their revenues.
One event for which I can derive a direct valuation comparable is JLL Partners purchase of BioClinica in January 2013 for $123 million, or $7.25 per share. Reviewing BioClinica's 2012 annual report discloses its financial state at the time of the acquisition. The company earned $0.23 per share on $98.3 million in revenue while it had $122.2 million in backlog. The table below summarizes BioClinica's financial performance as well as the valuation multiples implied from this deal.

BioClinica had a 17% revenue growth rate in its final year as a public company, similar to VSCP's Q3 year-to-date 2015 revenue growth. The revenue multiple associated with it was 1.3x while the P/E was 31.5. However, what I find most important is the backlog multiple of 1.0x because that's an indication of what future revenue could have been at the time.
The next table shows VSCP's valuation relative to its current backlog and trailing 12-month revenue. When considering the valuation at a fully diluted share count, the revenue multiple is slightly lower than BioClinica's at 1.1x. When looking at the backlog, VSCP's stock price has 2-3x upside based solely on today's situation, assuming that a valuation multiple of at least 1.0x on the company's conservatively defined backlog is reasonable. Since it is a going concern, continued growth in the backlog as well as bottom line numbers will only provide more upside from here.

Even though the company isn't profitable yet, the advantage with such a small float is that it won't take a lot of bottom line earnings to achieve a higher EPS. A P/E of 30 would require $0.10 EPS, which is only $300,000 of earnings for the full year on the current float. With the rate of improvement VSCP had in Q3 relative to previous quarters, it's not inconceivable to think that the company could have a $0.10 EPS in one quarter some time in 2016. That could be a driver to push up the stock to $10 or more.
Conclusion
After speaking primarily with Eric Converse along with other members of the VSCP team, I am convinced that he is a strong leader who is guiding VirtualScopics on the right track with the support of everyone in the organization. A well-managed, small float stock on the edges of the biotech space and flirting with profitability is a ticking time bomb with respect to extreme volatility. VSCP rose 150% on October 30th after announcing its vastly improved Q3 financials. I expect a similar reaction after Q4 numbers are released, particularly if they improve upon Q3.
The advantage of writing an article hinging on the short-term activity of this thin float stock is that it won't take long for the thesis to be proven. In less than a month, we will find out just how good the Q4 results will be. Assuming the thesis works out as planned, I expect to provide updates on VSCP's progress throughout the year.
Disclosure: I am/we are long VSCP.
I wrote this article myself, and it expresses my own opinions. I am not receiving compensation for it (other than from Seeking Alpha). I have no business relationship with any company whose stock is mentioned in this article.
Editor's Note: This article covers one or more stocks trading at less than $1 per share and/or with less than a $100 million market cap. Please be aware of the risks associated with these stocks.