In this article, I will be looking at how activist investors or analysts have pressured the highest-quality companies to break-up/spin-off assets and why those plans have been and are a poor idea. The three examples I will be looking at are Microsoft (NASDAQ:MSFT), Exxon (NYSE:XOM) and Johnson & Johnson (NYSE:JNJ). The reason I chose these companies is that they are the only AAA-rated companies remaining and each has faced pressure to break-up/spin-off. Just today, there was a news story that activist investor Artisan Partners is pressuring JNJ to split into three standalone companies, which I believe is a poor idea. For example, the last company to lose its AAA rating was Automatic Data Processing (NASDAQ:ADP) in 2014 because they spun-off a unit of their business. The reason for dropping the AAA rating for ADP given by Moody's: "the diminished scale and variety of ADP's products increases the company's credit risk." Simply put, ADP lost its rating because its business was less diverse and shrunk in scale after the spin-off.
Johnson & Johnson
As one of three AAA-rated companies, JNJ is widely known as one of the highest-quality companies worldwide. In addition, with 53 consecutive years of dividend increases, JNJ is the foundation of many income & dividend-growth portfolios, and breaking up the company would, in my opinion, have a negative impact on future dividend-growth.
JNJ's business is diversified both geographically and by business segment. The first chart below from the most recent earnings report shows that JNJ is nearly 50/50 split on business inside the United States and outside the United States. The second chart shows the three business segments that JNJ operates in, and as you can see, the underlying business is very diverse. The final reason why I believe JNJ should not cave to activist pressure is that the company has a number of significant platforms/brands that generate a large portion of sales for the company. As you can see in the third chart below, JNJ has 24 brands/platforms that generate at least $1 billion in sales each year. I believe having all those brands/platforms under one roof is beneficial to JNJ and its shareholders, especially during times of economic stress.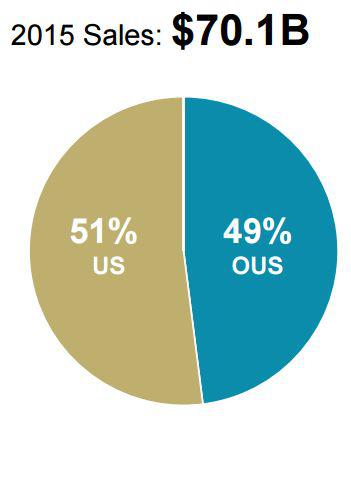 [Chart from JNJ 4th quarter earnings]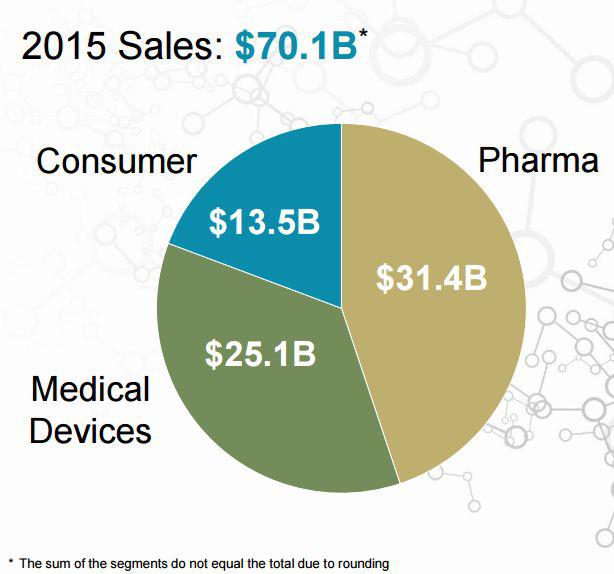 [Chart from JNJ 4th quarter earnings]

[Chart from JNJ 4th quarter earnings]
Exxon
After Conoco Phillips (NYSE:COP) split-off Phillips 66 (NYSE:PSX), there was pressure and rumors from analysts that Exxon should follow suit and spin off its refining business as Conoco did. In 2013, a fellow contributor wrote an article about just that subject. "Exxon Mobil: Time To Break It Up And Slim It Down." With the oil market dropping off a cliff, Exxon has shown that they were correct in not going with the short-term trend of spinning off downstream or midstream assets to create short-term shareholder value. Just like with ADP, if Exxon were to have split off its refining business, it would have lost scale, become less diverse, and been in danger of losing its AAA rating. Because Exxon has a AAA rating, they can access the debt markets during these depressed oil prices if they needed funds for an acquisition of quality assets that are trading at a depressed price. Once again, that shows that thinking for the long term can provide opportunities that would possibly not be available if Exxon had gone with the short-term trend.
Microsoft
Microsoft, just like JNJ, has received pressure from activists in the past to spin-off its consumer related businesses. Activist firm ValueAct took a position in Microsoft in early 2013 to push for changes in the company. In addition, for years there has been pressure on Microsoft to spin-off its X-Box division; this occurred when Steve Ballmer was still the CEO and even after Satya Nadella was named CEO. After Satya Nadella was named CEO, in a memo sent out in July 2014 he stated, "We are fortunate to have Xbox in our family to go after this opportunity with unique and bold innovation." Then after HP (NYSE:HP) announced they would be splitting into two companies, analysts and activists once again started calling for a split of the consumer and commercial businesses for Microsoft.
Closing Thoughts
As I have shown, all three of these companies earned their AAA rating by planning for the long term and not worrying about short-term issues like activist pressure or following short-term market trends that competitors are following. I strongly believe that Johnson & Johnson should ignore Artisan Partners and rule out the possibility of splitting up the company as it would most likely lead to a loss of its top-notch credit rating and affect the stability and dividend growth of the resulting three-standalone companies. I believe the history of ADP losing its AAA credit rating and the pressures Microsoft and Exxon have resisted, shows that staying a large scale and diverse company is the superior way to go.
Disclaimer: See here.
Disclosure: I/we have no positions in any stocks mentioned, and no plans to initiate any positions within the next 72 hours.
I wrote this article myself, and it expresses my own opinions. I am not receiving compensation for it (other than from Seeking Alpha). I have no business relationship with any company whose stock is mentioned in this article.