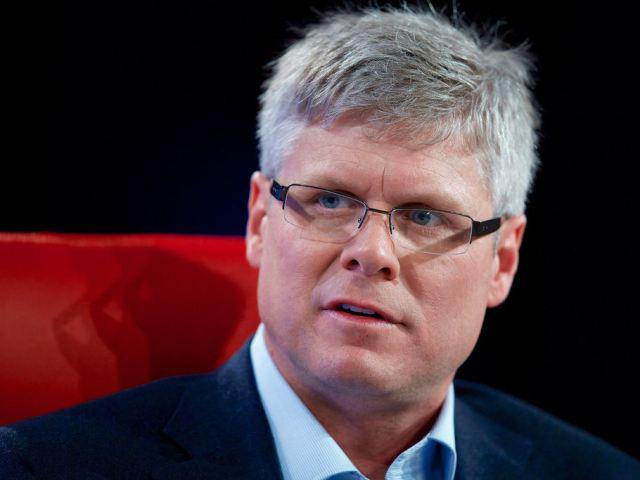 Qualcomm CEO Steve Mollenkopt. Source: recode.net
Qualcomm (NASDAQ:QCOM) reported FQ1 2016 earnings on Wednesday. The company delivered revenue of $5.8 billion and EPS of $0.99. Revenue was up 6% sequentially and down 19% Y/Y. It also exceeded analysts' expectations of $5.7 billion. I had the following takeaways on the quarter:
Revenue Up For The First Time In A Year
Revenue of $5.8 billion rose sequentially for the first time in over a year. QCT revenue was up 13% while QTL (licensing) revenue was down 10%. The company had 242 million chip shipments during the quarter, up 19% sequentially and down 10% Y/Y.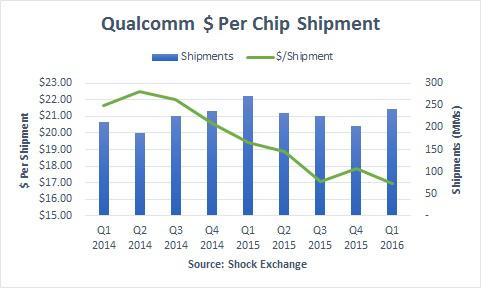 Average sales price (ASP) of $16.93 was off 5% sequentially and 13% Y/Y. The Y/Y comparisons are difficult given the loss of Samsung (OTC:SSNLF) as a customer in the first half of FY 2015. QCT unit volume fell and ASP fell as Samsung previously represented over 10% of revenue and bought higher-priced Snapdragon processors.
The pick-up in chipset unit volume this quarter was encouraging. Management implied the company may have delved into the lower-tier of the market to drive that volume. Given the expected slowdown in Apple's (NASDAQ:AAPL) iPhone sales and a slowdown in the global economy, smartphone sales will likely stagnate from here. That said, the company projects calendar year shipments to grow by about 10%.
QTL revenue was hurt by a reduction in royalty rates for Chinese OEMs pursuant to a settlement with China's anti-competition authorities (NDRC). Of note is that QTL revenue was also impacted by a contract dispute with LG (OTC:LGEAF) which caused a deferral of $100 million in revenue during the quarter. A major task is to negotiate license agreement with Chinese OEMs on terms agreed with by the NDRC. This should generate an immediate uptick in royalty fees. However, the company is under investigation by regulatory bodies in South Korea, the EU and potentially Taiwan. Whether such investigations will result in a reduction of licensing fee rates for OEMs on par with Chinese OEMs remains to be seen.
Share Buybacks Are So 2015
To make up for the loss of top line growth, Qualcomm has been cutting costs to spur the bottom line, and giving money back to shareholders through share buybacks and dividends. R&D and SG&A expense were a combined 33% of revenue, versus 36% last quarter. Total operating costs (excluding other items) were flat Q/Q at 77% of revenue as cost of sales ticked up 3% in FQ1 from last quarter.
The company generated operating cash flow of $2.7 billion and returned $2.8 billion to shareholders in the form of dividends and share buybacks; Qualcomm is authorized to make $4.9 billion in additional share repurchases. Last year, news of large buybacks would have potentially buoyed the stock. That is no longer the case. Now that the Fed has taken away the punch bowl and a slowing China is in play, the market is looking for real revenue and earnings growth. China is the world's largest smartphone market; when its economic growth slows, the smartphone market will likely slow with it. In my opinion, it is naive to expect stagnant smartphone sales and share buybacks to buoy the stock - that's so 2015. As evidence, QCOM is down over 8% in late day trading to $43.62.
Conclusion
I see pain ahead for Qualcomm and the global smartphone market. Until Qualcomm uses its balance sheet to enter another attractive growth market, I believe the stock will continue to fall. Its joint venture with the Chinese provincial government of Guizhou to build a data center sounds nice. However, it needs to make a bigger splash in data centers - or another growth market - in real time. Until then, I rate the stock a sell.
Disclosure: I/we have no positions in any stocks mentioned, and no plans to initiate any positions within the next 72 hours.
I wrote this article myself, and it expresses my own opinions. I am not receiving compensation for it (other than from Seeking Alpha). I have no business relationship with any company whose stock is mentioned in this article.
Editor's Note: This article discusses one or more securities that do not trade on a major U.S. exchange. Please be aware of the risks associated with these stocks.