Contract oil driller Helmerich & Payne (NYSE:HP) is seeing their stock climb well above the market and sector as they beat earnings estimates Thursday morning. H&P's stock price rose 7.3% on Thursday, outpacing the S&P 500's gain of 0.55% and the SPDR S&P Oil & Gas Exploration & Production ETF's (NYSEARCA:XOP) gain of 3.62%.
Earnings beat
Helmerich & Payne recorded Q1 2016 net income of $16 million, or $0.15 per share, on $488 million of revenue. Though these numbers beat Wall Street estimates, they represent significant declines from a year ago when the company reported $204 million of net income, or $1.86 per share, on $1.06 billion in revenue.
On the earnings call, CEO John Lindsay attributed the better-than-expected results to the company's focus on cutting field overhead expenses which has led to increased daily rig margin in the company's largest segment, U.S. land operations. Due to continued weak oil and gas prices that have caused industry-wide investment cuts, the company reported rig utilization of 39%, falling from 43% a quarter ago and 89% a year ago in the U.S. land operations segment.
Company position
Though the company is far removed from the good times of just a few short years ago, Helmerich & Payne is still in relatively good shape. CEO John Lindsay made note on the conference call that it is a company-wide priority to maintain a strong balance sheet and focus on long term initiatives, specifically stating that they plan to be prudent in cost-cutting efforts to ensure short-term savings do not eat into long-term benefits.
Mr. Lindsay also stated that there is no plan to change the dollar value of the company's dividend in the foreseeable future. Though that means the company may not have intentions to raise its dividend for the 44th consecutive year, it is assurance that the company hopefully will not have to cut their dividend like many other energy companies have in the last year and a half.
Mr. Lindsay's comments on the dividend are backed by a strong balance sheet flush with cash and low levels on debt. As of December 31, 2015, the company had $848 million of cash, $493 million of long-term notes payable, and a LT debt to equity ratio of 10.2%.
Competitive position within industry
The latest downturn in the oil and gas industry that began midway through 2014 has battered Helmerich & Payne's stock, though it has fallen less than rivals in the onshore contract drilling market: Nabors Industries (NYSE:NBR) and Patterson-UTI Energy (NASDAQ:PTEN).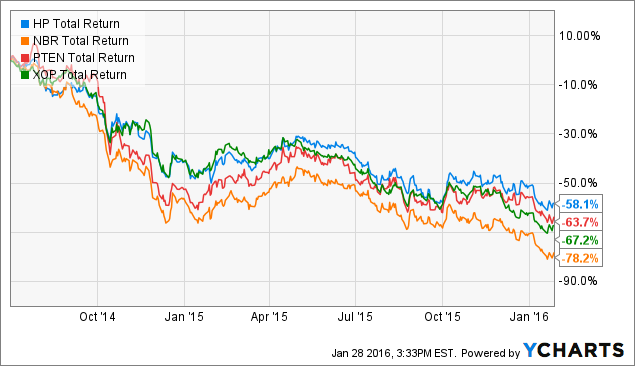 HP Total Return Price data by YCharts
I believe Helmerich & Payne is in good shape relative to the industry due to their balance sheet and the fact that oil prices do not directly flow to their income statements as they do for exploration and production companies. Of course lower prices have led to severely reduced investment which hurts the company, but they are not in the position of numerous heavily indebted oil and gas companies that are needing oil to rise and stay above a certain level by a certain time to avoid bankruptcy.
Though in a downturn, CEO John Lindsay says that the company plans to continue investing in their rig fleet to ensure competitive advantages remain intact. Helmerich & Payne maintains an efficient and technologically advanced rig fleet, which has helped the company increase their market share to 18% today. Mr. Lindsay stated that this number roughly doubles market share from 2008 and is up from 15% in 2014. Mr. Lindsay expects older, legacy rigs to become near-obsolete and there to be a great demand for the company's AC drive FlexRigs when oil prices recover.
In conclusion
Though lower oil prices may be here to stay for an extended time, Helmerich & Payne is making the most of the poor environment. The company maintained discipline on their balance sheet in the boom years which is now paying off largely for investors.
This company should not be used as a bet that oil prices will quickly rebound, however this company offers investors sector exposure with a strong balance sheet and a sturdy dividend with great yield (5.56% as of Thursday's close).
Disclosure: I am/we are long HP.
I wrote this article myself, and it expresses my own opinions. I am not receiving compensation for it (other than from Seeking Alpha). I have no business relationship with any company whose stock is mentioned in this article.