U.S. Bancorp's (NYSE: USB) Q4 earnings slightly exceeded the expectations on the back of a gain on the sale of a deposit portfolio as the bank reported net income of $1.48 billion, or $0.80 diluted EPS, beating the analysts' estimates of $0.79 (in line when the gain on the sale of a deposit portfolio is excluded). The reported figure in Q4 corresponds to a decline of 0.9% q/q and 0.8% y/y.
For FY 2015, the bank reported a record EPS of $3.16, up by 2.6% on an annual basis, while this brought down ROAA to 1.44% by 10 basis points, and ROEA to 14% by 70 basis points when compared to the figures recorded in 2014. Still, U.S. Bancorp was among the few big banks to end the year with a +10% ROEA.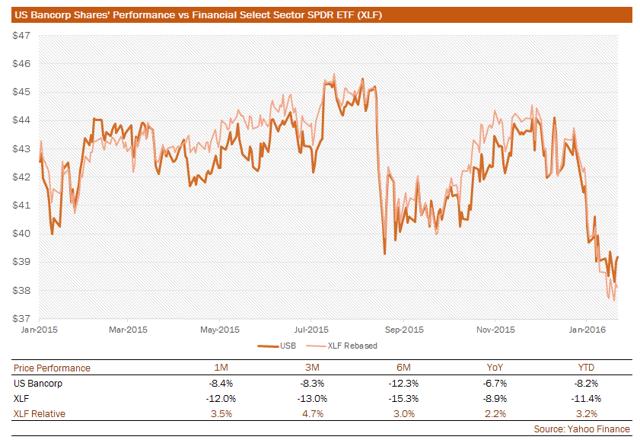 Click to enlarge
U.S. Bancorp experienced a slowdown in lending growth this year (average balance up 3.6% versus 5-year CAGR of 5.6%) but an acceleration in deposits (up 10.5% versus CAGR of 8.4%). Those figures were highly interesting considering that loans and deposits grew by 6.9% and 4%, respectively, system-wide, according to the Fed data for large domestically chartered commercial banks. L/D spread was down by 1 basis point based on the period-end balances in 2015.
Average commercial loans grew by 9% y/y and 2.5% q/q, and saw an 11% increase for FY 2015. Construction and developments loans were also very strong and rose by 16.1%. On the consumer side, the strongest line seemed to be credit cards. In addition, the bank will continue to look for growth in that business in 2016. Non-interest bearing deposits were strong and led a relief in the cost of funding. Note that the switch between money market accounts and time deposit also decreased the pressure on the funding side.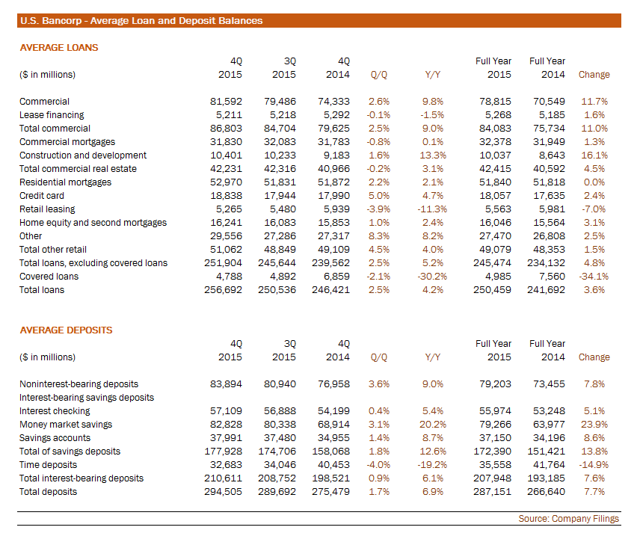 Click to enlarge
The bank recorded 18 basis points y/y NIM contraction in 2015, as margins getting pulled down by the low rate environment was the case for all the banks across the country. For FY 2015, the net yield on earning assets remained at 3.43% while the rate paid on interest-bearing liabilities were 0.52% (3.42% and 0.50% for the quarter). Average earning assets grew by 7.8% in 2015 as investment securities recorded an annual growth of 14.2%. NII was up by 2% from $11 billion in 2014 to $11.2 billion in 2015.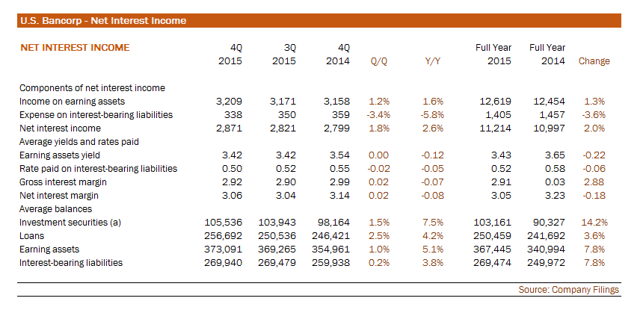 Click to enlarge
For FY 2015, the bank reported total non-interest income of $9.1 billion (0.8% y/y decline). It was mainly stemmed from the base effect of the Nuveen gain last year, and lower mortgage banking revenues; however, card fees and investment management were remarkably strong last year. U.S. Bancorp saw its expenses rising by 2% last year, primarily driven by higher compensation and employee benefits. Compensation expenses, that rose 6.4% compared on a linked-year basis, reflected the impact of merit increases and higher staffing for risk and compliance activities, while increased pension costs were underpinning employee benefits.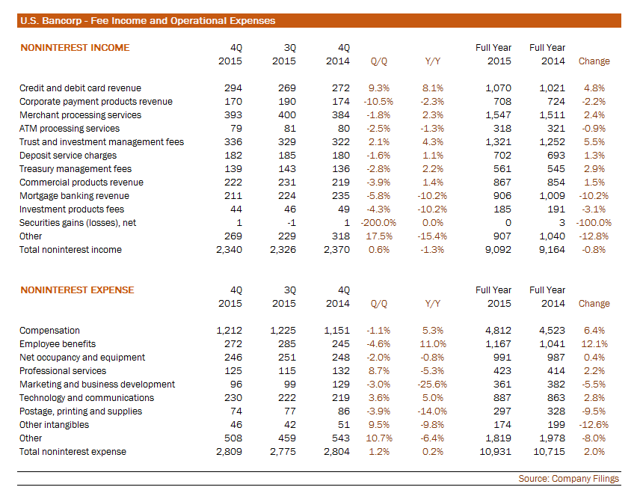 Click to enlarge
NCOs in Q4 were $305 million, up 4.5% q/q, mostly due to seasonally higher credit card charge-offs and lower performance in recoveries. The bank also built provisions that were equal to NCOs for Q4. NPL inflows appeared to be slowing down compared to linked quarter, and for the fiscal year, they declined 15.8% versus 2014. Energy portfolio accounted for 1.2% of total loans and appeared to have no potential for being harmful in the near term. Overall, U.S. Bancorp continued to achieve best-in-class profitability with a decent growth performance.
Looking forward, I maintain my positive view on the U.S. Bancorp's fundamentals; however, changing to less bullish for the stock considering some risks ahead. The bank is set for volume growth in credit cards and payments services, partly to be driven by the continuation of strategically compelling portfolio acquisitions. We are also likely to see another pick-up in highly collateralized commercial loans that are to add economic value to the bank with risks minimized. Securities book will also increase on the back of the bank's deposit base, which will eventually help the bank to meet the liquidity requirements. This, however, may result in relatively low-yielding asset mix and lead to further pressure on NIM. On the other hand, U.S. Bancorp's focus on loans with predetermined rates has kept it less asset sensitive compared to its peers. Therefore, we will see a margin improvement taking place slowly once the pace of rate hike become fast.
On the asset quality front, U.S. Bancorp has performed very well in my view even if it is not one of those conservative banks in the lending business. Credit metrics have looked pretty good system-wide for a while, however, it is very likely that we will see things turning sour with delinquencies rising in the upcoming period. Although no weakness is observed at the asset quality of the bank, the performance of consumer loans needs to be carefully watched. Unemployment rates in some states, such as Illinois, Ohio, Washington and Wisconsin, showed a pick-up recently where U.S. Bancorp has presence in community lending.
U.S. Bancorp is trading at a 2016E P/E multiple of 11.7x and a 2016E P/BV multiple of 1.55x, which appears to be a rather pricey holding for investors to consider. My EPS estimates for 2016 and 2017 are $3.30 and $3.55 which puts me behind the consensus ($3.37 and $3.64). Still, I believe the stock would be fairly valued around $45, which implies a significant upside potential from the current price. Despite some risks, I expect the company to maintain its superior profitability and reiterate my bullish view.
Disclosure: I/we have no positions in any stocks mentioned, and no plans to initiate any positions within the next 72 hours.
I wrote this article myself, and it expresses my own opinions. I am not receiving compensation for it (other than from Seeking Alpha). I have no business relationship with any company whose stock is mentioned in this article.