Last week, I wrote an analysis piece explaining why Qualcomm Inc. (NASDAQ: QCOM) was a strong buy for 2016. On Wednesday, the tech giant released its Q1FY16 numbers, which were a mixed bag. But it is the soft guidance that has shaken the confidence of investors. Qualcomm ended the session 2.04% lower at $47.53.
Here are the key positive points from the earnings call (GAAP basis):
Revenue for Q1'16 stood at $5.8 billion - a jump of 6% QoQ, but a decrease of 19% YoY.
Operating income bettered 48% QoQ to $1.7 billion, but reduced 18% YoY.
Operating cash flows surged 63% from $1.7 billion a quarter ago to $2.7 billion, and gained 16% YoY.
Some points which stunned Wall Street are:
Weak revenue guidance for Q2 2016: $4.9-5.7 billion.
Even weaker MSM chip shipments predicted for Q2: from 242 million in Q1 to an expected 175-195 million.
Improvement seen not before H2 FY'16.
The numbers were overall better when seen from a quarterly basis. Steve Mollenkopf, CEO of Qualcomm Inc., said:
"We delivered a stronger than expected quarter with earnings per share above the high end of our initial estimates, driven by better than expected 3G/4G reported device sales and benefits realized from cost actions across the Company."

"We signed several new license agreements in China and are on track with our cost reduction initiatives. Design traction for our new Snapdragon 820 processor continues to be strong, and we expect improving trends in our chipset business in the second half of fiscal 2016."
While I remain very optimistic about the long-term prospects of Qualcomm, I can be easily proved wrong by several factors, such as a further slowdown in its chip sales as competition heats up in the smartphone market, litigations (including antitrust proceedings) going against the company, and last, but very potent, a deeper market sell-off.
Let us discuss each of them one by one.
Fresh Trouble for Qualcomm in December
Qualcomm saw fresh trouble from the Taiwan Fair Trade Commission (TFTC) and LG Electronics, Inc. (LGE).
On December 4, 2015, the TFTC informed the company that it is conducting an investigation into its patent licensing arrangements, which allegedly violate the Taiwan Fair Trade Act (TFTA). This adds to the list of several investigations ongoing against the company, including the European Commission Investigation.
Investors are wary that the remedies for these numerous proceedings could be financial blows to Qualcomm rather than mere changes in its business practices. The company, in its latest Form 10-Q, asserts that its business practices are in accordance with Taiwanese trade laws.
In December 2015, LG Electronics also filed an arbitration demand with the International Chamber of Commerce, alleging that it overpaid royalties on certain CDMA subscriber units and claiming that Qualcomm violated its license covenant with LGE.
LG Electronics is now demanding that the overpaid royalties be rightfully returned by the company. Since the case has escalated to arbitration stage, Qualcomm has held off from reporting $100 million it received from LG in licensing fees. This was a major factor in revenue from the company's Licensing segment dropping 12% on a yearly basis.
The Smartphone Market Becomes Very Challenging
The global smartphone market has become very challenging even for the best in the business. Apple Inc. (NASDAQ: AAPL) has been feeling this heat too as its stock slides incessantly from its all-time peak of $134.54 to $93.42 (current) - that's a huge 30% drop for the company. And Apple is one of the big customers of Qualcomm chips. If Apple slows down due to a decelerating Chinese market, Qualcomm will be under pressure as well.
Local Chinese phone makers are also entering the market with better, faster and cheaper smartphones using their own chipsets, slowing eating into Qualcomm's market share. And the Chinese are "skilled" - even Tim Cook admits it.
Qualcomm expects the Global 3G/4G Device Shipments to increase roughly 7-13% in 2016, but sees softer MSM Chip Segments for Q2 FY16.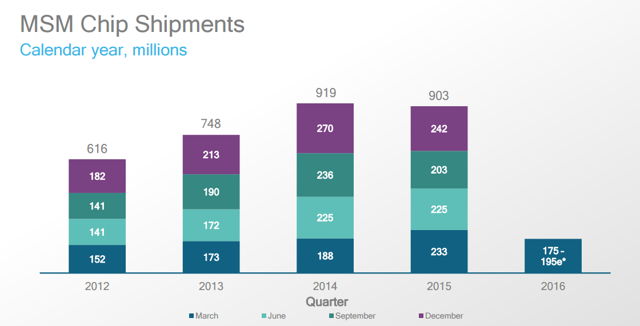 Click to enlarge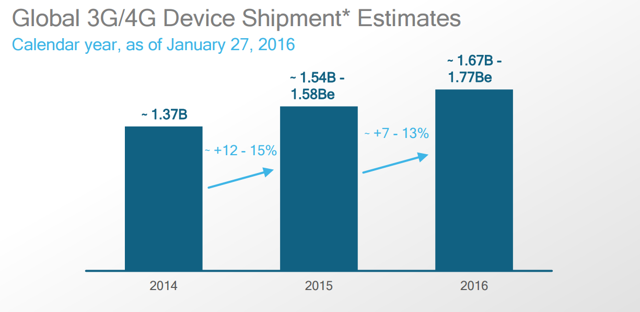 Click to enlarge
(Source: Executive Presentation)
Broader Market Sell-off Weighs on the Stock
This is the last point, but can lead to massive losses for investors. A sell-off in the technology index Nasdaq will weigh heavily on the stock and will break the crucial 15-year upward sloping trend line shown in the chart below.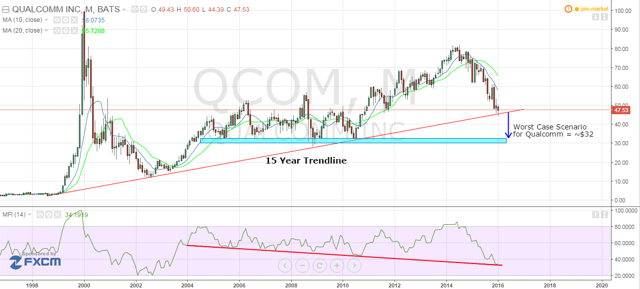 Click to enlarge
(Source: TradingView)
Even if that so happens, it is hard to imagine the stock breaching the lows witnessed during the 2008 meltdown. A closer look at the above chart puts the next strong support for Qualcomm in the vicinity of $30-32. That is a serious 33% drop from the current level of $47.53. So, if the stock closes this month below the upward sloping support line, the worst-case scenario could see it plummet to the 2008 lows. Whether this happens or not is another story altogether, but it is what can be expected if things turn dangerously against Qualcomm or if investors start losing patience with the company.
Conclusion
It is time now to take a long-term view of the technology giant and invest in a reputed, credit-worthy company with a strong balance sheet. The headwinds are definitely there, and therefore, a longer-term view is most desired.
As I mentioned in my previous article on Qualcomm, more depreciation in the stock price will only help you buy a stake in a great company. And that's definitely worth considering!
Disclosure: I/we have no positions in any stocks mentioned, and no plans to initiate any positions within the next 72 hours.
I wrote this article myself, and it expresses my own opinions. I am not receiving compensation for it (other than from Seeking Alpha). I have no business relationship with any company whose stock is mentioned in this article.