Ford (NYSE:F) recently announced its Q4 2015 results and they were quite impressive. The company generated record profits for the quarter, including extremely strong performance in North America. Nevertheless, the market was not impressed by this news, sending Ford lower by 1% for the day.
A look inside the numbers
There is no doubt that Ford had a good quarter. Total pre-tax profits grew 95% from last year to $2.6 billion, with the vast majority of this growth coming from North America and Asia Pacific. Besides South America and Other Automotive, all of Ford's segments posted higher year over year pre-tax profits.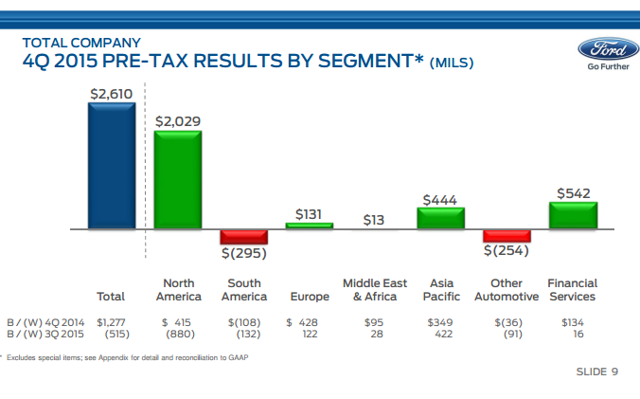 Click to enlarge
In addition, Ford's automotive division saw improvements in all the key metrics. Vehicle wholesales were up 12%, revenues were up 12%, operating margins nearly doubled to 6.1%, while segment pre-tax profits grew 123%. A clean sweep for this unit.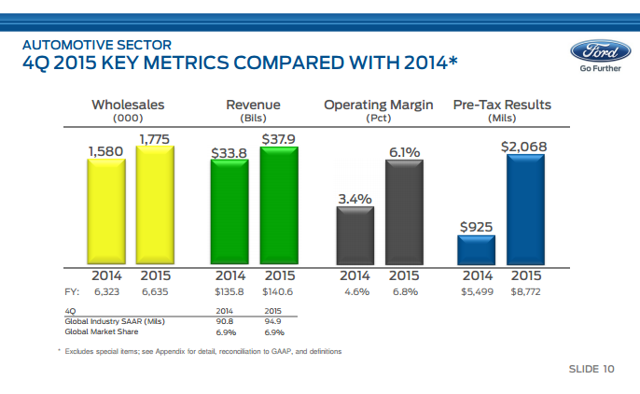 Click to enlarge
In particular, Ford saw impressive performance in North America. Vehicle wholesales were up 15%, revenues were up 19%, operating margins improved by 50 basis points to 8.2%, while segment pre-tax profits surged by 26%. The company was likely aided by lower oil prices -- a lot more people want to drive with gas below $2.00 per gallon.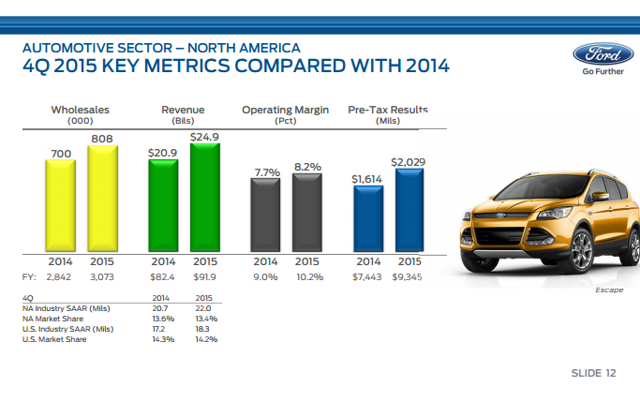 Click to enlarge
Outlook is weaker than expected
As for why Ford's stock price did not move much given the positive results, the reason is that the 2016 guidance was not up to par.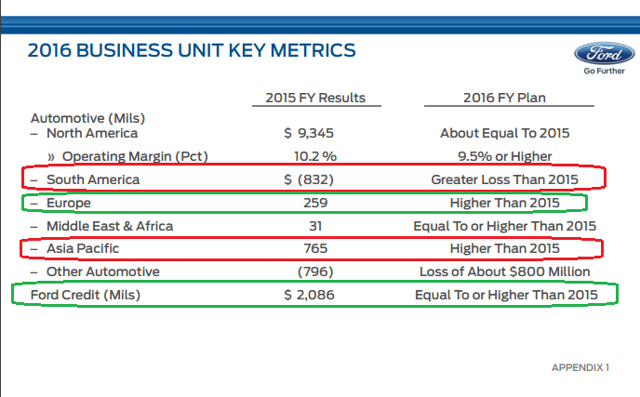 Click to enlarge
A few key takeaways:
Ford is expecting flat automotive profits from North America in 2016. This assumes a 1% increase in vehicle volumes in the US. This is a very slow growth rate given the tailwind provided by low oil prices.
It is looking like South America will be a big loser in 2016. Brazil vehicle volumes are expected to decline ~14% year over year. Given that this was the rock in Ford's South American operations, this is a negative. Other countries in the region are very unlikely to pick of the slack, especially Venezuela. Ford could see a $1.0 billion plus loss here.
The Asia Pacific guidance, which includes China, is calling for profits to grow in 2016. Given the obvious economic slowdown in the region and the strong dollar, this forecast seems optimistic.
The margin guidance was not good, down 70 basis points to 9.5%. Ford is also expecting to see its operating cash flows decline slightly as a result. Not good.
Areas of strength for Ford in 2016 include its credit unit which is expected to post flat to higher earnings and Europe which seems to have gotten out of its economic rut.
All in all, this guidance puts Ford's EPS growth in 2016 at around flat, which is well below where consensus estimates had put it.
Valuation is tempting
Ford generated ~$7.3 billion, or ~$1.88 per share, in free cash flow in 2015 and generated earnings per share of $1.84. This gives Ford a Price to Earnings ratio of ~6.4x and a price to free cash flow ratio of 6.2x. When including debt, Ford's EV to free cash flow ratio is ~14.5x and the EV to EBITDA is ~14.7x.
In other words, Ford is a fairly undervalued stock in terms of both earnings and free cash flow multiples. These values should stay more or less the same for 2016.
Ford's dividend is also very well covered at just ~32% of free cash flow (45% when including the special dividend). This is important as the dividend yield will probably be the main method investors in Ford have in generating returns in 2016.
Conclusion
While its share price may not reflect it, Ford put up some record numbers in 2015. In addition, the company recently rewarded it shareholders with a large one-time special dividend of $1 billion, or $0.25 per share.
Though, I remain cautious given Ford's high debt totals and reliance on its financing arm. Nevertheless, the stock is trading at an attractive valuation while the 5% dividend yield offers well above average income.
Disclaimer: The opinions in this article are for informational purposes only and should not be construed as a recommendation to buy or sell the stocks mentioned. Please do your own due diligence before making any investment decision.
Disclosure: I/we have no positions in any stocks mentioned, and no plans to initiate any positions within the next 72 hours.
I wrote this article myself, and it expresses my own opinions. I am not receiving compensation for it (other than from Seeking Alpha). I have no business relationship with any company whose stock is mentioned in this article.