After seeing shares hit a 52-week low of $1.57 not too long ago, shares of Memorial Production Partners (NASDAQ:MEMP) are now going for $2.53 apiece. Although this represents a massive increase of 61.1% in a short period of time, shares of the E&P operator are still going for 86.5% below where they peaked at (a price of $18.71) over the past year. In what follows, I will dig more into the business and see if shares of the entity appear to be attractive prospects moving forward.
A look at Memorial
Like many of its peers, such as Linn Energy (NASDAQ:LINE) / LinnCo (NASDAQ:LNCO) and Breitburn Energy Partners (NASDAQ:BBEP), Memorial has been hit hard by the energy downturn that has ravaged companies, largely those based in the U.S. Also, like its peers, the company does have a great deal of debt but with a long-term debt/equity ratio of 3.14 and debt of $1.88 billion, the amount of leverage it has used is far smaller than its rivals.
With a market cap of $205.9 million, Memorial is quite small in the grand scheme of the oil business but the company's geographical footprint is fairly large. Currently, the company has locations in Texas, Louisiana, Colorado, Wyoming, New Mexico, and Southern California, which gives it the opportunity to capitalize on different regions, many of whom may have different decline rates and cost structures. What's even more important than this, however, is how strong the business's hedge book is.

Click to enlarge
In the table above, you can see how Memorial's hedging looks for each of the next four years. Based on the data provided, it's position in this space is among the best I've seen (perhaps the best). As late as 2018, the business has as much as 95% of its oil production (assuming oil production remains in the middle of its 2015 outlook) is hedged at an average price of $83.74 per barrel. This does trail off meaningfully in 2019 while natural gas trails off faster. Natural gas liquids falls off a cliff next year and vanishes in both 2018 and 2019.
Cash flow should be stable
Using the mid-point range of Memorial's most recent guidance for its 2015 fiscal year and assuming the company does not add on any extra production in the years to come but, instead, keeps output unchanged, I was able to forecast the company's cash flow between 2016 and 2019. Needless to say, the results look pretty impressive. While Linn and Breitburn are hit starting next year, Memorial, in its current state and assuming that its cost structure neither improves nor worsens, should stay cash flow positive through 2018.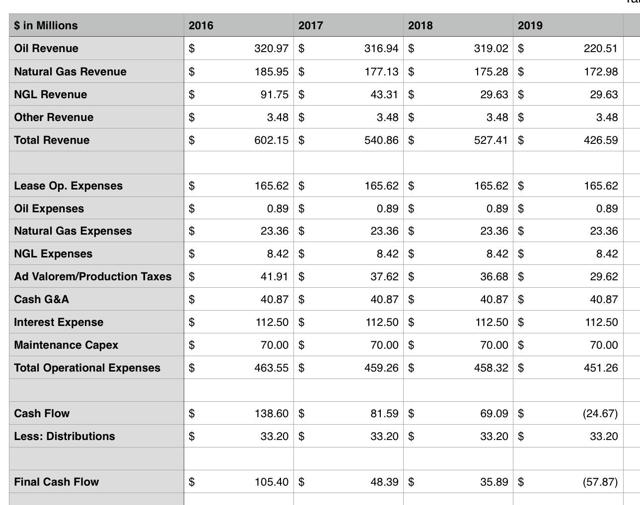 Click to enlarge
According to the data I compiled, which you can see in the table above, current energy prices with oil at $33.39 per barrel and natural gas of $2.184 per Mcf, should result in Memorial generating cash flow this year of $138.60 million. This is very impressive for a business whose market cap is so low. This does, however, assume that management will cut the company's distribution to zero but this doesn't appear to be happening anytime soon. According to management, Memorial just cut its distribution from $0.30 per unit each quarter to $0.10. This will mean distributions each year of about $33.20 million, which implies cash flow in 2016 of $105.40 million.
In 2017, the same assumptions I've used indicate that cash flow will be cut to $81.59 million ($48.39 million after distributions), due largely to the falloff in hedging for Memorial's natural gas and natural gas liquids. This trend will continue in 2018, with cash flow totaling $69.09 million ($35.89 million post distribution) but, as hedges roll off significantly in 2019, cash flow should be a negative $24.67 million that year ($57.87 million with the distribution). At this stage, Memorial would face significant liquidity and solvency concerns but, absent a global economic downturn, the likelihood of oil and natural gas prices staying this low for such a long period of time is very slim.
Takeaway
Right now, Mr. Market is treating Memorial as though it's going out of business sometime soon. To be perfectly honest, this doesn't make sense in any way, shape, or form. Absent a downturn that lasts so long that most players in this space go out of business and/or absent fraud, the only real risk facing the company at this point in time relates to its credit facility. However, with $833 million in borrowings under this facility and excess capacity of $342 million, along with safe cash flow for the next three years (not to mention a hedge book valued at $1.04 billion), I don't think this should become a concern until at least early 2018. It is for these reasons that I may, if shares do drop back down a bit, decide to allocate some of my ownership in Linn, Breitburn, and, perhaps, from my two large investments, toward shares in this company.
Disclosure: I am/we are long LINE, BBEP.
I wrote this article myself, and it expresses my own opinions. I am not receiving compensation for it (other than from Seeking Alpha). I have no business relationship with any company whose stock is mentioned in this article.
Additional disclosure: I may buy MEMP at any time.