Staples (NASDAQ:SPLS) is pursuing a merger with Office Depot (NASDAQ:ODP) that was supported by activist investor Starboard. In a March 4, 2015, letter to Staples board, Starboard argued that the value of Staples after the merger could be $32-$37. On March 4, 2015, the stock price was $16.59. The stock is now under $9, and the merger has faced issues.
Key sections of the letter:
We believe that Staples' current stock price remains undervalued relative to the potential synergies and earnings growth for the combined company. We believe that management's current estimate of synergies will prove to be conservative and that the actual amount realized could be more than $2 billion.

Fully realizing the potential synergies between Staples and Office Depot will result in a dramatic increase in earnings and free cash flow. Based on our assumptions, we believe that Staples could be worth between $32.00 - $37.00(1) per share once the acquisition of Office Depot is completed and the combined company begins realizing synergies. This represents an increase of 88% to 118% relative to the current share price.
Would you expect that an investor pushing for the merger and suggesting the combined assets could be worth up to $37 would exit their common stock position at prices well below $37? Starboard's 13F filings show that on December 31, 2014, they held 15,836,574 shares of common stock, and on September 30, 2015, there were no common shares held. Starboard bailed on Staples. However, they did hold call options for 8 million shares at September 30, 2015, down sharply from call options covering 16,525,000 shares on December 31, 2014.
The chart below shows the stock performance since December 31, 2014.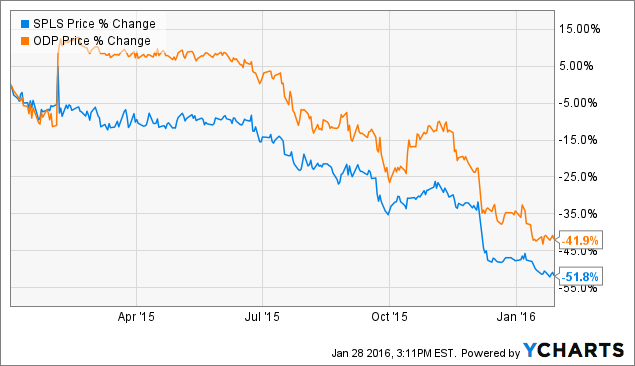 Long-term investors in Staples have seen the Board approve the acquisition of $5.4 billion worth of treasury stock. The average price paid was $17.99. For a point of reference, the market capitalization of Staples is roughly $5.8 billion, and the stock price is currently under $9.00.
Merger Terms
In the Merger, each outstanding share of common stock, par value $0.01 per share, of Office Depot (other than certain shares held by the Company, Office Depot and their respective subsidiaries and the shares with respect to which appraisal rights have been properly demanded in accordance with the General Corporation Law of the State of Delaware) will be converted into the right to receive (i) $7.25 in cash (the "Cash Consideration") and (ii) 0.2188 shares of common stock, par value $0.0006 per share, of the Company (together with the Cash Consideration, the "Merger Consideration").
So far, bond investors do not appear to be overly concerned about the decline in the stock price.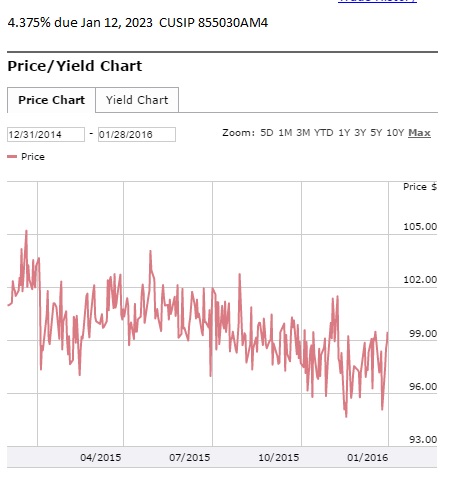 Bottom line
Staples is facing challenges, some of them self-inflicted. It is unclear if, or when, the merger will be approved. Should the merger will create the value expected by Starboard then investors could be rewarded for their patience. However, investors may wish to question the wisdom of the $5.4 billion spent for Treasury Stock that was purchased at an average price of $17.99.
Investors seeking to increase income may consider selling covered calls and investors wanting to increase their position may consider selling put options.
Disclosure: I am/we are long SPLS.
I wrote this article myself, and it expresses my own opinions. I am not receiving compensation for it (other than from Seeking Alpha). I have no business relationship with any company whose stock is mentioned in this article.
Additional disclosure: Also short puts. Looking to sell covered calls on a rally.