A few weeks ago, I predicted that footwear sales would do better at Under Armour (NYSE:UA) than forecast by a major analyst firm. My recommendation was that the stock would eventually fall lower and Under Armour actually dropped another $7 to $63.
Aggressive investors could've used that dip to buy the stock, but the sharp rally today was unexpected and actually near illogical. Were the results really good enough to justify a substantial 20%+ rally?
Not Even A Beat
The deal with most richly-valued stocks is that fast earnings growth can quickly justify about any price. With fast earnings growth, it doesn't take long for a stock trading flat to turn into a value.
My problem with Under Armour for a while now is that the premium sports apparel retailer doesn't deliver fast earnings growth. For 2015, EPS only grew 11%. Normally, the market would punish a stock for such a scenario.
Even worse, a prime reason for rich valuations is that earnings expectations are constantly growing. In the case of Under Armour, analysts expected to company to earn $0.48 in Q4 about 90 days ago. The reported $0.02 beat was actually the company only matching the expectations from a quarter ago.
The main culprit remains constant pressures on margins as the strong sales in footwear helped pushed down gross margins by nearly two percentage points. Part of the issue were the higher liquidations that were part of the negative call by Morgan Stanley.
The odd part is that guidance for 2016 isn't that positive. The company gave four key data points that suggest a lower EPS than the current analyst forecast of $1.34.
Operating income = $503 million
Interest expense = $35 million
Tax rate = 38.5%
Shares outstanding = 223 million
Using those inputs, the 2016 EPS forecast comes out to $1.29. A couple of key points are that the interest charge is roughly $20 million higher than the roughly $15 million cost last year. Also, the share count is up 1%. Both numbers help dilute the forecast for 23% operating income growth.
Peak Valuation
Clearly, Under Armour has a lot of positives going for the retailer. The company has several athletes signed on the cheap that is performing at out of the world levels. While this will help produce above expected revenue growth, the numbers aren't hitting the bottom line to the same degree.
The bad part is that the stock is priced based on even faster growth. In fact, the recent decline has only made a small dent in the over valuation scenario because the EPS estimates aren't growing and the stock surged today.
Looking over the last five years, one by one the hot retail stocks lost premium multiples. At times, Chipotle Mexican Grill (NYSE:CMG), Michael Kors Holdings (NYSE:KORS), and Lululemon Athletica (NASDAQ:LULU) were all the top retail stocks.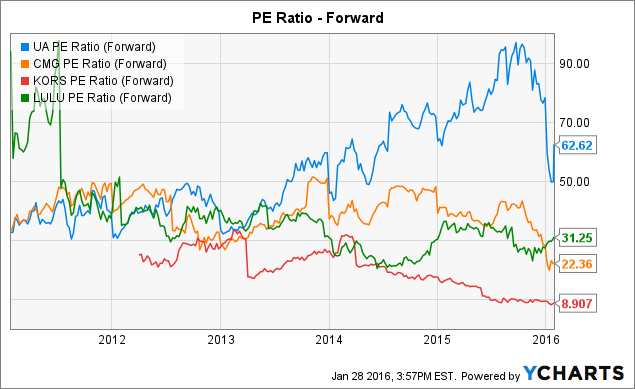 UA PE Ratio (Forward) data by YCharts
Takeaway
Nothing from the Under Armour quarterly results suggested the stock should have risen today. A stock trading at a 60+ PE multiple typically needs more than matching the lowered EPS estimates from 90 days ago.
The recommendation remains, if one needs to own Under Armour wait for the future dips in the stock. These premium valuations always end badly for shareholders.
Disclosure: I/we have no positions in any stocks mentioned, and no plans to initiate any positions within the next 72 hours.
I wrote this article myself, and it expresses my own opinions. I am not receiving compensation for it (other than from Seeking Alpha). I have no business relationship with any company whose stock is mentioned in this article.
Additional disclosure: The information contained herein is for informational purposes only. Nothing in this article should be taken as a solicitation to purchase or sell securities. Before buying or selling any stock you should do your own research and reach your own conclusion or consult a financial advisor. Investing includes risks, including loss of principal.