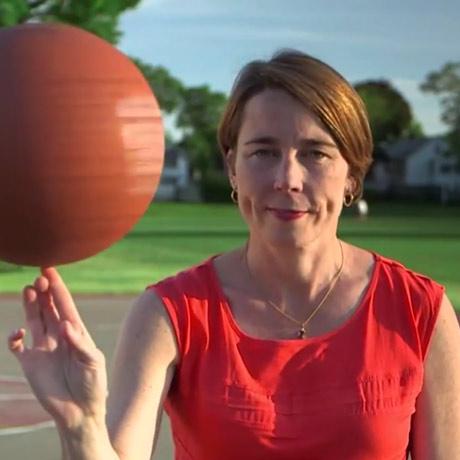 MA Attorney General Maura Healey. Source: Boston Magazine
Gilead (NASDAQ:GILD) has been saving lives with its breakthrough HCV regimen Sovaldi/Harvoni. However, its HCV prices have come under attack from Senator Bernie Sanders and Senators Wyden (Oregon) and Grassley (Iowa). Now, Massachusetts Attorney General Maura Healey has gotten her dander up. Healey recently sent a letter to company CEO John Martin:
"Because Gilead's drugs offer a cure for a serious and life-threatening infectious disease, pricing the treatment in a manner that effectively allows [Hepatitis C] to continue spreading through vulnerable populations, as opposed to eradicating the disease altogether, results in massive public harm," she wrote. "My civil enforcement attorneys will continue to examine this potential claim for unfair commercial conduct."
GILD closed down 2% on Thursday to $87.53. The stock is down 15% over the past year, versus a 5% decline for the S&P 500 (NYSEARCA:SPY). Here is my interpretation of Healey's letter:
Disparity Of Pricing In Egypt, India
In Egypt and elsewhere in the world, the price tag is $10 a pill, Healey said. In India, the cost is $4 per pill.
My interpretation:
Healey's criticism echoes the sentiments of Hillary Clinton, who also criticized the company's cheap pricing in Egypt. Personally, I don't have a problem with cheaper pricing in Egypt, India or other emerging countries with substantially lower GDPs than the U.S. However, there could potentially be a happy medium between the $10 per pill price tag in Egypt and the $1,000 per pill price in the U.S. Together, Ms. Healey, Hillary, Gilead, et al might be able to find it.
People Are Dying From HCV
While Gilead is making billions of dollars in profits, "we've got an infectious disease that's curable, rising, more people are sick, more people will die," Healey said Wednesday while at a breakfast put together by the group Massachusetts Biotechnology Council. "There has to be a way where inventors of these life-saving drugs, can both reap - rightly reap their financial reward - and for us to find a way to get more of these medicines to patients who need them."
My interpretation:
GILD longs have been assuaged by the fact that the 130-150 million HCV-infected population provides a large pool of patients. The $18 billion market (in dollar terms) also equates to sizeable profits.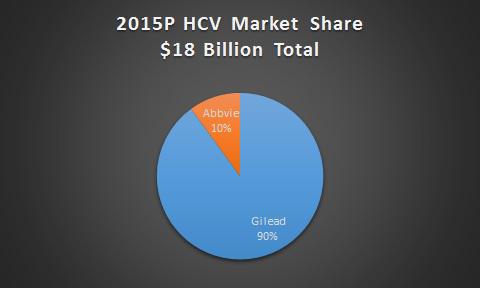 Source: Shock Exchange
The very features that make Gilead such a profit machine - a real cure, and a large pool of patients - also make the company a target. I believe it would be politically untenable for the company to charge $10 per pill in Egypt while Americans could potentially die from an inability to pay $1,000 per pill for Harvoni.
The company's dual pricing strategy sounds good in practice. However, neither I nor any other SA author have to face the slings and arrows from politicians, the media or the hundreds of millions of HCV infecteds. That tasks belong to Gilead's management team. Now that Gilead has made billions off of HCV drugs and recouped its investment, company management may be more open to making its HCV regimen even more affordable than it already is.
Unfair Trade Practice?
Her office is considering whether Gilead's pricing may be an unfair trade practice and violating state law.
My interpretation:
The "unfair trade practice" argument sounds like a long shot. The Southeastern Pennsylvania Transit Authority made a similar claim that Gilead prices violated a California law against unfair competition; the lawsuit was overruled by a federal judge. In my opinion, it smacks of saber rattling in order to bring the company to the bargaining table.
Medicaid Spent $1.3B On Sovaldi In 2014
Medicaid programs in 2014 spent $1.3 billion on Sovaldi before receiving rebates, "which allowed just 16,281 enrollees to receive the drug - fewer than 2.4 percent of Medicaid recipients believed to carry HCV."
My interpretation:
There's a saying in my neighborhood, "You have to pay the cost to be the boss". With over $1 billion in spending on HCV drugs (prior to rebates), Medicaid has paid the cost; that effectively makes it a major stakeholder that Gilead would be silly to ignore. Longs would argue that Medicaid is prohibited from negotiating drug prices on its own. However, certain politicians - Hillary Clinton, Donald Trump - have suggested the policy could be changed. It may behoove Gilead to reduce HCV pricing for Medicaid patients before the government takes any further action.
Massachusetts DOC Class Action Lawsuit
The prevalence of HCV in prisons is 17 times the rate of the general population. States have a constitutional right to provide medically necessary health care to people who are incarcerated, and in Massachusetts, our state Department of Correction ("DOC") is currently facing a class action lawsuit calling for increased access to new HCV treatment for inmates. Unlike the federal Bureau of Prisons, however, state DOCs do not get the benefit of discounts guaranteed to the U.S. Department of Veterans Affairs, nor are they eligible to take advantage of Medicaid or Medicare pricing ...

If our state purchased Sovaldi at its retail price of $84,000 for all of the people who are infected with HCV in our state prisons, the cost of treating these incarcerated people would easily exceed our entire budget for prisoner health care.
My interpretation:
Last May, I argued that if Senator Bernie Sanders was able to get veterans cheaper access to Harvoni, it could potentially open up a Pandora's box:
If Gilead gives vets a steeper discount and is real loud about it and it stays in the public consciousness for a while, does it open up a Pandora's box? Eventually everyone will demand the price the vets get. It's hard to argue that the only people who get HCV at an advantageous price are members of a large voting block or those who politicians can leverage for PR.
If veterans and the Federal Bureau of Prisons get steep discounts, then why wouldn't that discount also be fair for state prisoners? Secondly, if the Massachusetts DOC wins its class action lawsuit, then Ms. Healey may not have a choice but to bring the state of Massachusetts' budgetary problems to Gilead's doorstep.
Conclusion
In my opinion, the Pandora's box has already been opened. If other attorneys general also ask for cheaper prices for their constituents, it could turn into a public relations nightmare for the company. I previously argued Senator Sanders' HCV rant would not slow Gilead. However, a combination of Sanders, Wyden-Grassley, and several state attorneys general might. GILD remains a sell.
Disclosure: I/we have no positions in any stocks mentioned, and no plans to initiate any positions within the next 72 hours.
I wrote this article myself, and it expresses my own opinions. I am not receiving compensation for it (other than from Seeking Alpha). I have no business relationship with any company whose stock is mentioned in this article.