Johnson & Johnson (NYSE:JNJ) is a very popular dividend stock that is beloved by many income investors so when I spoke ill of the company back in October, the backlash was severe. At the time, the stock was trading for $95 and I said that due a variety of factors, I thought the stock was going lower. Since that time we've seen shares fly higher and fourth quarter results have certainly helped. In light of the fact that I've thus far been proven wrong with my short call, I'll take a fresh look JNJ to see if it's time for me to flip or if this is another chance to short it.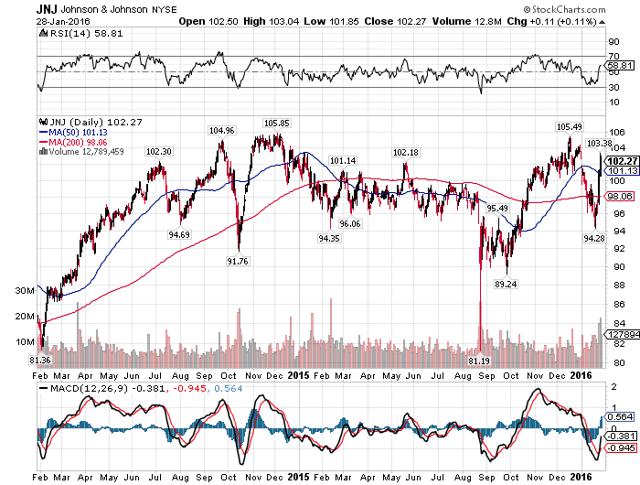 Click to enlarge
My bearishness on JNJ has been due to some fairly sizable headwinds. The company's growth has been anemic in recent quarters and in addition to that, the strong dollar has been crushing revenue. This, of course, is not a JNJ-specific problem but it is no less important. However, the market has shaken off these concerns lately so let's take a look at whether or not that level of confidence is justified.
JNJ very slightly missed revenue estimates but also beat on EPS. JNJ's total sales decreased 2.4% as currency-neutral sales rose 4.4% but the strong dollar removed 6.8%. This is the problem with multinationals right now; JNJ's operational results were actually not bad at all but when the results are converted into dollars, the picture changes materially. Bulls love to cite organic growth and while that is important, it doesn't matter once the results are converted into dollars. In fact, all of its segments outside of its Pharma business posted negative revenue growth. Again, organic growth was higher but again, it doesn't matter; it only matters what the results are when converted into dollars. The point is that the revenue environment for any global company is very harsh right now simply due to the dollar's strength.
The company's guidance for revenue comes in, very interestingly, below the average that analysts are looking for. This would indicate sub-2% revenue growth but given the fact that the dollar's strength is likely going to get worse for JNJ before it gets better, I'm not even sure it has a shot at hitting 2%. There are a lot of moving pieces here but with the dollar having the potential to easily remove 5% or more of revenue in 2016, JNJ's operational growth would have to soar in order for it to hit those numbers. In fact, given the headwind of the dollar, I think JNJ has a better shot at being close to the low analyst's estimate of $70 billion than it does consensus at $71.6 billion. The Fed has only just begun tightening and with other major central banks around the world offering more QE, the dollar's strength should continue well into 2016 and perhaps beyond. While the ultimate trajectory of the dollar is impossible to know, the likelihood that it goes higher in 2016 is much better than the opposite. That's very bad news for JNJ's revenue stream and I think analysts (and holders) are way too bullish right now.
In an interesting twist, activists emerged earlier this week that apparently want to split the company up and while this is obviously a long shot - particularly with the stock over $100 - it is still important and with any luck, will spur some kind of improvement. These kinds of things tend to shoot for the moon and end up landing somewhere less spectacular but activist pressure is usually a positive catalyst if it can gain some traction.
At 14.9 times forward earnings and 15.8 times this year's earnings, I wouldn't say JNJ is cheap. It was a lot cheaper a couple of weeks ago but the recent melt-up has certainly remedied that condition. With analyst estimates so high for this year and next year - largely ignoring the impact of the dollar in my view - it seems there is more downside bias than upside. JNJ's operations are chugging along but at this point, have little hope of actually producing enough growth to overcome the dollar. In my view, the only thing that matters for JNJ's 2016 guidance is the dollar; will it be high enough for JNJ to significantly miss estimates? At this point, analysts are high enough that they seem to be almost entirely discounting the impact of the dollar, something I think is very dangerous considering the monetary policy stance of our central bank against other major CBs across the globe.
One final note; although the stock has performed very well in the past few trading sessions, momentum is waning. If you look at the momentum indicators during the rallies up to $101, then to $105 late last year, momentum failed to confirm the new price highs with highs of its own. We see the same thing happening right now as JNJ has flown higher in recent trading sessions but is nowhere near its momentum highs or overbought conditions. That means either bulls will need to continue to produce significant buying pressure for several more trading sessions or - more likely - the stock is topping again. Of course, I'm in the latter camp but time will tell. JNJ has little upside potential in 2016 as it has a much better likelihood of missing lofty estimates than the other way around. And with its valuation that cannot be described as cheap, I think upside from here is very limited. I'll be playing JNJ to come back down towards the low $90s in the medium term because investors are way too excited about a fairly dour outlook right now.
Disclosure: I/we have no positions in any stocks mentioned, but may initiate a short position in JNJ over the next 72 hours.
I wrote this article myself, and it expresses my own opinions. I am not receiving compensation for it (other than from Seeking Alpha). I have no business relationship with any company whose stock is mentioned in this article.