Opinion
The Bank of Japan has followed in Europe's footsteps in their first benchmark policy move in nearly five years, setting the benchmark at -0.1%. Contrary to popular opinion among Austrian circles, this is representative of a highly positive development...albeit a purely symbolic and belated gesture to say the least. Stagnant consumer/household spending and wages, the likely catalysts for the BoJ's latest decision, have been the norm for quite some time. The recent movements of the currency and equity markets, that is, the strengthening of the yen or the crude oil fallout, may have stirred the members to action as well...or perhaps the scandals revolving around the LDP's own Economy Minister Akira Amari. In any case, it appears the BoJ had hoped that keeping the "ZLB" (zero lower bound) policy with the addition of asset purchases would have been enough to stimulate the Japanese economy and inflationary conditions. It seems that with this explicit decision to keep the asset purchase quota unchanged and forego purchasing further government bonds, the BoJ may be issuing a subtle admission that these efforts have been ineffective and that unbound interest rate policy is necessary.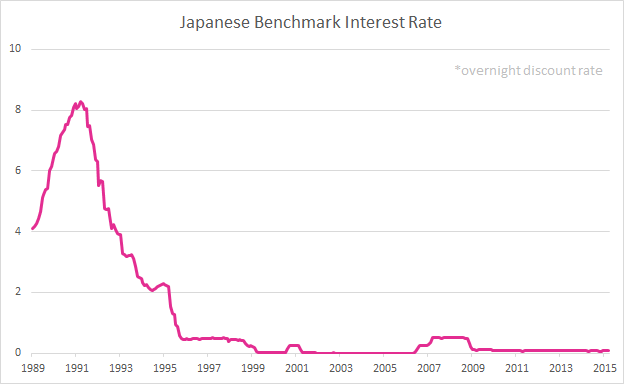 (Source: Federal Reserve)
Ultimately, the decision is symbolic. A 10 basis point move is not exactly a cause for massive capital shifts and the rewriting of investment strategies. The demand for Japanese government bonds outside of the BoJ and other Japanese financial institutions has been dead since the financial crisis in 2008, so there is not much more room for movement in the downward direction. However, this is an important move that will affect the Japanese economy, hopefully in stimulating spending and inflation, even if I personally feel the BoJ should have acted sooner as the catalysts have been there for some time.
Inflation Expectations
Regardless of my personal opinion on the matter, this recent move is intended to affect the Japanese economy in the following ways:
Stimulate core inflation (BoJ now projects 0.2-1.2% between April 2016 and March 2017)
Boost personal consumption/wages
Stimulate lending
Keep depreciationary pressure on the yen
The following links provide the Bank of Japan's basis and outlook for its expectations and decisions from its recent Monetary Policy Meeting held on January 28-29, 2016:
As opposed to utilizing a traditional break-even inflation measure - the difference in yield between nominal and Treasury inflation-protected securities - based on JGB is, we can observe market-based inflation expectations using a PPP-based (purchasing power parity) model, as described by Mandel and Barnes. This model has been suggested to be more accurate in measuring inflation expectations in Japan, as the market for inflation-indexed securities has been distorted for several reasons. As a refresher, PPP-based models are essentially an analogue to real market expectations based on comparative data - the price level in one country to the price level in a second country and the two countries' nominal exchange rate, in this case, the corresponding breakeven rate for U.S. inflation implied by TIPS and the yen/dollar forward exchange rate.
| | |
| --- | --- |
| Implied 10-yr Breakeven Inflation Rate (U.S.) | 1.43% |
| 10-yr Interest Rate Differential | 1.87% |
| Implied Japanese Inflation Rate | -0.44% |
(Current figures are utilized as best available; FX forward basis is assumed to be hypothetically zero.)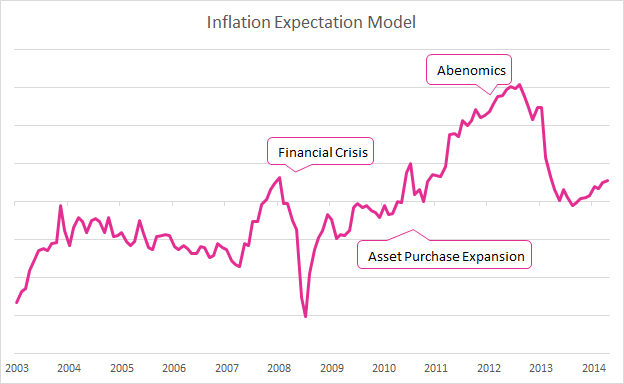 According to this model, using the nominal interest rate spread and assuming the FX forward basis is zero, we can observe that the current expected Japanese inflation (deflation) rate is -0.44%. Compare that to the current YoY 0.2% CPI rate in Japan; the deviation is marked but negligible, as the true importance of this is in modeling change and specifically impact of policy decisions not the actual numerical value. Once more data starts being released, as to JGB rates, etc., after this recent policy decision, it will be interesting to note how this affects the current deflationary trend and likely transforms it into an inflationary one. Going forward, this change will be something interesting to observe and this model represents a useful tool for doing so.
Ultimately, how this decision will affect the Japanese economy or politics remains to be seen. However, we can only hope that it is not too little too late and that the intended stimulatory effects are set in motion. Japan's banking regime has been reluctant and dithering for too long...and as we've seen with the recent Fed decision in December, ill-timed policy decisions can have serious consequences on the equity markets and regular investors.
Relevant Equities: WisdomTree Japan Hedged Equity Fund (DXJ), iShares MSCI Japan Index Fund (EWJ), CurrencyShares Japanese Yen Trust (FXY)
Disclosure: I/we have no positions in any stocks mentioned, and no plans to initiate any positions within the next 72 hours.
I wrote this article myself, and it expresses my own opinions. I am not receiving compensation for it (other than from Seeking Alpha). I have no business relationship with any company whose stock is mentioned in this article.