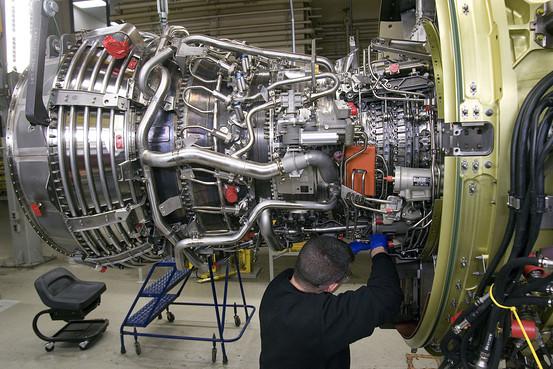 Image 1: A worker assembles a GE engine
GE's (NYSE:GE) third largest business after GE Capital and GE Power and Water could see some issues in the not too distant future. GE Aviation, General Electric's third largest division by revenue and second largest division by profit margin may see issues ahead stemming from its latest engine project. Any negative impact to this segment of GE's business could have negative implications for future revenues and earnings at GE.
LEAP X Engine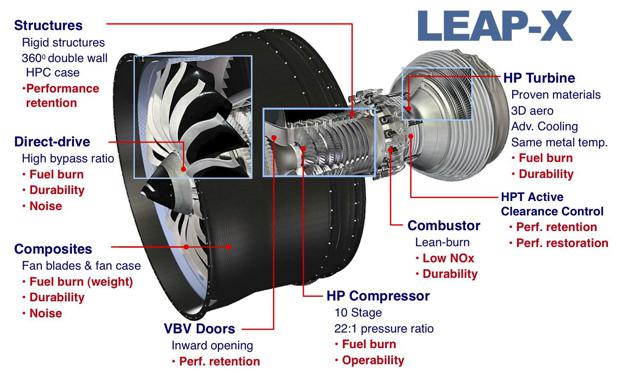 Click to enlarge
Image 2: The LEAP X engine
The problems look set to arise for GE with its latest product, the CFM LEAP X engine. As Airbus (OTCPK:EADSY) and Boeing (NYSE:BA) update their bread and butter aircraft, the A320 and 737 for the first time in many years, General Electric was pressed to develop a new engine for these new models. The CFM 56, the previous iteration of General Electric's largest aircraft engine program has been a booming success, being the exclusive engine for the Boeing 737 NG aircraft and seeing a market share of ~55% on the A320 series. The LEAP X is not entirely developed by GE, but rather developed as the CFM 56 was, a joint venture between GE and Snecma of France.
GE decided to build on the success of the CFM 56 with its latest LEAP X engine rather than build a new engine from the ground up. However, Pratt and Whitney, seeking to get back into the commercial aviation market again saw an opportunity and after over $1 billion in research and development and 20 years in the making launched the geared turbofan engine. The geared turbofan technology reduces fuel usage over existing technology by running the turbofan of the engine at a slower rate than the fuel burning core. The technology is promising but to date most attempts to make an engine with geared turbofan technology have resulted in highly unreliable products.
Despite concerns, the geared turbofan saw its first delivery to an A320 customer this week so real world usage data will start coming in. GE says it had studied the concept at one point but decided to pass on it due to concerns over weight and reliability and there remain skeptics who say such an engine will be impossible to be as reliable as a traditional turbofan engine. GE instead has focused on building the LEAP X engine using more advanced, lighter, exotic materials with greater durability and told its airline customers to expect the new model to reduce fuel consumption by 15% over the current GE CFM 56 engine, the same reduction in fuel burn the Geared Turbofan is promising.
Leap X Issues
News surfaced recently however that the new GE engine was having a tough time meeting its promised fuel savings and was around 2% worse than promised for the Airbus version and 4-5% for the Boeing version. In comparison, the Pratt and Whitney GTF model has met or exceeded all expectations according to the company. In addition, it is on track to deliver an additional 3% fuel consumption reduction by 2019 through a performance improvement package. The Pratt and Whitney engines have suffered delays however due to faulty parts that pushed first deliveries back several weeks.
Financial Implications
Initial contracts signed between airlines and GE would have mandated that the engines meet a certain performance standard or GE would face a penalty. The average A320 or 737 will use around 100,000 gallons of fuel annually. Using fuel at a low cost of $2 per gallon for example, this penalty could add up to $200,000 per aircraft annually. This is for an engine that costs around $10 million at list price and has around a 20% profit margin over the life of the engine.
For an airline like Southwest (NYSE:LUV) with 200 737 MAX aircraft on order, this would translate into a $40 million penalty annually for GE. Reduced life for engine parts could also result since more fuel needs to be burned to gain the same thrust. This additional fuel leads to higher temperatures in the engine and can reduce the life of turbine blades and other engine components.
For GE, they would be hit by higher warranty costs initially and airlines may seek additional compensation from GE after the warranty period ends due to the higher than advertised maintenance costs. The A320 LEAP X can probably get to around its initial goal through performance improvement packages. The bigger concern for GE however is with Boeing. The GE LEAP X engine designed for the Boeing 737 is seeing a fuel burn miss of 4-5%, a number that will be much harder, if not impossible to correct through performance improvement packages. Since this is the only engine offered by Boeing on the 737, Boeing's best selling model, a miss by GE that cannot be fixed will hit their sales big time.
The question then becomes can GE get the engine in line with what it promised or did they likely aim too high in terms of performance for an engine with incremental improvements, with this being a case of the law of diminishing returns. The big risk for GE is that the Pratt and Whitney Geared Turbofan proves itself positively in reliability over these next few weeks, months and years as many enter service. If the biggest doubt surrounding the Pratt and Whitney engine goes away and on top of this GE cannot meet the fuel efficiency targets for its own model, there could be a large shift of undecided customers moving towards the Pratt and Whitney GTF option. A fall in GE engine market share could start to noticeably impact revenues at GE and in turn profits as Aviation has the second highest margins for GE.
GE Advantages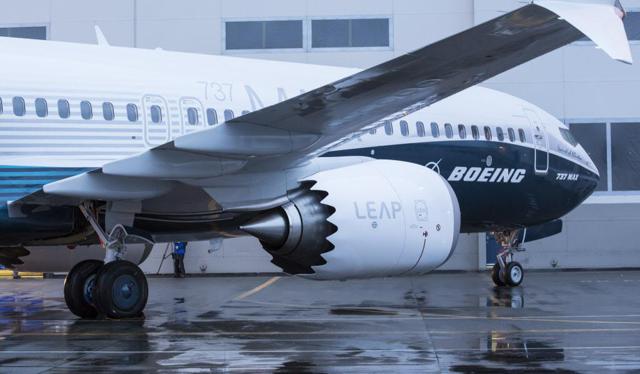 Click to enlarge
Image 3: The LEAP X engine on a Boeing 737
Despite the disruptor technology launched by Pratt and Whitney so far, 30% of customers have picked the GE engine, 30% have picked the Pratt and Whitney model and 40% are undecided yet. GE has many advantages such as some level of commonality with existing GE engines, a proven record of reliability, large-scale production and financing available through GE capital. The LEAP engine also weighs less, so for airlines that focus on short haul flying it may be a more economical option. For now, while fuel costs are much lower airlines may not be as concerned about fuel use as they once were; however, if this situation turns around and oil ends up over $100 again, GE could be in big trouble.
Conclusion
Fuel efficiency is not everything in an engine and there are many positives going for GE that Pratt and Whitney does not have. The question for GE however is can it get its performance much closer to initial targets using incrementally improved technology compared to a disruptive new technology. GE has the benefit of being the exclusive engine provider for the Boeing 737 that looks to take 40% of the narrowbody aircraft market going forward. GE also has the benefit of being the exclusive engine provider for the Comac C919; however, the Chinese government has suggested they will build their own engine over time.
Disclosure: I/we have no positions in any stocks mentioned, and no plans to initiate any positions within the next 72 hours.
I wrote this article myself, and it expresses my own opinions. I am not receiving compensation for it (other than from Seeking Alpha). I have no business relationship with any company whose stock is mentioned in this article.