I've grabbed a group of mREITs that I intend to be providing a substantial amount of coverage on throughout the winter. Since this article may contain some industry jargon, I would encourage readers to check out the piece I did describing the terms if they feel any confusion. If something else is confusing, tell me in the comments and I will get it added to my list of terms and concepts.
I want to run through some of the latest data and share my thoughts on a long list of mREITs. I won't get to single out every mREIT in the list out for attention, but I'll get several of them and the analysis will be relevant to all of them.
The table is demonstrated below:
| | | |
| --- | --- | --- |
| Annaly Capital Management | (NYSE:NLY) | |
| American Capital Agency Corp | (NASDAQ:AGNC) | |
| ARMOUR Residential REIT | (NYSE:ARR) | |
| Capstead Mortgage Corporation | (NYSE:CMO) | |
| CYS Investments | (NYSE:CYS) | |
| Dynex Capital | (NYSE:DX) | Long DX |
| Javelin Mortgage Investment | (NYSE:JMI) | |
| New York Mortgage Trust | (NASDAQ:NYMT) | |
| Orchid Island Capital | (NYSE:ORC) | |
| Two Harbors Investment Corp | (NYSE:TWO) | |
| Western Asset Mortgage Capital Corp. | (NYSE:WMC) | |
| MFA Financial | (NYSE:MFA) | |
| Ellington Residential Mortgage REIT | (NYSE:EARN) | |
| Arlington Asset Investment Corporation | (NYSE:AI) | Technically Corporation |
| ZAIS Financial | (NYSE:ZFC) | |
| Apollo Residential Mortgage | (NYSE:AMTG) | |
| Anworth Mortgage Asset Corporation | (NYSE:ANH) | |
| American Capital Mortgage Investment | (NASDAQ:MTGE) | |
| Cherry Hill Mortgage Investment | (NYSE:CHMI) | |
| Starwood Property Trust | (NYSE:STWD) | |
| Blackstone Mortgage Trust | (NYSE:BXMT) | |
| Chimera Investment Corporation | (NYSE:CIM) | |
| New Residential Investment Corp. | (NYSE:NRZ) | |
| | | |
Rate Analysis
I'm fairly late on running my thoughts for week 15, which tempted me to skip past doing all the rates numbers. I did the extra work to prepare the charts though.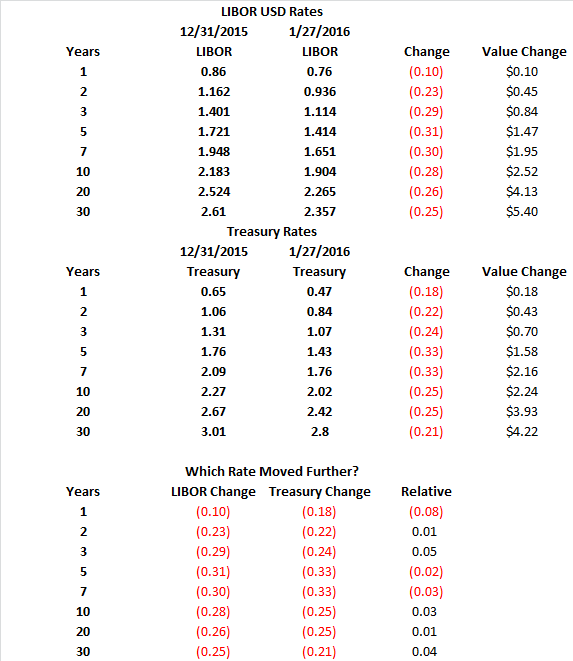 LIBOR rates have fallen across the yield curve, but the medium to longer duration has fallen substantially more than the short duration. This is going to hit book values for mREITs as an unrealized loss on interest rate swaps. Most mREITs should be reporting some gains on MBS to offset at least part of these losses. Some mREITs may see BV up due to lighter hedging, but the heavily hedged mREITs are facing more challenges.
It is worth nothing that so far this year the fluctuation in the 1 year LIBOR rate and treasury rate were materially different with the treasury yield falling 8 basis points further.
Let's compare those numbers with the values for the 30 year Fannie Mae MBS: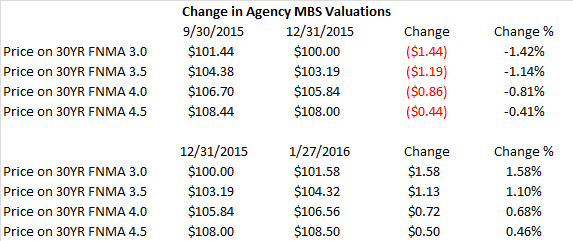 During the fourth quarter the values were falling, but they bounced back during the first quarter. The 3.5 and 4.0 moved by $1.13 and $.72 per hundred dollars of par value. The five year swap moved by (very roughly) $1.47. Even the three year swap moved by $.84. The rationale is simple here. Buyers are extremely concerned about prepayments. Since an agency MBS is fairly similar to a sinking bond fund (par gets paid down) and has the agency securing the debt, the biggest issue for holding MBS relative to treasuries is the embedded option. Specifically, it is the ability of the home owner to pay off the security for less than fair value.
Quick Interpretation
Book value loss and concerns about prepayments. A few mREITs may have done materially better on book value, but for the most part this is another challenge. Normally when something is bad for book value it should be better for earnings. Prepayments are awful for both.
Individual mREITs
I recently pulled my rating from Orchid Island Capital because I believed the risk adjusted returns left were too low to justify holding the position. The discounts across the sector are much closer to even now, though ARR appears to have fallen again to a larger discount to book value. Their share price can move up nicely whenever management decides to strengthen book value by buying back a large amount of shares. It is a limited strategy since it significantly shrinks the mREIT, but it does provide shareholders with some breathing room.
I still like CYS Investments better than the rest of the agency mREITs. Management is internalized and costs are low combined with a portfolio that still generates income while hedging against some of the shorter term rate movements.
I've got some work coming out on Annaly Capital Management to go into the possibility of them growing their physical real estate side of the portfolio. The idea is highly speculative, but it would be interesting to see if they could do it. A REIT that had two dramatically different segments like that would trade at a discount relative to the combined value unless they were willing to be exceptionally transparent. Even then they might trade at a discount, but if they were running a triple net lease REIT the market is bestowing much more favorable valuations on those investments. The ideal scenario would involve high transparency and the ability to adjust where they were going to invest their funds at any given time.
Two Harbors could be looking at some fair value difficulties on non-agency MBS, but I think they fit very well into a small part in a portfolio now. The Federal Reserve is unlikely to be able to raise rates much during the year (my opinion), but the long end of the curve could be suppressed which causes prepayment issues for agency mREITs. If the long end of the curve does remain suppressed, housing values will be supported which reduces the risk for TWO because the collateral on the loans is more valuable.
CMO faces some fairly high prepayments. I wonder how they would feel about returning more of that capital rather than reinvesting it. The resulting dividend yield would be extremely high and entirely unsustainable, but they are trading at a substantial discount to book value despite being a very low cost mREIT.
New York Mortgage Trust remains one of the most difficult mREITs to analyze. The combination of incentive payments for high performance with different portfolios that include highly credit sensitive CMBS (specifically first loss tranches) and IO strips (in a period of prepayment concerns) looks problematic because of the dangers for going heavy on risk.
I rarely bring Starwood Property Trust as an mREIT to highlight, but I will this week. I was researching some of the more complicated REITs recently that trade at substantial discounts and it made me think about the complexity in the way STWD organizes their business.
Fortunately, Starwood Property Trust provides some detailed segment level operating data: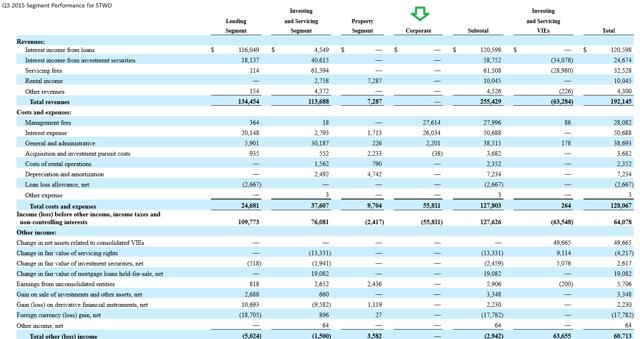 Click to enlarge
This is pretty good. I'd like to see them go even further by providing reconciliations for performance on each segment and I'd love to see them at least indicate which segments would assign overhead costs to if they were going to be splitting off segments. I think that would enhance the ability of the analyst or shareholder to estimate the individual value for each line of business. While I'd like to see that added in (and emphasized in supplemental presentations), I have to give STWD some credit for providing a respectable segment analysis within their filings.
Javelin Mortgage Investment soared nearly 5% today higher after announcing their dividend. That seems like an unlikely catalyst since I believe the dividend is sustained by sending out book value. There is some activism there and I think the best long term solution for shareholders by a substantial margin would be a complete liquidation of the portfolio or a liquidation of non-agency MBS with the rest of the position being acquired by ARMOUR Residential REIT since the two REITs share the same external manager.
Conclusion
Concerns about prepayments are weighing on MBS pricing and the majority of mREITs should see book value declining so far in the fourth quarter due to weak price appreciation on MBS relative to hedges. If the CPR over the next two years is materially lower than expected, then the MBS yields will be better than they would appear. However, they still won't be great because MBS yields and treasury yields remain fairly low. On the other hand, investors looking to refinance their house might want to start talking to their credit unions.
I rarely listen or watch anything with commercials, but when I do the presence of native advertising for refinancing homes (such as on the news) drives me crazy. They tend to promote it fairly hard when rates are already high. Right now, the prices on MBS are suggesting that refinancing offers should be pretty good. I guess that brings us back to that problem with prepayments?
One last note. I may go long in any of the mREITs or their preferred shares at any point. I'm currently long DX and not planning any trades. If share prices randomly fall by 10% in a day, I may opt to grab shares that I otherwise wouldn't have been buying.
Disclosure: I am/we are long DX.
I wrote this article myself, and it expresses my own opinions. I am not receiving compensation for it (other than from Seeking Alpha). I have no business relationship with any company whose stock is mentioned in this article.
Additional disclosure: Information in this article represents the opinion of the analyst. All statements are represented as opinions, rather than facts, and should not be construed as advice to buy or sell a security. Ratings of "outperform" and "underperform" reflect the analyst's estimation of a divergence between the market value for a security and the price that would be appropriate given the potential for risks and returns relative to other securities. The analyst does not know your particular objectives for returns or constraints upon investing. All investors are encouraged to do their own research before making any investment decision. Information is regularly obtained from Yahoo Finance, Google Finance, and SEC Database. If Yahoo, Google, or the SEC database contained faulty or old information it could be incorporated into my analysis.