Introduction
A month ago I explained why I like the sub sector of medical devices companies. I wrote about three main companies: Becton Dickinson (NYSE:BDX), Medtronic (NYSE:MDT) and Abbott (NYSE:ABT). I tried to compare the three and my results were inconclusive. Nevertheless, I believed that for the long run Abbott is my favorite pick, with Medtronic later, and then Becton Dickson.
Yesterday, January 28th 2016, Abbott published its Q4 results to complete 2015. In addition, it also published its outlook for 2016. The earnings were as forecasted by analysts, but the outlook for was weaker than expected.
Therefore, the stock fell almost 10%, and now traded for $36.71. I believe that this is truly and overshooting, that was caused by panic, market volatility and probably some stop-losses. In this article I will briefly go over the fundamentals, and valuation, and then give you 10 reasons to buy Abbott.

Abbott Laboratories develops, manufactures and sells healthcare products. It has four segments: Pharmaceutical Products, which sells adult and pediatric pharmaceutical products; Nutritional Products, which sells pediatric and adult nutritional products; Diagnostic Products, which sells diagnostic systems and tests for blood banks, hospitals, commercial laboratories and alternate-care testing sites; and Vascular Products, which sells coronary, endovascular, and vessel closure devices. The principal products in its other businesses include blood glucose monitoring meters, test strips, data management software and accessories for people with diabetes, and medical devices for the eye.
Fundamentals
Abbott managed to grow both top line and bottom line over the past decades. The company operates in a highly competitive environment, and still manages to show consistency. The company spun off its R&D business, into a separate company Abbvie (NYSE:ABBV). Abbott kept growing since the spin-off as well.
In 2015, all business segments grew: diagnostics up 7.3%, medical devices up 1.5%, generic pharmaceutical up 34% due to several acquisitions and nutrition up 5.5%. True fundamentals suffer from forex, and the fact the USD bull cycle is already five years old, but long term investors should just ignore the noise, and look at the core. Not only that the company grew, it will keep operational growth at around 10%.
The dividends are also growing consistently. The spin-off made it look like Abbott cut its dividends, but when taking the Abbvie dividends into consideration, you can see that the company managed to consistently grow its dividends for the past 44 years. The yield is now 2.83%, and the payout ratio is sustainable at less than 50%.
Valuation
The 10% drop decreased the valuation significantly. Now that the 2015 results and 2016 outlook are both around $2.15 non GAAP. At the current price the P/E ratio and forward P/E are practically the same. The forward P/E is in the range of 15-17, this range in my opinion is attractive for a company that grows its sales and profits so quickly.
The P/S ratio and P/B ratio also contracted. The book value and sales didn't contract, and therefore our valuation now is more compelling when using almost every metric. It is time to take advantage of short term decline to achieve long term returns to our portfolio.
Ten reasons to buy Abbott Laboratories right now
1. In October I published an article similar to this one. It was a day after Abbvie, the company that was spun off Abbott dropped 10% after the FDA published a warning on its HCV drug. The share price declined to $48, and I wrote that the company is very well positioned to cope with the short term headwinds. I believed that the market was overshooting and today, 4 months later, the company trades 16% higher.
2. Johnson & Johnson (NYSE:JNJ) is another example of the market being irrational. On a single day in 2015, the stock dropped to $81. Even 3 months ago it traded for $90, and investors who ignored the short term noise and focus on the fundamentals were able to achieve significant returns. Sure, none of us can predict the future, but buying this huge blue chip for a P/E of less than 14 is a bargain. Ignore the background noise.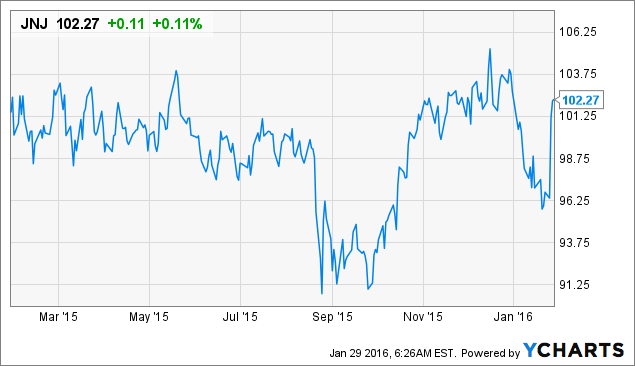 3. The reason for the decline is the outlook for 2016, the outlook for 2016 is weak due to short term headwinds. Forex which is lowering the EPS and revenues over the past five years, and the situation in Venezuela, a country in Latin America which suffers tremendously form the cheap price of oil. I ignore the short term headwinds and stick to the strong fundamentals of the company, as both factors have nothing to do with the fundamentals.
4. Let's look at the bottom line. here is what Miles White, the CEO of Abbott said yesterday.
So for 2016, our adjusted earnings per share guidance range of $2.10 to $2.20 reflects another year of strong double digit underlying earnings growth offset by the negative impact of foreign exchange and a lower contribution from Venezuela that I just mentioned.
2016 core growth will stay high at double digits. Sure, the numbers are affected by the business environment, but this can go both ways. Business environment can and will enhance earnings in the future when the USD weakens or emerging markets have their economies stabilized.
5. Abbott took part in the M&A festival in of the past several years. It acquired companies in the generic drugs industry that are now being assimilated to the company. CFR in Latin American and Veropharm in Russia will both strengthen the position that Abbott holds in the emerging markets and fuel its growth there.
6. Emerging markets are growing. The economies are growing and so is the population of the countries. The life expectancy is growing as well, and medical treatment isn't a luxury anymore. It is a service that is consumed by the population, and the demand for it is growing. Without Venezuela Abbott managed to grow sales in the emerging markets by solid 10%, and the need for improved medical equipment isn't going to fade.
7. Abbott is also expanding to new areas, the firm doesn't only try to increase its market share where it leads, but it also tries to penetrated to new areas. The ability to lead several sectors while trying to penetrate new ones, will help Abbot bring higher returns. Abbott will try to expand into the vascular intervention sector.
8. The number one cause of death in the U.S is heart diseases. Heart attacks caused sometimes by a clogged artery. Xcience stent manufactured by Abbott is a true leader in this industry. The demand is high in the US and the Affordable Care Act will make it more affordable and increase the demands.
9. Price is at its lowest point over the past 2 years. If you believe in the company, you now have an opportunity to buy it for a legacy price.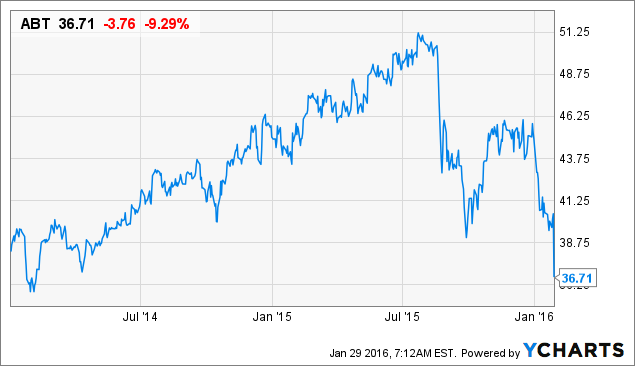 10. Yield is very high compared to peers and the company's history. Dividend is an important part of the total return, especially if it is reinvested. The current yield is close to 3%, and grows systematically for decades. It is much higher yield than what BDX or MDT can offer you. The dividend alone isn't enough, but it is backed by superb fundamentals.
Conclusion
The market chose to look at the short term weakness and value the share accordingly. This is the time when I as a long term investor, can take advantage of it. I have an opportunity to buy Abbott at the same price it traded for over two years ago. Most analysts rated it as a "BUY" back then, if EPS is higher and price is the same, I believe that now is a great time to buy it as well.
Disclosure: I am/we are long ABT, MDT, BDX, JNJ.
I wrote this article myself, and it expresses my own opinions. I am not receiving compensation for it (other than from Seeking Alpha). I have no business relationship with any company whose stock is mentioned in this article.