The Chinese Lunar New Year is coming up shortly. This year, it is the "Year of the Red Monkey" and is suppose to represent great luck and fortune in China. For months, Chinese economic woes have played havoc to such markets as copper, crude oil and many others. We have warned clients for close to a year, that their economy was a "house of cards" built on too much speculation and shaky government policies.
To get a major boom in commodities in the months ahead, we need a lot more than betting on a mythical Monkey. Two other potential major impetuses will be the possibility that either OPEC or Russia will cut oil production and that El Nino could still cut some country's crop production.
Lows in Natural Gas Are In
One commodity that we have turned more neutral to friendly on recently has been in natural gas (NYSEARCA:UNG). After forecasting a near record warm early winter and lower prices; U.S. rig counts are coming down and a stratospheric warming event near the North Pole could portend a colder second half of the winter. Our teleconnection program below shows the most similar El Nino years that had a warm December (1982; 1987; 1957). The following February of 1958 seems like the best fit, in which warming some 20-40 miles up in February resulted in an overall cold bias for much of the Midwest and East. Early 1958 was also a year with a major east coast snowstorm--something, which occurred last week.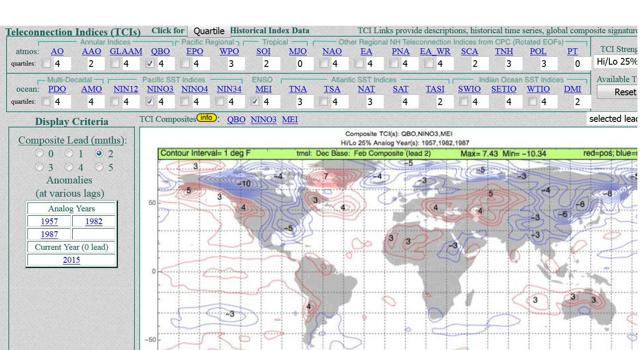 Click to enlarge
My teleconnection program (above) shows the best fit analog years from December's warm pattern and natural gas prices falling to $1.80. The average of these 3 years suggested blue (a cold February) across some key U.S. natural gas areas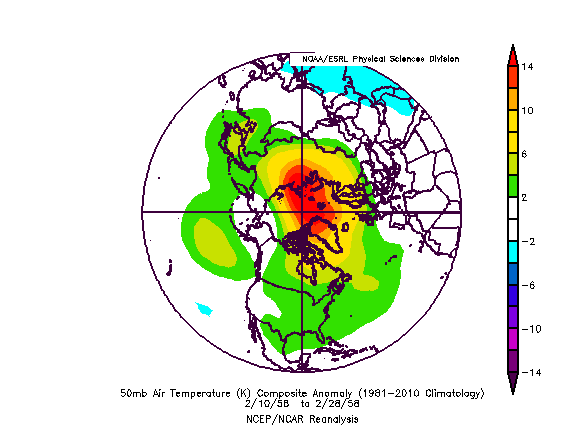 The best of the 3 analog years listed above might be February 1958, in which a warming event in the stratosphere (see red above), occurred. The result? A colder February across the Midwest and East and stormy
Cocoa, Sugar and El Nino - Highs in Prices Are In.
The big bull market moves on El Nino during 2015 were in sugar (NYSEARCA:SGG) and cocoa (NYSEARCA:NIB). Recently, a heavy long position in the market, seasonal and technical factors has resulted in a 15-20% slide in prices. Cocoa prices, which normally reacts positively during an El Nino, already saw its day in the sunshine last year. The demand side of the equation is in question and late fall rains helped the west African main - cocoa, which is hitting the market and pressuring prices.
The highs in cocoa prices are likely in though I expect some kind of late winter or spring rally as the mid-crop is potentially reduced. This smaller crop usually hits the market between March-May and could result in some tightness in supplies in another month or two.
I expect that the notorious cool-dry winter Harmattan Wind may be strong enough at times to lower global cocoa production a bit in weeks ahead, but not nearly to the extent that some bullish analysts have felt.
Sugar prices tend to go lower this time of the year, after major global production declines occurred in India, Thailand and Brazil last summer and fall. I feel that come March or April, worries about reduced plantings in India from a warm-dry winter and recent flood issues in China, could set a floor in sugar prices going into the summer. However, El Nino does NOT necessarily imply back to back global sugar deficits as Brazil could have a big crop in 2016. This will make trading sugar much more difficult in the months ahead. Buying sugar somewhere in the 12-12.50 range in the next few weeks or so may be a smart bet heading into the summer, but I am not convinced we will take out the recent high prices from last year.
For coffee (NYSEARCA:JO), the Brazilian coffee crop looks huge this year. Though prices are forming a base and demand is suppose to increase, here too I am suspect of any major medium term bullish move.
Grain Market
El Nino usually means big South American crops and while some earlier planting delays from dry weather occurred in northern Brazil and there some dryness in Argentina; overall, the world is awash in soybeans (NYSEARCA:SOYB).
Two areas in the world bear watching for potential lower grain crops. They are in the Ukraine and western Russia and in South Africa. South Africa's maize crop (NYSEARCA:CORN) will be decimated by a drought for the second year in a row tightening the world supply/demand situation a bit. In addition, a harsh fall probably affected some of Russia's wheat crop plantings (NYSEARCA:WEAT).
In summary, it will take a rapid decrease in El Nino conditions to muster any significant global crop disasters this year. In short, I am suspect of any major bull move in many commodities the next few months. Many of them will be short term trading affairs. Markets such as crude oil (NYSEARCA:UCO) and natural gas might be ones that have better longer term friendly opportunities. These markets will continue to be volatile, but selling deferred out of the money put options is probably a low risk, conservative trade.
Disclosure: I/we have no positions in any stocks mentioned, and no plans to initiate any positions within the next 72 hours.
I wrote this article myself, and it expresses my own opinions. I am not receiving compensation for it (other than from Seeking Alpha). I have no business relationship with any company whose stock is mentioned in this article.