SolarEdge (NASDAQ: SEDG) is doing something right to weather the current market storm. Investors should feel confident about this company that, in an ever-volatile industry, hasn't been hit too hard from the current market environment.
Potential to Grow
Due to the mess that is the oil market, there is a gradual shift toward other cleaner technologies and 2016 could be the year where products manufactured by SolarEdge make it into a more mainstream focus, especially if the company can drive manufacturing costs down. With the help of government subsidies as well, SolarEdge is expected to increase its market share to 40% this year, making it even more of a solar giant. Furthermore, now as a powerful entity, SolarEdge finds itself in a comfortable place for potential M&A action or partnerships, including the announced partnership with Tesla (NASDAQ:TSLA) and compatibility with Tesla's batteries.
With a conservative debt position, SolarEdge places itself in a strong financial position that has ultimately reflected positively on its shares. Despite an initial drop at the start of 2016, SEDG shares are on the rise again, shown below:

Click to enlarge
(Source: Bloomberg)
Shares of SEDG also have outperformed in its sector this week, a sign of increasing strength ahead of their earnings announcement: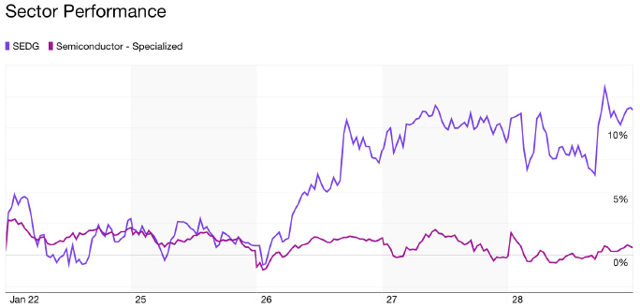 Click to enlarge
(Source: Yahoo Finance)
I concur with analysts from Needham and Deutsche who rated shares of SEDG a buy and FBR went as far as a rating of outperform. The one disappointing factor about SolarEdge, however, is their reluctance to release a dividend. As SolarEdge increases their market share hopefully this year, there should be pressure on the company to finally release a dividend. Increased investor confidence will drive the stock higher toward a $33 price target.
Volatility Risk
Despite SolarEdge having their financials together, especially as the question of risky corporate credit is ever present today, volatility still threatens SEDG shares. The high-low range since the IPO last year is nothing over-the-top positive and gives off an uncertain sentiment. The industry as a whole is continually volatile, thus not making SEDG an overly sound investment for the weary investor.
SolarEdge needs to address this problem by not just having stronger earnings but a demonstrated commitment to shareholders if it wants to remain as a strong solar entity.
SolarEdge vs. Others
Judging strictly on share performance measures, shares of SEDG have Enphase shares (NASDAQ: ENPH) beaten by a mile. ENPH has taken a tumble and the outlook short term isn't sunny: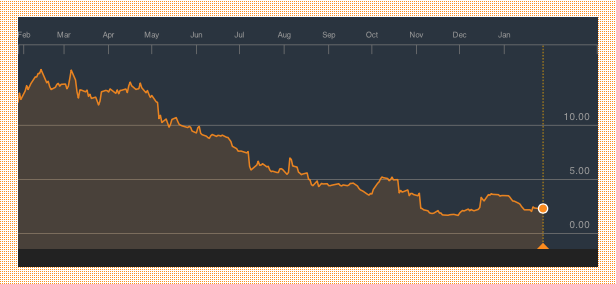 (Source: Bloomberg)
While SolarCity (NASDAQ: SCTY) recently benefited from California increasing benefits for residents installing solar for their homes, this could also point to increased success for shares of SEDG as positive sentiment toward solar technologies increase. A long position could be very favorable for SEDG as the company enters 2016 financially sound and with multiple competitive edges.
Disclosure: I/we have no positions in any stocks mentioned, and no plans to initiate any positions within the next 72 hours.
I wrote this article myself, and it expresses my own opinions. I am not receiving compensation for it (other than from Seeking Alpha). I have no business relationship with any company whose stock is mentioned in this article.