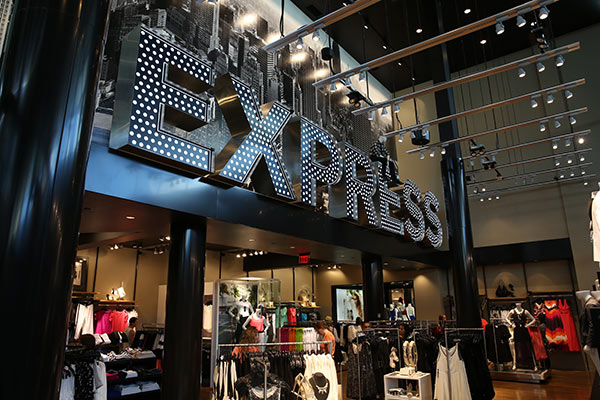 Following on from a couple of recent articles we wrote about The Gap (NYSE:GPS) and Ralph Lauren (NYSE:RL), we have now turned our attention to Express, Inc. (NYSE:EXPR).
Express is a specialty apparel and accessories targeting the 20 to 30 year olds demographic. At present the company operates over 600 retail and factory outlet stores that can be found primarily in high-traffic shopping malls, lifestyle centers, and street locations throughout the United States, Canada and Puerto Rico. It has a strong online presence and licenses franchise stores internationally in Latin America and the Middle East.
For those that don't know the company very well, it is often referred to as the more expensive version of the hugely popular store Forever21. The quality of the clothing is arguably far better, with many consumers saying Forever21 lasts a few washes, and Express lasts a few years. At Forever21, a sweater might cost in the region of $20-$25 full price, whereas at Express a sweater can range from $40-$60.
We feel Forever21 is more popular because cost inevitably wins over quality and we feel that consumers like to keep adding new items to their wardrobe. How often do you have a favorite top or pair of jeans that you look forward to wearing, only for it to be demoted after the purchase of a new item? For us, this happens frequently and we believe many consumers behave in the same way. Not only does this give you new things to wear, it also keeps you in fashion. Because of this we don't think the 20 to 30 year olds demographic necessarily cares if an item doesn't last a few years.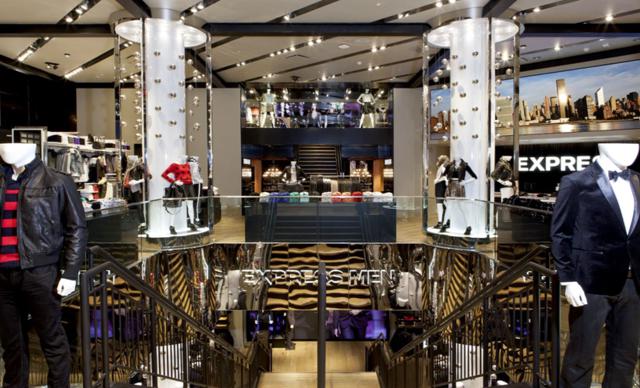 (Source: Company presentation)
We are a big fan of the Express store design as demonstrated above. It's exactly what we would expect of a design aimed at 20 to 30 year olds. Very modern, with large open spaces, and with a great layout generally.
Going back to Forever21 for a moment. Forever21 is an impressive company with estimated revenue of $4.4 billion. This is almost double the revenue Express is reporting of $2.3 billion on a trailing basis. We feel the company could close the gap if it were to sacrifice some quality in its manufacturing. This might appear to be an outlandish thing to suggest, but by being able to compete on a cheaper price-point we feel the company could turnover larger levels of inventory by attracting consumers away from Forever21.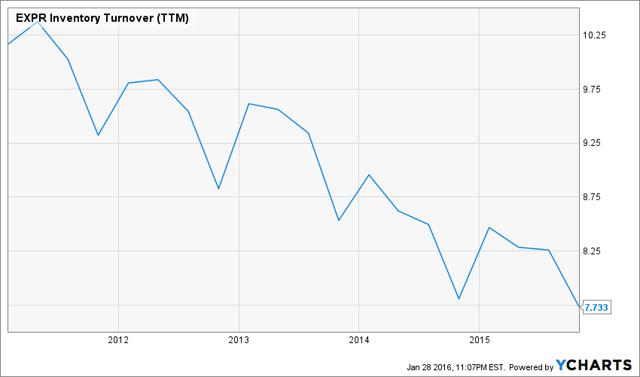 As you can see above inventory turnover has been on a downward trend in the last few years and could do with a bit of a pick-me-up. We put this down to a shift in consumer preference for fast fashion, which is succinctly described affordable clothing which is the result of catwalk designs arriving in stores in the fastest possible way in order to respond to the latest trends.
Now, this is not to say that we think Express is not already a great company. We have been very impressed with the way it has performed and expect an earnings beat when it next reports in late February/early March. It is a very liquid company with no debt and strong free cash flow generation. We just feel it has the potential to be much greater than what it is now, and could become a bigger company than Forever21 if it embraces the fast fashion model more.
But even if it doesn't there is still plenty of upside for investors to be found here in the next few years. Vogue recently had an article about Kendall Jenner and Gigi Hadid both wearing the same $60 coat from Express. This sort of press is invaluable for the company and will no doubt have caused a surge in demand for this particular item. It also gives the company that extra bit of credibility in the eyes of the younger audience in our opinion.
One advantage it does have over many of its competitors is that it covers all occasions. Whether it is work, casual, denim, or going out clothing, Express caters to all these needs very efficiently.
Like all retailers e-commerce is increasingly important to the company's future prospects. Express have been making great strides with their online store and, as demonstrated below, e-commerce has been growing year over year as a percentage of sales now since it was launched back in 2008.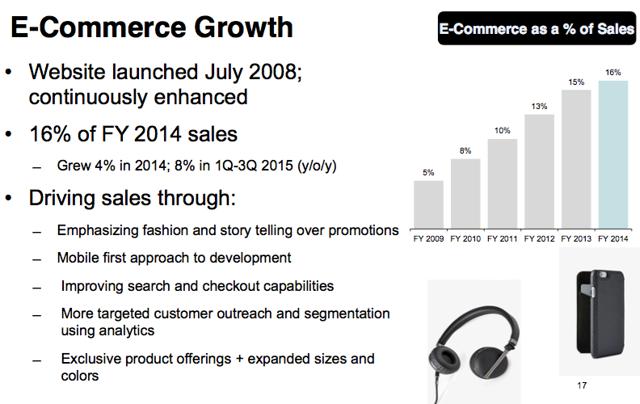 (Source: Company presentation)
For the full-year analysts are expecting earnings per share of $1.43 on revenue of $2.35 billion. Due to demand picking up in December and January the company recently increased its fourth quarter guidance for same-store sales to a 3% increase, and on the bottom line narrowed earnings per share down to 63 to 65 cents.
We're very bullish at the moment and believe with the extra publicity the company has received recently it will report earnings of 66 cents per share in the fourth quarter, bringing full year earnings per share to $1.44.
If the company does report full year earnings of $1.44 then we fully expect the stock to climb to the $20 mark giving investors a return of over 18%. This will be great news for investors that have seen the shares drop by around 13% in the last three months.
Takeaway
We feel the company is a good match for fast fashion, and should it dip its toes a bit deeper into fast fashion we believe that revenue could rise at increasingly higher rates. Things may be going well now while there are increasing levels of disposable income, but when that starts to drop consumers may focus on lower priced alternatives. For now, though, it is still a great investment and we expect it to outperform the market this year by some margin.
Disclosure: I am/we are long EXPR.
I wrote this article myself, and it expresses my own opinions. I am not receiving compensation for it (other than from Seeking Alpha). I have no business relationship with any company whose stock is mentioned in this article.