Lumentum (NASDAQ:LITE) has been receiving lots of analyst coverage over the past month. Lumentum, which came into existence post JDSU spin-off, is a player in CCOP (communications and commercial optical products) in the field of optical technologies. Viavi (NASDAQ:VIAV) is another company that was born as a result of the spin-off. The company is a wonderful transition story and a good fit for my investment approach, which involves deriving value from transition.
The analyst community is divided over the stock's medium-term performance in light of the opportunities in telecom industry. For example, Barclays' Joseph Wolf believes LITE isn't attractively valued because the telecom industry is at its peak in terms of growth. Needham and MKM Partners believe the stock is undervalued and has meaningful upside. This difference in opinion has left investors in dilemma on whether buying LITE makes sense around the current price. However, I am optimistic on the company's growth prospects. The stock is currently trading at a forward EV/Revenue of just 1.2x, which I believe supports the views of Needham and MKM Partners.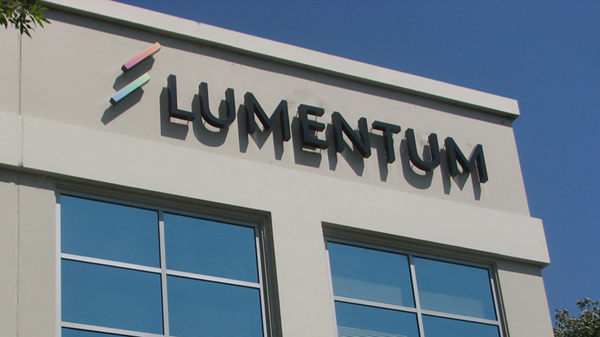 Lumentum's Growth Opportunities
Lumentum has two operating segments, viz., optical communications and commercial lasers. The optical communications segment helps telecom operators and cloud/data center service providers transmit video, audio and text via fiber optic cables. The commercial lasers segment offers customers gesture recognition and photonic power products in the fields of graphics and imaging, remote sensing, biotechnology, precision machining etc.
The analysts, who are skeptical about Lumentum's growth opportunities, are missing the point that the company is exposed to the high-growth metro cloud network in the U.S. and Europe. The company supplies equipment to optical network hardware vendors, such as Cisco (NASDAQ:CSCO), Ciena (NASDAQ:CIEN), Alcatel-Lucent (ALU) and Infinera (NASDAQ:INFN). The optical network hardware is primarily a collection of routers and switches, connected through fiber optic cables.
LITE will see strong demand for its TrueFlex ROADM products, 100 Gbps modulators and BrightJack continuous fiber-monitoring solution in the metro cloud network, which is a network that interconnects the data centers in any particular metro area. The DCI (data center interconnect) market offers LITE ample opportunities for growth. The metro cloud network is growing rapidly due to a multiplier effect. When a request is released in the network, it triggers messaging and signaling which grows 10x the bandwidth of the original request, resulting in the multiplier effect. As a result, the metro cloud has become ripe for 100G transmission.
In the next three years, 100G transmission based on 100G transceivers will go mainstream. For LITE, this will create significant revenue generation opportunities. Its PPM (photonic power module) products, which transform optical energy into electrical energy, are capable of supplying the necessary voltage to power the transceivers.
The company expects that metro deployment in the U.S. will see significant expansion from 2016. In addition to the U.S. and Europe, China represents a big opportunity for the company as well, since the Chinese government has taken the initiative to distribute metro cloud network over its large cities.
Lumentum's Innovative Products Will Support Growth
LITE's TrueFlex ROADM architecture helps telecom operators overcome the imitations of ordinary ROADM products. TrueFlex ROADM supports operators' plans for future growth by allowing drop-path filtering and improving express-path isolation, thereby reducing overall costs. The company's OPDL (optically powered data links) modulators are more power-efficient and noise-immune compared to other modulators available in the market. Its BrightJack continuous fiber-monitoring solution allows operators to deploy a low-cost reflector unit at the end of each fiber optic cable that can be remotely operated.
The Stock Enjoys Attractive Valuation
LITE has a robust balance sheet with $142 million of cash and zero debt. Management believes the business should consistently generate cash. In the first quarter of fiscal 2016, its revenue was $212.6 million. Consensus estimate for fiscal 2016 revenue is $866 million. At the current price of $19.60, the stock is trading at a forward EV/Revenue of 1.2x, which I believe is attractive valuation, given the company's strong growth opportunities.
Conclusion
LITE is a high growth stock with very low downside from the current level. The only risk could be worsening macro environment. Alan Lowe, the company's CEO who joined JDSU in 2007, has vast experience in the CCOP field. Mr. Lowe said that Lumentum has a few potential acquisition targets in mind, although he didn't divulge details. The recent correction in the stock offers a compelling entry point for medium-term investors with one-year time horizon.
Disclosure: I am/we are long LITE.
I wrote this article myself, and it expresses my own opinions. I am not receiving compensation for it (other than from Seeking Alpha). I have no business relationship with any company whose stock is mentioned in this article.