Company
Flexion Therapeutics (NASDAQ:FLXN) is a specialty pharmaceutical company focused on the development and commercialization of novel non-opioid pain therapies. The company is currently advancing a portfolio of injectable drug candidates that have the potential to provide better and more persistent analgesia compared with existing therapies. Flexion uses a PLGA microsphere technology that creates sustained release injections that provide therapy for three months or longer. PLGA is a biodegradable polymer that naturally breaks down into carbon dioxide and water. The technology has been used for several decades (examples include dissolving stitches, orthopedic screws, and other marketed pharmaceutical products such as Sandostatin LAR and Risperdal Consta) and has already been proven safe and effective.
Flexion's lead product candidate, Zilretta (also referred to as FX006) is a sustained-release triamcinolone acetate [TCA] injection to treat osteoarthritis [OA] in the knee. TCA is already currently used to treat OA; however, it is only available as an immediate-release injection (e.g., Kenalog) and the pain relieving effects wear off after a few weeks at most. Zilretta is intended to provide at least three months of pain relief for OA patients.
As of September 30, 2015, Flexion had $132 million in cash and short term investments, with only $21 million in total debt. The company's burn rate is less than $3 million per month even with the ongoing Phase III trial. At this rate, the company can survive for the next three years without the need to raise additional capital.
Market Overreaction
Flexion Therapeutics has been drawn back into a prime buying position due to the recent market pullback. In early September, Flexion was trading at a high of $30/share. An unwarranted massive sell-off occurred after Zilretta "failed" its Phase IIb clinical trial.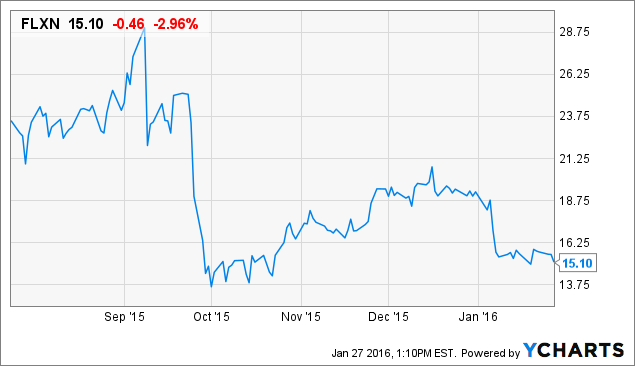 Although Zilretta did not meet the trial's primary endpoint, which was to demonstrate superior pain relief compared to placebo at week 12, it did demonstrate superior pain relief in weeks 1 through 11 and also at week 13. Week 12 was the only week where superior relief was not significant. It is not immediately clear why the week 12 data point was not significant, however, it may have been due to patients dropping out of the trial, which is extremely common and often has nothing to do with the drug itself. When Flexion used a different statistical model that minimizes the effects of patient dropouts, weeks 1 through 13 were, in fact, all significant.
A failed trial is a failed trial, however, and if Flexion simply presented this data to the FDA, chances are extremely high that they would receive a quick rejection letter. Flexion has a saving grace, however, that makes the September sell-off unjustified. Zilretta is currently undergoing a Phase III trial with the same endpoint of significant pain relief at week 12. Although the failed Phase II trial was intended to be one of two pivotal trials (providing efficacy evidence for FDA approval), as long as the other pivotal trial, the ongoing Phase III trial, meets its endpoint it should provide enough efficacy evidence to the FDA. In other words, as long as the Phase III trial provides significant pain relief at week 12, the combination of data from both trials should be more than enough safety and efficacy evidence for the FDA to approve Zilretta. The Phase III top-line data readout will be presented some time in February. Flexion's management team is confident that the Phase III trial will be successful and that they will meet their target NDA filing date in 2H 2016.
Commercial Potential
Zilretta is intended to treat OA, which affects 27 million people in the US alone. Although there is no cure for OA, there are several different treatment options for OA patients including over-the-counter pain medications such as Tylenol or Aleve for mild symptoms and opioid pain relievers such as Vicoden for more severe symptoms. For the most severe cases of OA, intra-articular (into the joint) injections are available. These intra-articular [IA] injections can be steroids such as TCA or hyaluronic acid [HA], which is a naturally occurring polymer found in healthy joint cartilage. Steroid treatments are intended to reduce inflammation, whereas HA treatments are intended to help lubricate the joint.
According to IMS, there are around three million patients with knee OA in the US that receive intra-articular TCA [IA-TCA] treatments and an additional one million patients that receive IA-HA treatments (see figure below). Both IA-TCA and IA-HA have serious limitations that Zilretta can potentially solve. Current IA-TCA treatments (e.g., Kenalog) are immediate release and although they are very effective, the relief wears off within a few weeks. IA-HA treatments (e.g., Synvisc), on the other hand, last for around six months but the efficacy is questionable. Therefore, Zilretta has the potential to provide three or more months of effective treatment to roughly four million patients who are already receiving sub-par IA treatments.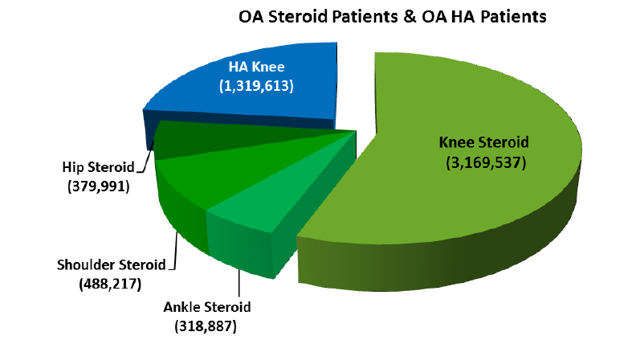 (flexiontherapeutics.com)
If we take a very conservative outlook and assume that Zilretta gains a peak penetration of five percent, there will be around 200,000 patients treated with Zilretta each year. Assuming Zilretta will be marketed as a three month injection and that Flexion will charge around $500/injection (which is on the low end compared to similar long acting injection products), Zilretta could reach peak annual sales of at least $400 million.
This is a very conservative view for the following reasons:
Market penetration would likely be more than five percent given the potential benefits
The number of knee OA patients is growing by an estimated four to five percent each year
Zilretta could expand to new patient populations including hip, shoulder, and ankle OA
Most importantly, Flexion has maintained the commercial rights to Zilretta, opting to market the product itself, which means that it will not have to share any of the potential revenue with licensees. Using a small team of 60-100 sales reps, Flexion can easily cover the 9,000 orthopedists and rheumatologists that perform the majority of these injections. For comparison, Genzyme (now owned by Sanofi) successfully marketed Synvisc using a team of 100 sales reps.
Thanks Mr. Market for a [Very] Asymmetric Risk/Reward Profile
Investors who were scared out of their positions after the news of the Phase IIb trial have unknowingly created an outrageously asymmetrical risk/reward profile for Flexion. After erasing half the company's value in just one week, investors more than priced in the risk that Flexion will have to perform another pivotal trial in order to gain FDA approval. If another trial is required, it will delay NDA filing by around 12-16 months. As previously mentioned, even with an ongoing Phase III trial, the company's cash burn rate is only $3 million per month. At this rate, the company's cash resources should be enough to fund development through NDA filing, with or without an additional trial.
As with any other clinical stage pharmaceutical company, there are other downside risks to consider. Anyone who has ever had any dealings with the FDA will tell you that nothing is a sure thing when it comes to drug approvals. There is a possibility that the FDA will not approve Zilretta, but I believe this is highly unlikely as long as the Phase III data is positive.
Other near term risk factors include:
Third party manufacturers could face regulatory headwinds - Flexion has secured two separate supply agreements, one with Evonik and one with Patheon, which minimizes this risk
Clinical trials could be delayed - Flexion has already faced a two and a half month clinical hold when one patient in its Phase II trial presented septic arthritis of the knee
These risks must be considered for any investment in a pharmaceutical company as they are present for all companies.
Between September and December, many savvy investors realized that the unmet endpoint in the Phase IIb trial does not spell doom for this paradigm-shifting product and helped to drive the price upwards toward a more reasonable valuation. Over the last few weeks, however, Mr. Market has decided that the entire stock market is overvalued and has forced nearly all stocks, including Flexion, downwards. Flexion is now priced just above its 52-week low, the risk of having to perform another Phase III trial is already priced in, and the stock in prime buying position. For now, all eyes should be on the Phase III data readout in February. If the trial meets its endpoint, I believe investors will realize that the company is in the exact same place it was in September and the stock price will return back to around $30/share.
Disclosure: I am/we are long FLXN.
I wrote this article myself, and it expresses my own opinions. I am not receiving compensation for it (other than from Seeking Alpha). I have no business relationship with any company whose stock is mentioned in this article.