Apple (NASDAQ:AAPL) has seen a serious slowdown in sales of the iPhone. Since the smartphone brings in well over 60% of company revenue, investors want to know if there are other potential areas of growth.
It seems that the Services area is one area that is seeing serious growth.
Background
Share prices were slammed by the company's fiscal Q1 2016 earnings release on Tuesday, January 26, falling $6.57 on Wednesday in reaction to the news, and this is after rumors of shortfalls had already driven the price down from a high of $133 last February. The question for investors is whether this downward trend will continue, or if the price will remain range bound as it has for almost a year. At this stage of the game, any near-term appreciation appears unlikely.
Obviously, the whole question revolves around growth. Can Apple continue to grow? Or will it stagnate or even see a decline in its revenue base?
Put another way:
If iPhone revenues level or decline, can anything else replace that growth?
This article looks at one promising area, the category Apple titles in its financial reports as Services.
Note: Most of this analysis will be qualitative. I am not trying to propose any specific numbers. What numbers I do use are meant to be general examples representative of a range, not predictions.
Revenues
Revenues for Services for the December quarter are illustrated below along with last year's data.

Click to enlarge

Click to enlarge
Services
Apple describes this category as including revenue from:
Apple Care
iTunes Purchased Content
App Store
iCloud
Apple Music
Licensing
Service Parts
Apple Pay
The chart from Bare Figures shows growth of the category over the years.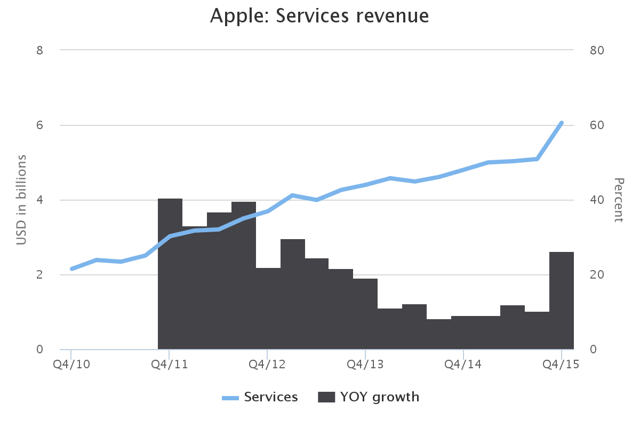 Click to enlarge
(Barefigur.es - Quarters shown are calendar quarters)
(Note: The high year over year growth of fiscal 2012 reflects the fact that Q1 was when the iPod was added to the group, raising subsequent comparisons for the year.)
The Services category generated roughly $20 billion in fiscal 2015. For this quarter, the figure was $6.06 billion, but that included a one-time fee - $548 million received from a patent infringement lawsuit. Without that, the revenue is roughly $5.5 billion, which is the figure used in all subsequent discussions here.
With this there is a real chance for significant growth, and this on several fronts.
Note: It is impossible to figure out exact revenues from the individual services, as Apple does not give any further detail in the quarterly reports.
However, they did supply some further breakdown information in the supplemental report and in the earnings conference call.
Apple's focus on Service data
As I predicted in my post elsewhere, the Services category is gaining in importance.
Apple has done the unique this quarter with the release of some supplemental data. One of the pages lists more detail on the Services category, and both CEO Tim Cook and CFO Luca Maestri spent quite some time discussing the category.
Install base
One important part of the Services opportunity is the concept of install base. As a major milestone, this quarter Apple reached an install base of 1 billion connected devices, defined as "iPhone, iPad, Mac, iPod touch, Apple TV, and Apple Watch devices that have been engaged with our services within the past 90 days." Clearly, this is not the same as 1 billion users, as many users own more than one device.
In some cases devices will share a service, particularly music purchases, and many apps once purchased can be downloaded to multiple devices without extra charge. Services such as HBO Go may be accessed across all but the Watch. Still, however, each one of the devices has the potential to interact uniquely with services. For example, some apps may be particular to one type of device and not make sense on another.
One of the reasons the install base is important to Services is that it divides the category in two. Most Service products have volume that varies to the install base, and continues over time. That is, the sales as the number of users goes up, so does the number of apps sold. Recurring fees, in particular, such as the monthly fees on iCloud or Apple Music, definitely grow with the size of the install base (although not linearly since these services may be accessed by an individual user from any owned device).
There are a few services that do not vary with install base but are one-time services available at the time of purchase. Apple Care is the most prominent.
Supplemental Data
In an unprecedented move, Apple provided supplemental data in the earnings release. One page focused on the currency issue, and others on the Services sector. While some of this was likely hand waving to cover up the fact that Apple Watch revenue was less than hoped for, it does provide some insight into the Services sub-categories.
As noted above, the category can be divided into two parts by whether it is dependent on install base or not. The install base partition can also be divided into those services for which revenue is recorded as a whole, or only the net income is recorded.
Sales of music, movies and apps have a percentage (70%) that go to the rights owners (or developers in the case of apps), and the remainder (30%) to Apple. Apple chooses to record only their net on these sales. One can view the app store as a service to developers for which Apple charges a fee, and the fee is Apple's "sale" to the developer, with the rest being passed through. This makes perfect sense as otherwise Apple income would be distorted by billions of dollars of music and app sales revenue that would grossly distort margins. This way, Apple statements focus on the core business.
In the supplemental data, Apple gives a breakdown of this category, allowing us to see what portion is from these sales.
Note that in the FQ1-16 data, amounts exclude the $548 million received from a patent infringement lawsuit, yielding the $5.5 billion figure. The image below is a compressed view of Apple's page.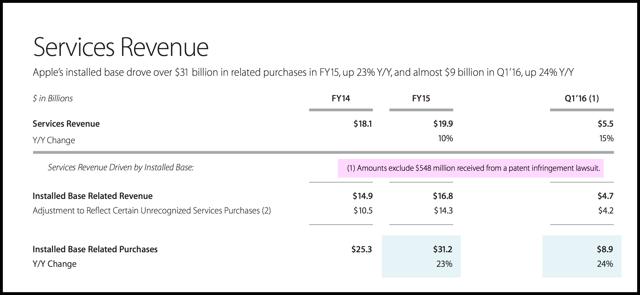 Click to enlarge
What we see here is a computation of Apple's Installed Base Purchases for fiscal years 2014 and 2015 and the current quarter. This is the total of all the sales for the installed base subsection of the Services category - i.e. with the 70% added back in. It is valuable as it gives a view into the total size of this business. It does this by breaking out the Install Base Related Revenue (IBRR) and adding back in the missing 70%.
Apple says this of the data:
(2) For third-party applications sold through the App Store and certain digital content sold through the iTunes Store, Apple accounts for such purchases on a net basis by recognizing in Services revenue only the commission it retains from each purchase. This non-GAAP adjustment reflects the portion of the gross amounts billed to customers that Apple remits to third-party app developers and certain digital content owners. Apple considers non-GAAP installed base related purchases to be a useful metric for investors and management as it provides a more complete picture of the transactions generated by the installed base.
It also implies three other important figures:
The sales of the non-IBRR services (Apple Care, etc.),
The value of the total revenue realized from these digital sales, and
The IBRR that comes from non-digital sales (items 4 - 8 in the list above).
To do No. 1, we simply subtract the IBRR line from the total Services revenue.
Calculations for numbers two and three are actually estimated. They assume a 70/30 split, and while this is true for app store and some iTunes/iBooks content, it is not necessarily the case with other content. Still, it should give a pretty reasonable estimate.
So, for No. 2, the "Adjustment to reflect…" line represents 70% of total commission split sales. From the total commission split sales, we can take 30% to calculate the how much has been a contribution to the total IBRR. Subtracting this out leaves the figure for other services, a large part of which should be Apple Music.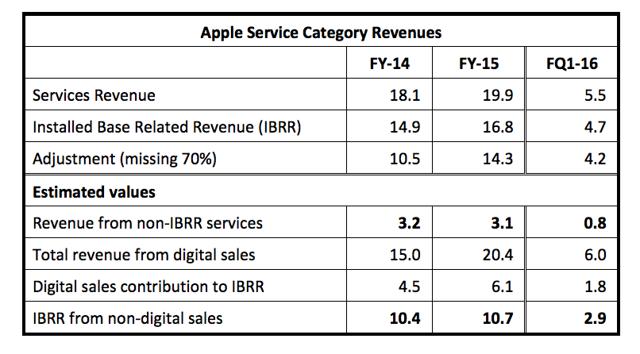 Click to enlarge
Big three
The IBRR subcategories that are not digital sales commissions are:
iCloud
Apple Music
Licensing
Service Parts
Apple Pay
To me, the big three here are Internet services, Apple Pay, and Other Services.
Internet Services - iCloud
Apple's iCloud is an internet service providing email, data storage and syncing, security features and productivity apps. Data, including photos, are stored in the cloud servers, and synced with all of a user's devices.
The security feature Find iPhone allows a user to put an owned device into lost mode so that it cannot be used, as well as locate it if it should connect to a WiFi network. The system works with iOS devices and Macs as well.
Apple's productivity apps are Pages, Numbers and Keynote. While the first two are no substitutes for power users of Word or Excel by Microsoft (NASDAQ:MSFT), they are very functional for most moderate needs. They come free with new OSX systems and on the web. An iCloud account manages syncing. Newer systems allow Handoff, whereby in progress work in one of these apps on an iOS device can automatically be picked up on a Mac (and vice versa) via simple proximity of the devices.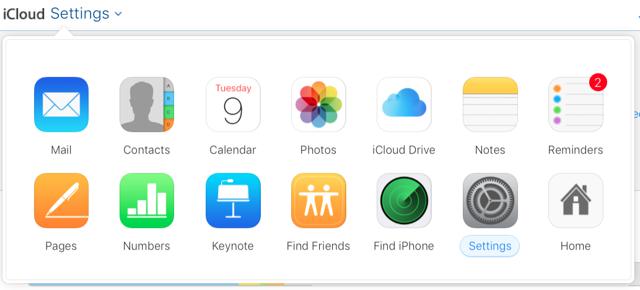 Click to enlarge
The iCloud service is now a revenue generator.
Originally Apple would store your iPhone photos in the cloud and sync them with your home computer, all for free. This is still the case, but the 5GB free plan limitation is ridiculously small (5GB) if one wants to store photos in the cloud.
Now one needs to pay for additional space to do this. Plans sell for $1/$3/$10 per month for 50GB/200GB/1TB of storage capacity.

Click to enlarge
The service is probably growing at a modest rate. Growth here will be somewhat assured since the minimum free plan is inadequate for anyone who takes many pictures or videos. Thus, the subscription rate will be mostly driven by iPhones in service. (A number will be driven by Mac users needing to synchronize or collaborate productivity apps, but this will be small in comparison.) With a roughly estimated 600 million iPhones in use worldwide, even a fractional usage could give an income of $100 million per month or $ 1.2 billion annually.
Apple Music
The Internet radio service launched last June, and reports are that it already has 10 million subscribers. The subscription rate is $10/month with a $15/month family plan. It may seem like a lot to pay monthly, but many people spend much more than that on music purchases.
If that should double, then this would bring an income of approximately $2.5 billion annually. Spotify has 20 million paid subscribers, so this is definitely a reasonable goal. In fact, if the internet radio listening model becomes the norm, there is a possibility for even greater revenue.
Digital wallet
The real dark horse here however, is Apple Pay. (I covered Apple Pay in detail in an earlier post and technical details here.) It should be noted here that one main objective (if not the main objective) for Apple Pay is to provide the very best digital wallet experience for its customers - from both ease of use and security points of view.
That said, there is a real money issue here as well. Apple receives just 15 basis points on each credit card transaction it completes. (That's $0.0015 per purchase dollar, or 15 cents per $100.) This comes out of the current service fee (1.5% to 3%) charged by the credit card company on behalf of the bank that backs the card. The banks see Apple Pay as a service that provides them with extremely secure transactions, and to them, this is worth the fee they pay.
Now this is a minuscule amount that likely currently does not cover the cost of building, programming and maintaining the system. But the possibilities for the future are more lucrative.
BI Intelligence reports that they expect mobile payments to reach over $800 billion in just three years - and this in the US alone. Apple could eventually take up to 40% of this value.
Not only does Apple have the best system, but they have a higher income customer base that makes the most use of mobile payments. Adobe reported that on Cyber Monday over $514 million in sales were attributed to mobile, and more than 72% came from iOS phones and tablets. This in spite of having a smaller overall number of devices. Thus, it is quite reasonable to suggest Apple Pay may get as much as 40% of transaction value, possibly even higher.
This would lead to only about half a billion dollars in revenue, but that would be the US only. Additionally, it is likely that Apple will expand Apple Pay to mobile transactions. This would allow all those Cyber Monday sales to be handled by Apple Pay - a simple touch of the finger would be all that is required by the user.
Finally, not only would mobile transactions continue to grow, but Apple could conceivably require a higher service fee.
Altogether, it is conceivable that Apple could receive an income of up to $2 billion or more from the service annually.
Other Service
This category likely includes fees collected for posting your app on the Apple TV. For example, it is rumored that Apple gets a percentage of HBO Go revenue generated by Apple TV users.
Which brings us to the theoretical Apple TV OTT Service in which Apple would provide a customizable cable-like service for a fee. Currently, the system appears to be on hold as content providers haggle with Apple over terms. I assume that subscriber fees would go to the content providers who would then give a service fee to Apple (i.e. Apple would realize as revenue only that portion that it collected for itself, not gross fees). In this case, there would still be a possibility of over $2 billion net annually.
Services summary
Let's say that iCloud revenue is already a part the system and that the other services mentioned represent mostly new growth. Also, let's remember that these figures are not suggested for the current quarter or even for 2016. Rather as possible figures for growth in the next few years. Then we potentially have new revenues as follows (in billions):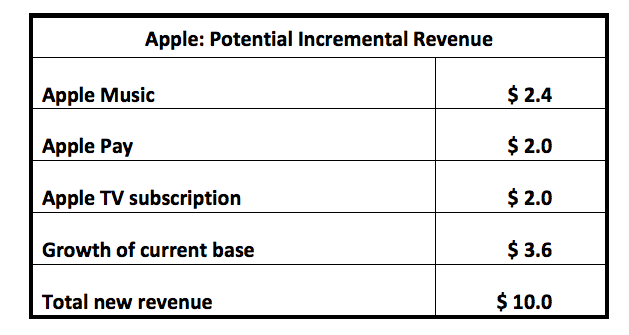 So in several years, this category could very conceivably grow 50%, adding another $10 billion to revenues. It should be noted that some of these categories are likely to have very high profit margins. Most of them have high initiation costs that do not go up substantially per number of users. Obviously, subscription services that pay royalties such as Apple Music will have certain costs that grow with usage, but even here, development and delivery costs will be relatively fixed.
This quarter:
I noted that I expected a significant bump from the roughly 10% y/y increases of the last four quarters, anything over $5.4B as promising, and anything over $5.6 as validating my premise here. The figure of $5.5 billion (aside from one-time revenue) validates the position.
Conclusion
The growth of 15% y/y, a 50% increase over the last four quarters, validates the premise that services revenues are accelerating. A couple of good things about such services is that they provide a level, repeated source of income that does not vary substantially over the year, and, once initiated by a customer, they generally continue with modest attrition rates.
The point here is that Apple detractors have ignored likely growth areas when focusing in on slowing iPhone sales. Clearly such sales cannot continue to increase at 40% - or even 25% - forever. However, with another potential for $10 billion, we see that even if iPhone sales do stagnate, we still have room for modest growth over the next few years, and this still does not count Apple Watch sales.
Now the news is out and Apple indeed is looking forward to a significant reduction in iPhone sales for the upcoming quarter. This news was expected, and while the forward guidance was a bit lower than expected, it was not disastrous. The market reacted with a drop, again with some recovery. I expect the price to form a new trading range between $95 - $115, more or less, and stay there, barring any major disruptions, until the March quarter earnings release. At that time, we will be able to assess Apple's next future guidance and see if growth in Services takes off.
Disclosure: I am/we are long AAPL.
I wrote this article myself, and it expresses my own opinions. I am not receiving compensation for it (other than from Seeking Alpha). I have no business relationship with any company whose stock is mentioned in this article.