Despite having a rough early morning, oil prices soared to close at $32.30 by the end of the day on January 27th and continued to rise through the 29th. Although there have been many factors involved in this rise after oil prices dipped below $27 per barrel briefly earlier this year, such as the prospect of OPEC making a production cut and amid strong economic data, one key factor in pushing the price up was news released by the EIA (Energy Information Administration) that showed a terrible buildup in crude storage but an impressive decline in other categories of petroleum products. In what follows, I will dig into the data and show that, while not everything is bad, some factors are looking pretty decent.
Oil inventories were mixed but generally fell
According to the EIA, oil inventories for last week came in at 494.9 million barrels. This represents an increase of 8.383 million barrels during this time frame compared to the 486.5 million barrels of crude that were in storage last week. This is far removed from the 359.8 million barrels that constitutes "normal" inventory levels and is the highest that crude storage has hit during this glut but we are fortunate that the inventory build was smaller than the 11.4 million barrels the API (American Petroleum Institute) had forecasted a day earlier. All-in-all, this is a bearish piece of data and one that investors should continue to keep an eye on. In the graph below, you can see what the trend has been like for crude over the past 52-weeks.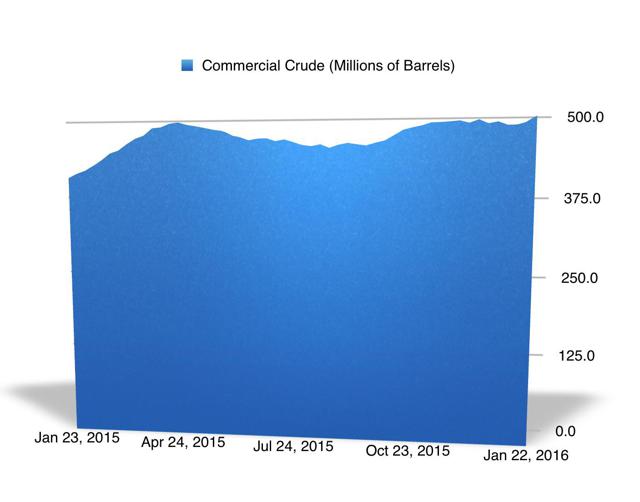 Click to enlarge
In addition to seeing crude storage rise, there were some other categories that reported an increase week-over-week. One of these categories was residual fuel oil but its increase was modest at best. Motor gasoline, on the other hand, managed to increase by 3.5 million barrels, jumping from 245 million barrels to 248.5 million. This is certainly toward the higher end of where motor gasoline should be and is above the 238.3 million barrels we saw in storage this time last year but I would be hesitant to call the motor gasoline issue a glut by itself.
Fortunately, for long-oriented investors, other categories showed some improvements. Distillate fuel stocks fell by 4 million barrels from 164.5 million to 160.5 million while propane/propylene dove 6.2 million barrels from 89.9 million to 83.7 million. Meanwhile, the "other" category of petroleum products reported a drawdown of 1.8 million barrels for the week, dropping from 236.2 million to 234.4 million. In aggregate, these decreases resulted in total crude plus petroleum products dipping down by 1.1 million barrels from 1.3292 billion to 1.3281 billion.
Production dropped but demand was weak
One meaningful positive for the week related to domestic output. According to the EIA, oil production in the U.S. fell from 9.235 million barrels of crude per day to 9.221 million. In aggregate, this represents a drop of 98,000 barrels for the week, which is pretty much a rounding error (especially since the drop came from Alaska, which can have some volatility from week-to-week), so investors should not take this for granted but it's still quite refreshing to see oil output fall after seeing weeks of modest upticks.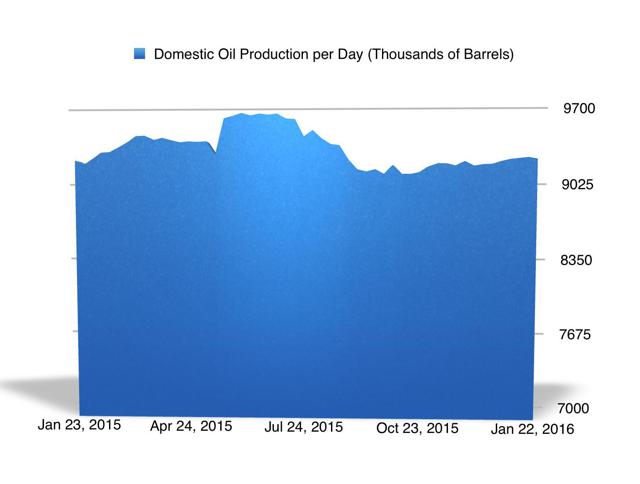 Click to enlarge
Although the domestic output data was positive, demand for motor gasoline was lackluster. According to the data provided, motor gasoline demand averaged 8.941 million barrels per day, a decline of 9.022 million per day seen a week ago. Even if you average out the past four weeks, demand is still down year-over-year, with the metric averaging 8.670 million barrels per day, a decline of 2.5% from the 8.889 million barrels per day seen during the same week last year.
Rig counts took a beating
Truth be told, I had expected rig counts to tick up this week after seeing oil prices climb and after seeing a couple of weeks of less-than-stellar declines. I was dead wrong. According to Baker Hughes (NYSE:BHI), the number of oil rigs in the U.S. fell by 12 units to 498. This represents a decline of 59.3% compared to the 1,223 units in operation we saw the same period last year and was driven by a total rig decline (oil and natural gas) of 17 in the Permian, the one region I'd expect to be the most unlikely to see an uptick (along with the Utica). Oil rig counts in Canada also fell, dropping 8 units to 126. This implies that total rig counts are down in the country by 37% year-over-year. Ultimately, these indicators, especially the U.S. rig counts, are very positive for crude moving forward.
Takeaway
Right now, many investors are still bearish on crude but we are seeing some signs that, perhaps, the bottom might be in. Take away the prospects of an OPEC cut or rising demand and things look less bullish but the data released by the EIA, combined with the Baker Hughes data, is, for the most part, good. With many petroleum product categories seeing lower storage, investors should remain cautiously optimistic moving forward.
Disclosure: I/we have no positions in any stocks mentioned, and no plans to initiate any positions within the next 72 hours.
I wrote this article myself, and it expresses my own opinions. I am not receiving compensation for it (other than from Seeking Alpha). I have no business relationship with any company whose stock is mentioned in this article.