Vinod Khosla, the founder of Khosla Ventures, just posted a very interesting article on TechCrunch about 12 emerging hot venture capital areas in mobile and Internet, that he identifies as "unhyped" so far. The proliferation of different platforms and electronic devices represent huge opportunities for tech entrepreneurs and VCs. The cost of launching a tech start-up is very low and entrepreneurs can leverage powerful and very affordable technologies.
Several of the tech players dominating some sectors were not the creators of their markets: Apple (NASDAQ:AAPL) and the iPhone, iPad and iPod; Linkedin (NYSE:LNKD) and professional social networking, Facebook (NASDAQ:FB) and social networking. They offered a better value proposition to both customers and ultimately shareholders. Mr. Khosla wanted to identify 12 promising areas in the Internet and mobile sectors that could bring major disruptive innovations. He says, "Treat them as potential fishing ponds rather than predictions."
Data Reduction or Filters (Siri, Donna, Recorded Future, and many others): "Reducing, filtering and processing data streams to deliver the information or action that is relevant to you." The web has been expanding what we have access to. It is time for tools (our proxies or agents on the web) to start reducing the amount of information coming at us. News or article feeds, TV shows, YouTube, "must watch" emails - these can all be prioritized for us like our proxy was a virtual assistant who knows our current context and our preferences. Meanwhile, the level of data reduction will be based on our specific context, our current priorities, our social networks and our interest networks. Underlying this is the evolution of A.I. and big data analytics.
Big data or Analytics (Ness, Billguard, The Climate Corporation, Kaggle, Datasift): "Analyzing massive amounts of structured and unstructured data to deliver unique services or analysis." Many of the most transformative applications today rely on massive cloud databases - often generated by user participation - with meaning extracted from that data by predictive analytics and powerful machine-learning algorithms. We see the back-ends of many of these applications becoming the functional equivalents of subsystems in a kind of Internet-scale operating system driving not just the web but mobile devices. Location, social networks, identity and personalization are just the tip of the iceberg. There will be countless new types of data streams and new ways to make data useful. Fundamental data utilities and applications will be built on these and a lot more information and data reduction will be extracted from this hairy-looking big ball of often-unstructured data. New data sources will become valuable, as will new technology for scaling data, new algorithms, and new ways of connecting people and devices.
Emotion (Foodspotting, Ness, Instagram): "Services that evoke strong emotions in users," which is often a component of other categories, can also be enough of a driver to be mentioned separately. Khosla includes here the applications that because of their emotional appeal are adopted more rapidly or easily (more pull from users than push to them) as a major component of the application. Some will be useful services (Ness, AirBnB) and in others the emotional appeal itself will be the "product" (Angry Birds, Foodspotting. Fotopedia). One could reasonably put "gamification" of everything from health to education to training to shopping as a new emotional tool for applications.
Education 2.0 (it's early, but Altius, Khan Academy, CK12, Udacity): "Education models that dramatically reduce the cost and increase the availability of quality learning." The puzzling question is why education has not already changed. It appears that we have not experimented enough with non-linear, rapidly evolving, out-of-the-box approaches but have instead tried to force-fit "multi-media textbooks" and other traditional (often broken) ideas into the "computerized" model. Gamification can play an increasing role in student interest and social can play in increasing peer and teacher support and assistance.
TV 2.0 (Miso, Flingo, Maker Studios, both first and second screen apps as well as content production and sourcing): "TV as an interactive and social experience both on the primary and the second screen." It appears that several U.S. Internet users have a second screen in front of them when watching TV. Whether it is true or not, it soon will be, and the interaction that is possible will allow for all kinds of creativity and user engagement shows/applications/techniques. More importantly, program production, be it video for TV, audio for radio, or text for next-generation news formats (tomorrow's "newspapers"?) could be crowdsourced or gamified.
Social Next (intersecting with all the interest graph stuff and verticals like Github, Coursekit, and Researchgate): "Social as a useful and productive part of lives-enabling collaboration and deep community building around the world in specific areas." Khosla suspects that the power of social will harnessed for many applications beyond just the Facebook friends network or the Google+ (NASDAQ:GOOG) circles implementation.
Interest-based networks (where Meebo is pivoting to, Twitter, Snip.it, State): "User driven content that maps to people's interests both for a better user experience and better targeting." Khosla thinks a number of start-ups will either target interest graphs to create a network different from Facebook's and others will use these graphs as monetization strategies. Social is about friends, while interest is about your interests and the two may or may not intersect.
Health 2.0 (Jawbone UP, Nike Fuelband, Empatica, BodyMedia, MC10, Fitbit, iBike, Recon, Withings, Alivecor): "Exponentially growing data will yield personalized lifestyle suggestions, improved outcomes, predictive diagnostics and applications we can't imagine." Health applications will flourish in many directions: From more data (especially more baseline, or "healthy" data), healthcare instead of "sick"-care, more DNA and proteomics data, to mobile-based "second opinions" substituting for doctors and more traditional health systems, we will see an influx of non-sick status data and applications leading to what is called the Quantified Self. You cannot improve what you cannot measure, and these days you can measure just about everything - external factors from pace to distances covered to altitude, and internal factors from heart rate to blood glucose levels to sleep patterns and much more.. All this data will be complemented by artificial intelligence and machine learning systems.
Internet of Things/Universal ID/NFC/Smart sensors (a technology with the applications still to emerge): "Sensors and authentication technologies which will interconnect everything and remake our interaction with the world around us." Sensor networks aren't just for cargo containers anymore. Sensors have found their way into every aspect of our lives - whether it's the phone in our pocket, the digital photo frames on our desks or the barcodes embedded with information in our local grocery stores, often complemented by NFC, Bluetooth LE, Wi-Fi and other networks. The network of things is supposedly growing faster than any other network, social or otherwise. The management of identity, privacy, security and verification is a huge theme for the next decade and hasn't yet been addressed much beyond the Facebook login, which makes it exponentially easier to take advantage of people's online personal data/money/(and privacy which some will complain about).
Personal Collaborative Publishing (Pinterest, Tumblr, storify, Snip.it): "Truly free press with no barriers to entry and personalized interest-based curation." This trend seems to be moving forward fairly rapidly. Kohsla is not sure if it will become more or less verticalized or what new dimensions will emerge but the potential clearly remains promising. Self-publishing on Amazon (NASDAQ:AMZN) is becoming real, removing the gateway of traditional editors and the tax of traditional business models. Books, especially non-fiction, can become more interactive, crowdsourced (ck12.org), social and collaborative.
Utility Apps (Siri, Seatme, Ifttt, Uber, and many, many more): "Leverage device ubiquity and context to deliver valuable services." It goes without saying that we will continue to see more and more utilities that are just plain helpful to us. Utilities will provide personal assistance, productivity and maybe even decentralized work. They will aggregate experts into marketplaces or crowd-sourced services (i.e. LocalMind 2.0) or just plain telemedicine and remote reading of your radiology scans.
Marketplaces and Disintermediation (Interview Street, Kaggle, Etsy): "Remove the middle man, increase market efficiency and produce better results, faster" Marketplaces are about economic efficiency (and active engagement) and more and more of them will keep emerging.
In a previous article I mentioned five tech firms/stocks that may benefit from mobile internet trends (identified by Kleiner Perkins). Some of these firms will be involved in promising new areas. They will benefit from this tech growth directly or indirectly. In another article I also mentioned five stocks that may benefit from Internet trends (only), (also identified by Kleiner Perkins).
I am now making a list of the five best tech stocks that may benefit from:
Internet and mobile trends,
That can easily acquire start-ups in one or more of the promising hot areas of mobile and Internet with their huge liquidities
That can leverage growth in emerging international markets
1 - Apple (AAPL)
The firm still has momentum in its core markets: iPad, iPhone, iPod. It also has an important product portfolio pipeline (innovation projects). New features can become killer apps like speech recognition on iPhone 5 and Apple TV. It dominates some of its markets: i.e. over 80% market share for the iPad, 70% of songs for the iTunes store. BI Intelligence projects that the tablet market and e-reader will surpass PC by 2015.
Apple made a significant inroad in its last year: $22MM of its revenue comes from emerging markets and Apple expects 25% of the global iPhone market will be in just two countries: China and Brazil. In 2007, emerging markets represented less than $2MM to Apple.
iCloud represents a long game strategy for Apple. Tim Cook announced that the syncing service iCloud now has over 100 million users. Just last month, Cook said that the service had 85 million users, making this a growth of 15 million users in 21 days.
Apple's iPhone has only 9% of mobile market, but it takes 75% of profits. iPhone sales are now large enough to make up 9% of all phones sold. This highlights how rapidly the smart phone is taking over the basic phone market. Not to be outdone, despite that relatively low share of all unit sales, Apple takes in the most revenues and earns by far the most in profit with a whopping three-fourths of the industry's profits. The PE ratio of Apple is still too low: 14.29 if you consider its growth potential and its liquidity.
2 - Vodafone (NASDAQ:VOD)
Global proliferation of tablets and smart phones, which are becoming more powerful at cheaper prices, will benefit Vodafone and its customers. It will enable huge mobile commerce growth. Vodafone is an international mobile player, involved in many emerging markets. Vodafone is offering a large choice of apps and a great portfolio of different smart phones. P/E ratio is just at 12.81 with a dividend yield of 3.4%. It has extensive exposure to emerging markets. Vodafone can extract value from many of mobile and Internet trends and benefit indirectly from most of the new emerging areas mentioned previously.
3 - Cisco (NASDAQ:CSCO)
Cisco acquired many start-ups in the past and may enter some of those emerging hot areas by buying firms or building capabilities internally. Furthermore, the exponential growth of mobile Internet and social networking means that the data traffic of Cisco is exploding. In its recent quarter, Cisco seems to retrieve the road of good profitability. Cisco is a key supplier enabling mobile data traffic management and fixed Internet traffic management. P/E ratio is just at 15.75.
Cisco predicts that this year the global population of mobile users will switch to streaming the majority of their content from "the cloud." This will represent a shift from downloaded and side-loaded content on their devices to streamed content, such as Netflix movies or Pandora.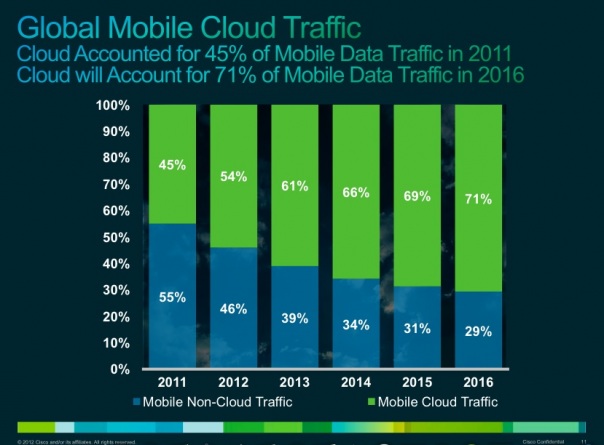 4 - Akamai (NASDAQ:AKAM)
The trend of exponential mobile traffic growth is also affecting Akamai. The firm is a Content Delivery Network and an intermediary between wireless operators and social networks. Akamai is a key supplier with a powerful influence. Social network users are often avid mobile users as well (i.e. around 33% of Facebook users, 50% of Twitter users and 50% of Pandora users). P/E ratio for Akamai is at 35, reasonable for a growth stock that may be a takeover target. Its main customers are the social networks and tech titans: Facebook, Google, Apple, Amazon and they require huge bandwidth.
5 - Google (GOOG)
Google is a horizontal aggregator involved in most of the information sub-sectors. The potential for the development of the infomediation business model is huge by using the data bank of its users. Moreover, its products and services (i.e. Google offers, Google TV, Google Ad Network) are leveraging several of the Internet trends such as globality, mobile commerce, advertising, empowerment of people.
However, one real financial risk I see with Google is the lack of revenues/profits diversification. Around 90% of its revenues come from advertising (Adwords, Adsense, mobile). In the short term, this risk is low, but in the medium to long term Google needs to extract value from other divisions. The P/E ratio is reasonable for this growth stock at 20.32.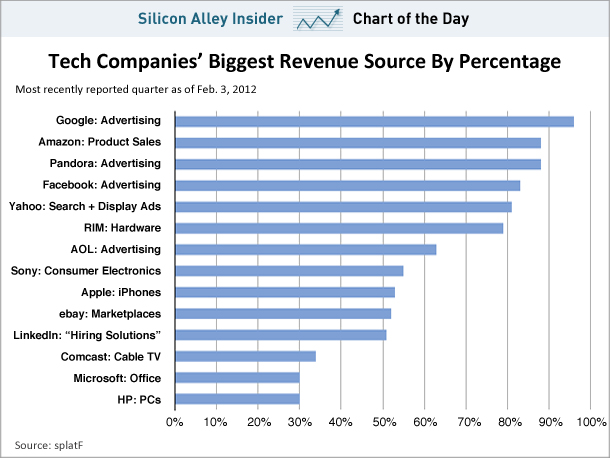 Conclusion
Thus, these five stocks are my favorite companies that can benefit from Internet and mobile trends; that can easily acquire start-ups in one or more of the promising hot areas of mobile and Internet with their huge liquidity; and that can extract value from emerging international markets. Readers are invited to name other great stocks surfing on those trends and emerging hot areas.
Sources: Mary Meeker's presentation Mobile internet trends, Meeker's presentation Internet trends.