I have recommended McDonald's (NYSE:MCD) since it was at $89. I have predicted it will reach all-time highs which it has. McDonald's is a highly visible public company which led it to have no shortage of people trying to advise how it should turn itself around. Most journalists who were telling McDonald's it has to change its core values to 'get with the times' were not prospective customers. Steve Easterbrook has led this historic turnaround of McDonald's because he avoided changing what McDonald's represented. He instead focused on the fast-food customers who had started visiting McDonald's less in recent years.
This is how you turn a company around. We are seeing problems with Twitter's turnaround as management thumbs its nose at power users in an attempt to gain users who have abandoned the platform. McDonald's isn't trying to attract the customers who shop at Whole Foods and eat out at 5 star restaurants. When a business is in decline management must first focus on the core customers before reaching out to new ones.
Macro
McDonald's stock has outperformed this year because it is the perfect stock for this market. I love low-beta, stable, big cap stocks and I hate small cap, high-beta, cyclical stocks. When the business cycle is heading towards a recession, getting defensive is the best strategy. I have been predicting a recession since December. I find it quite disconcerting to hear Janet Yellen say the risk of a recession in 2016 is 10%. The catalysts of the unwinding of debt issued to oil firms who can't pay it back and the sharp slowing of the Chinese economy has been lost on Yellen. I wish this wasn't the case, but I have to invest in reality. Therefore McDonald's is one of my favorites for 2016.
It's All About The Customers-Revitalize
As I said, McDonald's has focused on the customer. It analyzed the pain points and solved them. This may seem obvious, but if the new management was to change the values of the brand, it could have ended in disaster. A perfect example of what not to do in a turnaround was what Ron Johnson did at JC Penny (NYSE:JCP). He alienated the core customers by attempting to eliminate sales because they were dishonest and replaced them with what he called a 'square deal'. This would be like if McDonald's decided to eliminate the dollar menu because the meals were smaller than other more deluxe items on the menu. Thank goodness Mr. Easterbrook recognized Ron Johnson's failures and did not repeat them.
McDonald's did not have an existential crisis. Its problems were easily fixable. The biggest representation of McDonald's success based on listening to the customers was the introduction of all-day breakfast. McDonald's was alienating its core customers by having time constraints on them as to when they could order their favorite breakfast items. By solving this problem, McDonald's was able to drive positive comp store growth. U.S. comp store growth grew 5.7% in the 4th quarter indicating the turnaround is working. The most difficult part of turnarounds is the first step. Now McDonald's has momentum which should be easy to sustain.
Other improvements McDonald's has made is to toast the buns and sear the beef to improve taste. This is a great first step. Management didn't overreact to the situation by throwing the baby out with the bathwater. It made incremental changes to improve customer satisfaction. Another change was to make the drive thru quicker and more accurate. It did this by simplifying the drive through menu and having the employees repeat the order twice to insure the correct meal is delivered.
These small changes along with the recent McPick 2 promotion are driving growth. It is difficult to tell how much announcing plans to use cage-fee eggs and antibiotic free poultry is helping drive sales, but at the very least it improves the brand's standing because customers are more aware that McDonald's cares about its impact on the world and its food-quality. McDonald's management is saying all the right things on call by mentioning it is attempting to simplify the menu while also trying to improve customization. Having a balanced approach to the structure of the menu is important. It is best to test what is working before going to one extreme. It is possible to achieve both objectives by eliminating poor performing items and instituting the 'build your own burger' initiative which is popular at other restaurants. This customization is what has driven Chipotle's (NYSE:CMG) success.
Next Step- Growth
The next step management is starting to work on is the changes which will drive long-term growth. It has reached for all of the low-hanging fruit which were all based on improving the current status of the way its restaurants are run. Starting in the middle of the year, it will be unveiling the plans to achieve the next phase of growth. The great thing about the new structure of the business is McDonald's can test what works before expanding it across the globe. It is testing self-order kiosks, premium signature burgers, and table service. If you haven't followed the turnaround, McDonald's separated its markets into 4 categories which are international lead markets, high growth markets, the U.S. market, and foundational markets.

This change worked because markets should be grouped based on their similarities not on their geographical location.
McDonald's is working on its new concept called Experience the Future. As you can see from the images below, the future looks a lot like Chipotle and Shake Shack (NYSE:SHAK)! The first picture is of McDonald's. Notice how the food bar looks like Chipotle. The food is visible, which encourages the customer to order more and be more satisfied with what he/she is getting.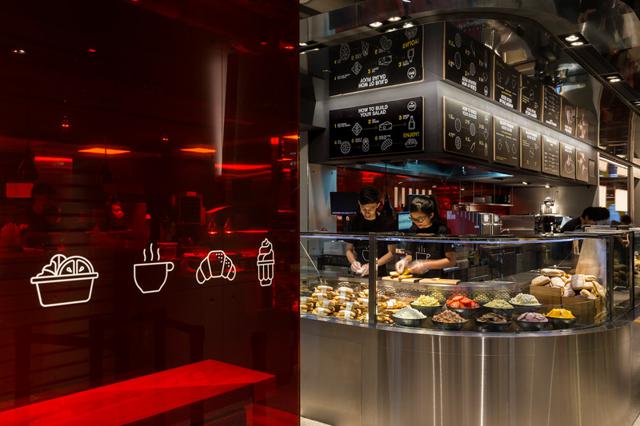 Click to enlarge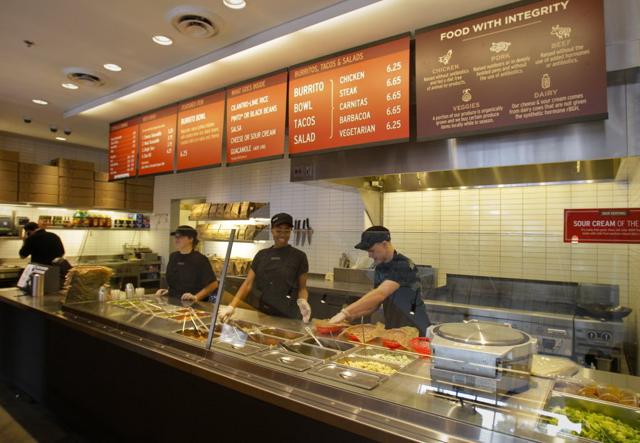 Click to enlarge
The third picture is of McDonald's and the fourth is of Shake Shack. The furniture is modern and industrial. When I saw this picture, I had to do a double take because I thought I was looking at a Shake Shack. The takeaway from this situation is that Shake Shack and Chipotle don't have a patent on much of what brings customers in the door. It was a great idea to copy what they are doing because it is working for Chipotle and Shake Shack.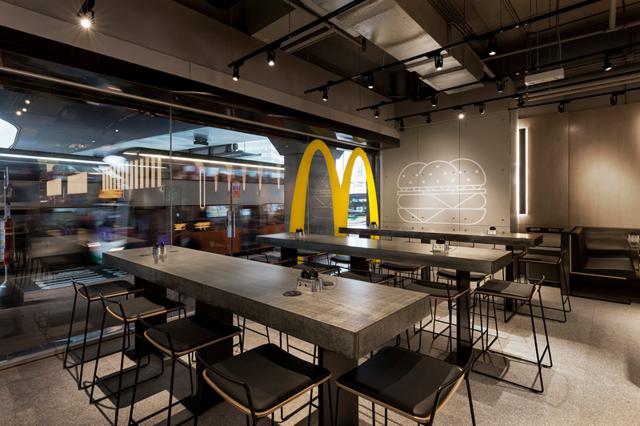 Click to enlarge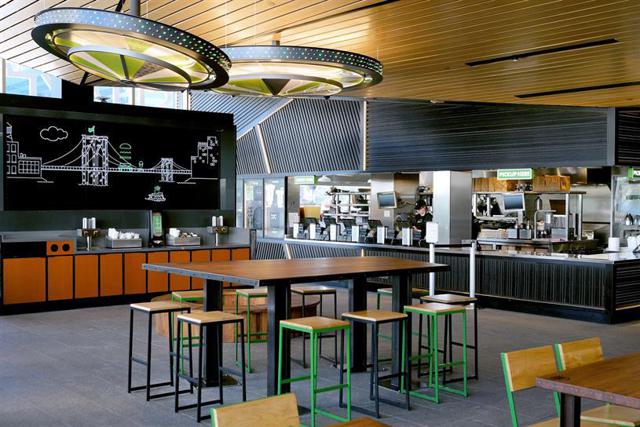 Click to enlarge
Social Media
In March I made the point that McDonald's had a poor Instagram strategy relative to Shake Shack. McDonald's corrected this bad strategy by growing its followers by 93% from March to October. If you look at the stats today, since last time I measured in October McDonald's grew its follower count by 16% to 1.1 million. Shake Shack has grown its following by 10% to 238,000. Therefore, McDonald's has once again outgrown Shake Shack.
I think the takeaway from these stats is that McDonald's is probably driving incremental growth in sales from Instagram. Shake Shack is having decelerating growth. Instagram is more important to Shake Shack, so this is more bad news for Shake Shack than it is good news for McDonald's. The time where Shake Shack had about 63 stores and almost as many followers as McDonald's was probably the peak for Shake Shack. Shake Shack is built on hype and the hype is waning. The bubble in Shake Shack was obvious to me when I waited on a 2 hour line to get a burger (my sister wanted it). It is equivalent to the "Cronut" fad. A Cronut is the combination of a donut and a croissant which inspired thousands of people to wait in lines for hours to get this delicious dessert. Shake Shack stock has further to fall as it has simultaneously awoken the beast that is McDonald's and is having its hype fade.
The App
The McDonald's app is sub-par, in my opinion. It has a ways to go before it reaches what I consider the gold standard which is Starbucks. I think my opinion has some value because I am in the demographic McDonald's is trying to capture as I'm assuming the 50 and older crowd doesn't care about an app. The Starbucks app lets you order on the app and pick up the food when you arrive at the store. It also has integration with Spotify which lets customers influence what songs are played at the restaurant. This is the millennial version of a juke box at a bar. The Starbucks app is sleek and responsive. The McDonald's app is ugly. It shows the menu and provides you with coupons and that's it.
The McDonald's app has 7 million downloads. It was at the top of the App Store before falling in the past few weeks. Management said the app was a success because it created incremental coupon redemptions.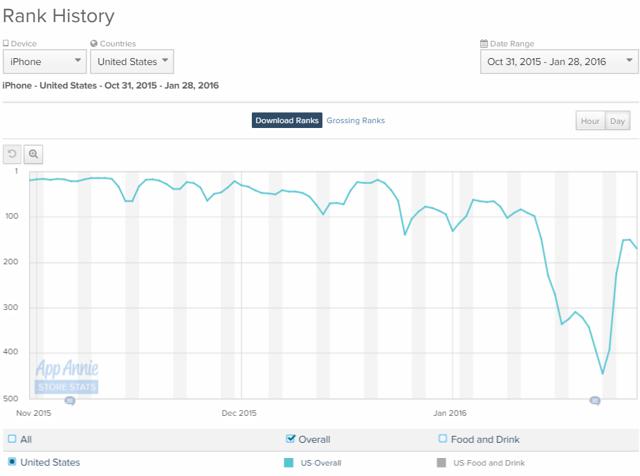 Click to enlarge
The reviews on the App Store agree with my perspective as the Starbucks app has 4 stars out of 5 and the McDonald's app has 2 stars. To be fair, on the Google Play Store McDonald's has a 4 star ranking.
My perspective is that McDonald's is investing in the app by giving discounts through it. I think it's great that McDonald's has room for improvement. The turnaround is still in progress, so I think the app will be improved in the next 12 months. This could drive growth in the future.
Valuation
The valuation is stretched as is what happens when a stock is at its all-time high. As you can see from the chart the stock is now well above its normalized PE ration. If you a have a 6 month time horizon, I wouldn't expect such great returns. That being said, not losing money will be very good performance as I am predicting a recession which will cause equity markets to correct lower. If you are a long-term investor looking to position yourself for a recession, McDonald's should be the last stock you consider selling. I think investors should be willing to pay a premium for McDonald's now that it has superior management. McDonald's in the group of my favorite stocks which includes Altria (NYSE:MO), Reynolds (NYSE:RAI), Colgate (NYSE:CL) and General Mills (NYSE:GIS). I tried to short Shake Shack in the past, but I couldn't get any shares. Clearly that stock must be avoided at all costs.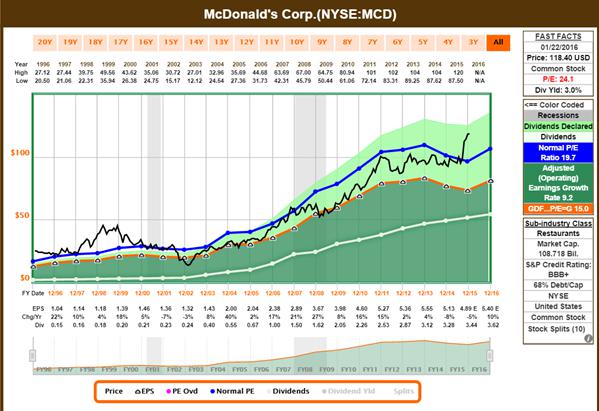 Disclosure: I am/we are short FB.
I wrote this article myself, and it expresses my own opinions. I am not receiving compensation for it (other than from Seeking Alpha). I have no business relationship with any company whose stock is mentioned in this article.