Introduction:
Raytheon (NYSE:RTN) reported fourth quarter 2015 results on the 28th of January, matching analyst's estimates for revenue and beating bottom-line by $0.12. For the full year, non-GAAP revenue grew 1.8% from a year ago. The strong set of results mark a reversal from five consecutive years of revenue decline for RTN. Overall, total bookings and backlog also increased by 11% and 3% respectively from a year ago. International sales and their Websense acquisition continue to drive growth for RTN in the latest quarter like it did in the previous. Despite having re-rated from two and three years ago, RTN's new drivers mean that they are inexpensive at these levels. I am currently long RTN and will be looking to add to my position.
Explosive Fourth Quarter
RTN's fourth quarter revenue was in-line with their own guidance but beat estimates for earnings. The fourth quarter continues to see strong growth in international and from their Websense acquisition, more on the Websense acquisition later.
The fourth quarter saw international sales continue to build on the lead in the first few quarters as international sales increase accelerated by 16% in the fourth quarter from the 13% they managed in the third quarter of this year. For the full year, revenue from international increased by 9% from a year ago coupled with a strong order book, which bodes well for 2016.
Raytheon-Websense (the name has been changed to "Forcepoint") also continued to do well in the fourth quarter of 2015, with revenue from this segment growing by 16.7%, marking three consecutive quarters of revenue increases. This segment now accounts for 2% of RTN's overall revenue compared to 0.4% in the first quarter of 2015. Moving forward, I think we can see this business segment continue to grow in importance for RTN. Their acquisition of Stonesoft in the fourth quarter of last year is a case in point.
2016 in Focus
I guess the question moving forward is, having built such strong momentum in 2015, can RTN build on this momentum and continue growing in 2016?
At this point, I do not see any reason why they will not be able to do so. International demand from the Middle East and Asia Pacific continue to remain strong with the Patriot enjoying strong demand in these countries. This is evidenced by their solid order book in 2015.
Key Operating Metrics: Valuations re-rating
I looked at the historical valuations that investors historically assigned to RTN to determine whether valuations today are expensive. And even though RTN has re-rated from its 12x and 15x average in 2012 and 2013, valuations today at 17.3x of earnings is not expensive when we consider how investors were willing to assign such valuations when the US was cutting defense expenditure.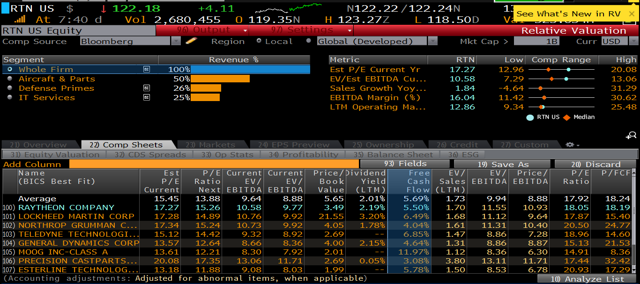 Click to enlarge
Source: Bloomberg
On the back of their re-accelerated growth rates and growth in their new business venture, RTN could see multiple expansions moving forward.
Conclusion
I think what makes this quarter even more remarkable is that RTN managed to meet their raised guidance in the fourth quarter of 2015. The increasing threat of ISIS will also continue to see governments across the globe tighten security. I think the conservative valuations assigned by investors in the last few years stem from fears of reducing military expenditure both at home and abroad. The tide however, seems to have turned and is now more favorable to RTN. I am long RTN and will be looking to accumulate.
Disclosure: I am/we are long RTN.
I wrote this article myself, and it expresses my own opinions. I am not receiving compensation for it (other than from Seeking Alpha). I have no business relationship with any company whose stock is mentioned in this article.