Halcon Resources (NYSE:HK) has witnessed a phenomenal drop in its stock price this year as it has lost almost 61% of its value in a very short time in 2016. This massive drop in the company's stock price has pushed it into penny stock territory and given the way its balance sheet looks, I think that further weakness in the oil patch will threaten Halcon's very existence. A closer look at Halcon Resources' balance sheet will make it clear why investors should not burn their money in this stock.
The balance sheet is in tatters and things could get worse
With total debt of $3.11 billion and a very thin cash position of $6 million, it is evident that Halcon Resources is facing a liquidity crisis, while its market cap is now a measly $38 million. In fact, the company's current ratio of 1.19 is much lower than the ideal ratio of 2, and considering that it is burning cash at an alarming pace while also taking on more leverage, further weakness in oil pricing could spell doom for the company.
As shown in the chart below, Halcon's operating cash flow has dropped rapidly in the past year, while the pressure on its balance sheet has increased due to a debt-equity ratio that now sits at almost 5.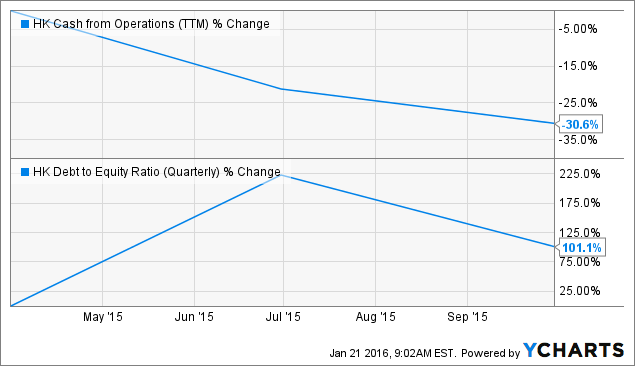 HK Cash from Operations (NYSE:TTM) data by YCharts
As a result of the weakness in the oil and gas patch, along with Halcon's huge leverage that has lead to a high interest burden, the company has cash of just $0.05 per share. The company's cash position could weaken further as it had used over 40% of its third-quarter revenue as interest expense. Now, looking ahead, the oil patch is expected to weaken further as more supply is brought into the market. This will create more trouble for Halcon since lower oil prices will hurt its top line further, and this will ultimately lead to more cash burn.
In fact, crude oil currently trades at 13-year lows as the oversupply in the end market is increasing on the back of higher production and lower demand. According to CNBC, it is estimated that production is exceeding demand to the tune of 1 million to 2 million barrels per day, and with Iran's return to international trade, further increase in oil oversupply cannot be ruled out.
On the other hand, crude oil demand in China is slowing down, a trend that could continue as China accounts for a substantial portion of global oil consumption growth. This year, it is estimated that the rate of growth in China's economy will slow down to 6.3% from 6.9% last year, while 2017 growth will be more moderate at 6%. Hence, it is evident that more pain is in the cards for oil prices, which is bad news for Halcon Resources considering the state of its balance sheet.
Halcon's initiatives are not bearing fruit
Halcon is trying hard to reduce its costs and outpace the decline in oil prices, but its efforts are not bearing enough fruit. For instance, in the last reported quarter, Halcon had reduced its operating costs per barrel by 3% on a sequential basis and about 27% from the year-ago period. Also, the company had reduced its SG&A expenses by over 29% from last year.
But, these cost reductions were undone by the huge impairment charges that Halcon had to face as the value of its assets eroded due to the decline in crude oil prices. As a result, further weakness in oil pricing could lead to further impairment charges, thereby closing avenues for Halcon to engage in asset sales and divest its way out of a huge debt position.

Source: Halcon Resources
As already mentioned at the beginning of the article, Halcon had spent 40% of its third-quarter revenue to repay interest costs. Now, as oil prices are anticipated to decline further, the percentage of interest cost as a part of revenue will increase further along with more impairment charges. As a result, the possibility of Halcon being bankrupt will gain more credence.
Conclusion
Halcon Resources has a weak balance sheet and this will prove to be the company's undoing in a weak oil pricing environment. As discussed above, Halcon's cash position is wearing out due to the burden of interest expenses, and as oil prices decline further, its problems will be amplified. So, in my opinion, investors should avoid Halcon Resources as its future looks uncertain.
Disclosure: I/we have no positions in any stocks mentioned, and no plans to initiate any positions within the next 72 hours.
I wrote this article myself, and it expresses my own opinions. I am not receiving compensation for it (other than from Seeking Alpha). I have no business relationship with any company whose stock is mentioned in this article.
Editor's Note: This article covers one or more stocks trading at less than $1 per share and/or with less than a $100 million market cap. Please be aware of the risks associated with these stocks.