VEREIT (NYSE:VER) is a real estate investment trust, or REIT, in turnaround mode. The once fast-growing triple net lease REIT very publicly stumbled and investors quickly lost confidence in the company. However, with a non-traded REIT sponsor tucked inside of it, the loss of confidence had a tap on effect on the company's Cole Capital business, where reputation is a vital part of the sales process. In a recent article I used Cole Capital data that ran only through the third quarter to make that point. Here's some more up-to-date data that shows that things are, indeed, getting better.
Slow to improve
The graphic I used showing Cole Capital's capital raising progress in my last article on VEREIT was from a company presentation and contained data through August. I've included it below. The main points I was trying to make were that the company's Cole Capital unit wasn't raising as much money as it once was and that this unit was a problem beyond the owned property portfolio that still needs to be dealt with. It's also clear that while things were getting better, the improvement was gradual.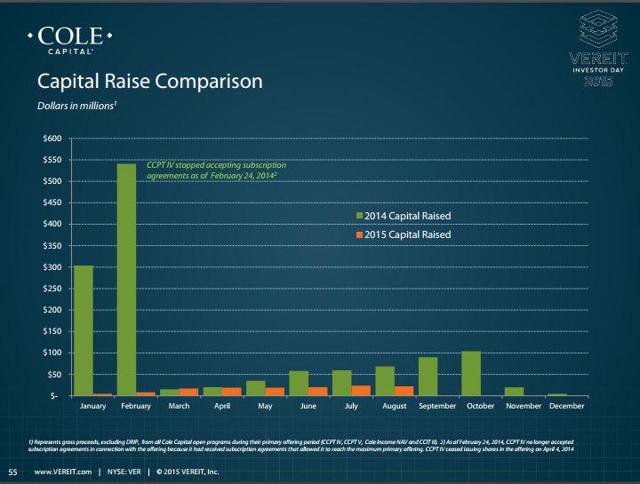 Click to enlarge
With an accounting issue and the loss of investor confidence in the parent company, Cole's troubles make complete sense. In fact, after news broke of VEREIT's account issue, it was then known as American Realty Capital Properties, a number of brokers stopped selling Cole's products. These brokers wanted to ensure that the problems at VEREIT weren't also problems at Cole. Again, that makes sense. Moreover, from a sales point of view, showing a client a Cole sponsored REIT clearly becomes harder when you have to explain away the accounting issues at VEREIT. So all of Cole's troubles are understandable.
That said, shortly after the article was published, a representative from VEREIT sent out more up-to-date information that was publicly available, but I hadn't yet seen. Here's some summary data:

Click to enlarge
As you can see the two graphics are broken up differently. The first is monthly, the second is quarterly. So they aren't directly comparable. But the trends are similar in both - improvement. However, the pace of the improvement clearly took off after the third quarter. Note that the company raised well over twice as much capital in the fourth quarter of 2015 as it did in the first quarter.
Another notable takeaway for me was that dividend reinvestment which accounted for more than half of the capital raised in the first quarter, was only about 20% of the capital raised in the fourth quarter. But the amount from dividend reinvestment remained relatively constant through the year. So all the improvement was really new money coming in the doors. That suggests the stigma from the problems at VEREIT is slowly going away.
Cole is, obviously, just one of the moving parts at VEREIT. But things appear to be moving in the right direction at an increasing speed for this unit. That said the REIT isn't out of Mr. Market's doghouse yet and still has a ways to go before it regains investor trust. However, setting clear goals and hitting them will go a long way to restoring that trust. And solidifying Cole's results, essentially proving it is as valuable as management says it is will be a huge benefit as VEREIT looks to right the ship.
In fact, if VEREIT can keep up this level of success with Cole it will turn into a much more important piece of the recovery puzzle. For example, if Cole's business recovers enough it could be spun off or sold, which was the plan before the accounting issue. With Cole struggling, neither is a real option. But an improving business gives VEREIT more strategic options.
If it is kept in house, however, the current improvement suggests that Cole could start contributing more meaningfully to the bottom line. For example, in the third quarter of 2015 Cole added roughly $5 million to adjusted funds from operations, down from nearly $30 million a year earlier. Although we won't know until fourth quarter earnings are released, it would be nice if the current capital raising results start to move that number up again.
At the end of the day, this is just a few months of data for Cole. But it certainly is comforting to see that division's results are improving. Now all VEREIT has to do is keep that trend going in the right direction...
Disclosure: I am/we are long VER.
I wrote this article myself, and it expresses my own opinions. I am not receiving compensation for it (other than from Seeking Alpha). I have no business relationship with any company whose stock is mentioned in this article.