In some ways, Prologis (NYSE:PLD) seems like the Rodney Dangerfield of large-cap REITs. It just doesn't get the respect it deserves from REIT investors compared to the other REIT sector blue-chips.
I previously pointed this out in an SA focus piece, "Industrial REIT Prologis: Strong Fundamentals, Notable Dividend Growth." I also wrote an updated piece last October covering the strong results Prologis reported for Q3 2015. They are great background pieces for readers who aren't familiar with this industrial REIT juggernaut.
Hardcore DGI investors usually spend considerable time looking at past performance. I believe, when it comes to Prologis, the past five or 10 years do not present an accurate picture. PLD has undergone a significant portfolio and balance sheet transformation.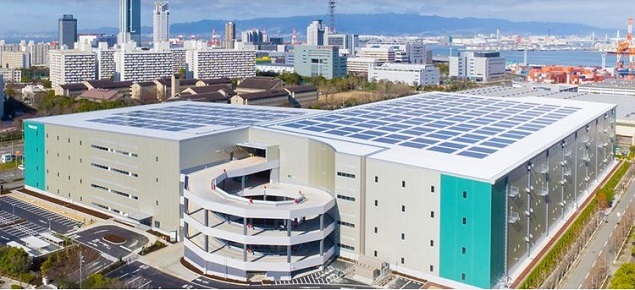 Source: Prologis, Inc.
Notably, if the safest dividend is truly the one which has just been raised, investors should consider taking a fresh look at Prologis.
Prologis Benefits From E-Commerce Growth
One of the major tailwinds driving the earnings growth at Prologis is e-commerce. PLD happens to be a significant Amazon.com (NASDAQ: AMZN) landlord. In fact, Amazon is the largest customer that Prologis has based upon percentage of revenues.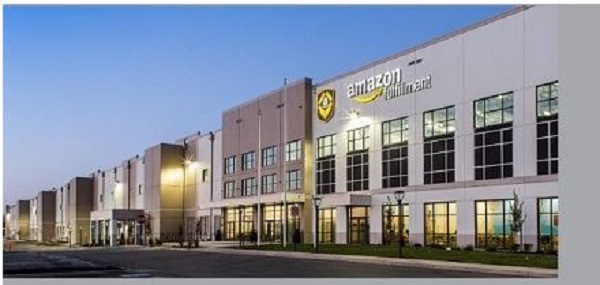 Source: Prologis presentation - Amazon.com Fulfillment
I recently wrote an SA focus article on how investors can benefit by hitching their star to the Amazon growth machine: "Amazon Is Growing Like A Weed - Why Not Cash In On REIT Landlords In 2016?"
Retail Supply Chain Evolution
However, traditional retailers also are upping their logistics game with CEO and Chairman Hamid Moghadam specifically mentioning Home Depot (NYSE:HD) and Wal-Mart (NYSE:WMT) on the latest earnings call.
"We speak regularly with our customers about their changing space needs. Good examples are Home Depot and Wal-Mart. Once considered traditional retailers, they are well underway with major reconfigurations of their supply chain, designed to handle the rapidly changing e-commerce segment."
Prologis stands to benefit from the shift to an omnichannel retail model. Stores often have less inventory while items are being sold online and delivered to customers. In fact, on average, an e-commerce tenant requires ~3x the warehouse/distribution space of a traditional retailer.
Prologis - Tale Of The Tape
During the past 52 weeks, Prologis has traded in a range of $35.53 to $45.79 per share.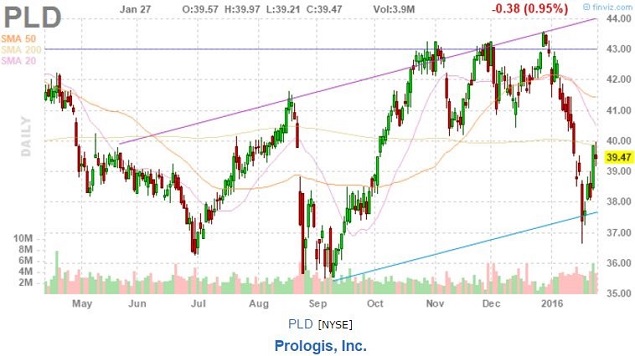 PLD is simply not being viewed through the same lens as its blue-chip peer group. Here are some of the reasons why Mr. Market may be more reticent: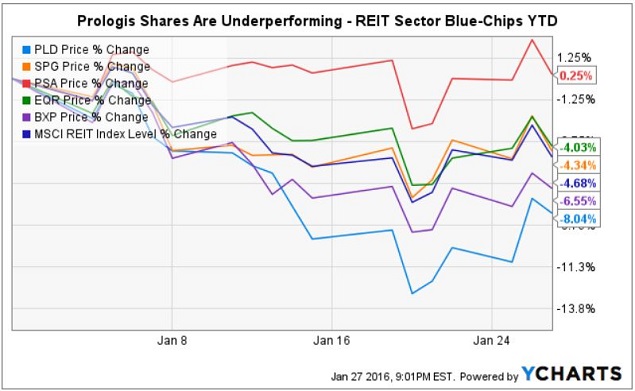 Large-cap sector leaders by market cap:
Retail - Simon Property Group (NYSE:SPG) $57.5 billion cap, 3.44% yield.
Self-Storage - Public Storage (NYSE:PSA) $42.9 billion cap, 2.74% yield.
Multi-Family Apts - Equity Residential (NYSE:EQR) $28.5 billion, 2.82% yield.
Office - Boston Properties (NYSE:BXP) $18.3 billion cap, 2.18% yield.
Industrial - Prologis with a $20.7 billion cap and 4.05% yield is a natural comp for this group.
Some Risk Factors To Consider
There was a difficult period during and after the Great Recession where Prologis had to shed about $8 billion of assets. The PLD dividend was cut from $2.00 per share in 2008, down to $1.56 per share in 2009. It was then cut to $1.12 per share in 2010 and remained at that same level all the way through 2013.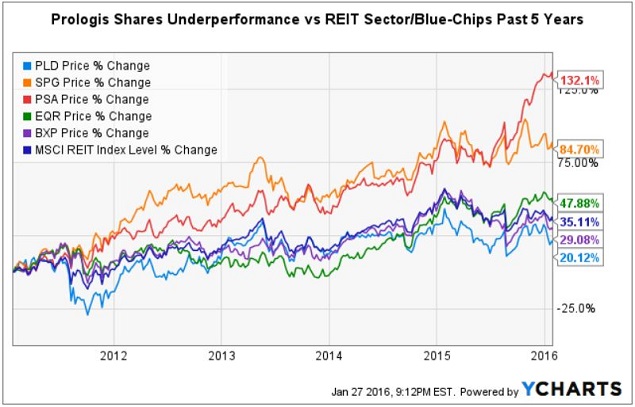 However, the industrial supply/demand fundamentals going into 2016 are pretty close to equilibrium in most markets. Occupancy is high, rents are rising, and demand remains strong.
This is a far cry from the gargantuan amount of speculative development underway when "the music stopped" due to the global financial crisis in 2008. So this is one risk factor which can be eliminated from consideration.
FFO "Quality" Concerns
Management has worked diligently to get the company repositioned and back on track with a more conservative balance sheet and a growing dividend.
However, Prologis derives some of its core FFO from development activities and Strategic Capital (JV) performance fees known as "promotes." Based upon the $2.55 midpoint given for 2016 core FFO guidance, about 7% of core FFO will come from promotes in 2016. This is based upon the $0.17-0.19 per share range for 2016 promotes discussed on the call.
Management discussed that $0.05-0.06 per share of promotes would be a "normal run rate" for Prologis. This average range would take into account the lean years from 2009 to 2011 that tend to balance out the current rosy picture for 2016 and beyond.
If the global economy were to slow, Prologis's development activity will eventually taper off compared to the current "robust" pipeline.
Q4 2015 Earnings Call - Big Picture
Prologis CEO Hamid Moghadam's prepared remarks were full of superlatives on the Q4 2015 earnings call:
"At Prologis, 2015 was a banner year. Business remained exceptionally strong in the fourth quarter, wrapping up a year that exceeded expectations in virtually all aspects of the business. Broad-based demand and restrained supply are creating favorable conditions around the world. Focusing on the top global and regional markets has helped us outperform the broader market."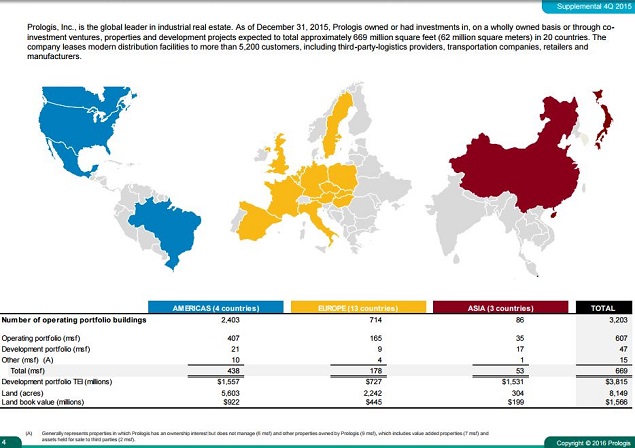 Source: PLD - 4Q'15 Earnings Supplemental (for all non-attributed slides)
"Industrial real estate market conditions are healthy in most of the world, in spite of concerns about emerging market economies, including slower growth in China. In Europe, for example, where we've allocated significant capital over the last several years, value appreciation has been extremely robust."

"The best indicator for our business, however, is the health and outlook of our customers. Their space needs tell the story of global consumption. For many customers, that story is one of continued expansions."
During the call, Moghadam shared that Prologis is seeing broad-based demand from sectors such as food and beverage, automotive and electronics.
Prologis Q4 and FY 2015 Earnings Highlights
Prologis pretty much hit the cover off of the ball during Q4 2015.
FFO Growth - Core FFO increased 19% Y/Y to $2.23 per share.
Occupancy - A record 96.9% overall, with every region above 95%, and customer retention a hair below 86%.
Leasing - Over 166 million square feet of leases were signed during FY 2015.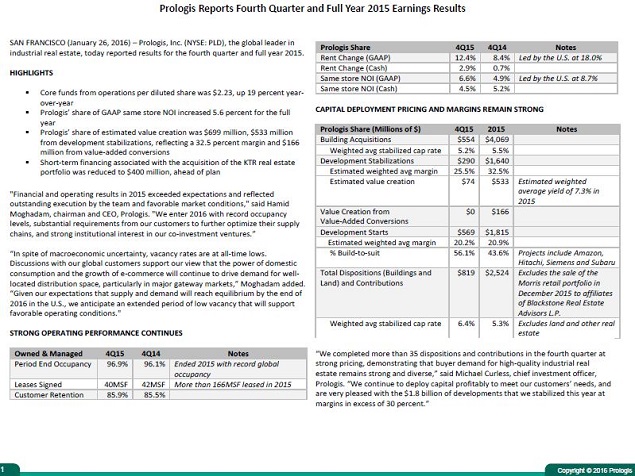 Source: PLD 4Q'15 Earnings Supplemental
Same-Store NOI - The red-hot U.S. industrial market generated re-leasing spreads of 18% with an overall portfolio GAAP rent increase of 12.4% for FY 2015. In tandem with the strong PLD portfolio occupancy, this led to ssNOI growth of 6.6% GAAP and 4.5% on a cash basis.
Prologis - Initial 2016 Guidance
The first number that leaps off the page is an expectation to grow core FFO 14% Y/Y.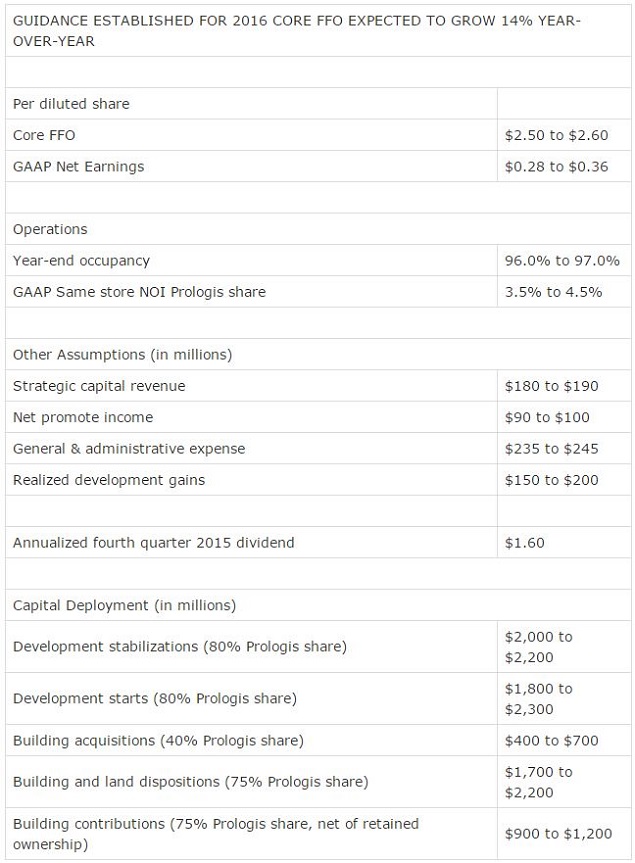 Source: PLD - 4Q'15 Earnings Release
Notably, this growth is on top of the banner year in 2015 where Prologis grew core FFO by over 19% vs. strong 2014 results.
Prologis - Markets Update
There are two Texas markets that are on Moghadam's watch list; Houston, where demand is expected to shrink due to the prices of oil and gas, and Dallas, where there is significant supply being developed. Additionally, Moghadam voiced concerns regarding a potential asset bubble in the SF Bay Area for R&D and flex space.
The Chicago market is still growing while the large distribution markets in California continue to be very strong. In Europe, he said Spain has been a pleasant surprise while the UK continues to be a strong market. Moghadam described the Paris market as being soft. He explained that it had more to do with weak demand since the terrorist attacks last quarter rather than any oversupply of space.
Prologis has weekly meetings to review global markets. Overall, Moghadam has not seen any evidence from his customers of a slowdown. In fact, he pointed out that Europe has "opened with a bang," which could result in Prologis "exceeding plan" during 2016.
PLD - Q4 2015 Earnings Call Highlights
Development Risk: Essentially, PLD's new development is being self-funded. Even in an extreme case where development suddenly would go from $2 billion to zero, there would be minimal impact on the income statement, according to CFO Tom Olinger.
Build-To-Suits: Prologis has reached a milestone where BTS development is now over 50% for the first time in company history. During the past 12 months, there are 30 BTS projects which are actively under development. Management believes the record pipeline is a function of three things: land control, customer control and in-house PLD development expertise.
KTR Portfolio: The KTR portfolio has been delivering results which are better than planned. During 2016, Prologis will get the benefit of a full-year run-rate for the KTR U.S. assets. Olinger estimated an additional $25 million of earnings, or $0.05 per share, for FY 2016.
Balance Sheet: Olinger shared that based on current projections, PLD could be sitting at $400 million cash at Dec. 31, 2016. PLD is generating $1.5 billion of annualized EBITDA in excess of fixed charges, and has $25 billion of unencumbered institutional quality assets. He discussed during the Q&A that a rating agency upgrade from BBB+ to A might be a possibility moving forward.
Land Bank: The current land bank of ~$2 billion at book value is larger than necessary for ongoing operations. Moghadam estimated that $1 billion of land would be sufficient to support two to three years of development. However, the market value of the land is significantly higher than book value. While this is a "happy problem" to have, it also has the effect of slowing the rate of dispositions. Olinger estimated that the land bank might be reduced by ~$200 million by the end of 2016.
Forex: Over 90% of the company's 2016 forex exposure has already been hedged.
Dividend/AFFO Coverage: Management gave this color on the earnings call:
2015 AFFO Coverage: Including gains from development, a 69% coverage ratio; or 89% coverage just from operations.
2016 AFFO Coverage: Including gains from development, coverage was estimated to be 65%, with 75% coverage just from operations.
This assumes no increase in the forward annual distribution of $1.60 per share for 2016. Notably, the PLD quarterly dividend was increased 17.6% from 2013 to 2014, and 11% from 2014 to 2015. Most recently, in July 2015, Prologis announced another 11% Q/Q increase for the 3Q 2015 distribution, from $0.36 per share to $0.40 per share.
Given the significant growth in core FFO per share, and the recent dividend history, an increase in the distribution would be reasonable for shareholders to expect.
Bottom Line
The recent PLD close of $39.47 per share equates to a 15.45x 2016 core FFO guidance at the midpoint. Meanwhile, Prologis has been growing FFO per share in the mid-to-high double digits, including development activity and promotes.
On January 27, Oppenheimer reiterated its Outperform on PLD's shares and raised its target price from $50 to $51 per share. On the same day, Stifel reiterated its Buy rating on Prologis while reducing its PLD target price from $47 to $45 per share.
The more conservative Stifel view of Prologis's shares still equates to price appreciation of 14%, plus the current 4% yield for a projected total return of 18%.
Investor Takeaway
Prologis appears to be doing everything right and is clearly hitting on all cylinders. However, one caveat would be that PLD's shares can have more exposure to global economic headline risks than equity REITs that strictly own domestic assets.
Since last fall, when I recommended Prologis at $38.44 per share, there are more economic red flags flapping in the wind. While the global economic storm clouds have yet to rain on the Prologis parade, they could dampen investor appetites by 2H2016 if things don't improve.
In the event of a global equities "flash crash" similar to August 2015, there might be an opportunity to pick up PLD shares on a pullback closer to $36.00 per share. Patient investors looking for a greater margin of safety might prefer that strategy.
A REIT Blue-Chip Alternative
Frankly, I am more comfortable with growth prospects for data center stalwart Digital Realty (NYSE:DLR) for investors satisfied with a 4.28% yield. Digital has a 10-year track record of consecutive dividend growth and a BBB-rated balance sheet.
Digital also benefits from e-commerce, but is a more high-tech play. The exponential growth of wireless data, cloud computing and the Internet of Things are secular trends which can drive growth for Digital Realty in the face of all those waving red flags.
Here is a link to my recent article which explains why data centers are my top REIT sector pick for 2016.
Disclosure: I/we have no positions in any stocks mentioned, but may initiate a long position in DLR, PSA over the next 72 hours.
I wrote this article myself, and it expresses my own opinions. I am not receiving compensation for it (other than from Seeking Alpha). I have no business relationship with any company whose stock is mentioned in this article.