The year 2016 started off with a raging inferno of losses in equities. Partly, this is due to weak oil prices and the first interest rate hike by the Fed in nearly a decade. As one might suspect, stretch valuations in stocks were a prime target for the ripple effects of these market shocks.
The good news, however, seems to have been lost on many investors. First, energy prices are really low. I mean... really low. Second, interest rates are really low. Again, I mean... really low. Each of these things could continue to push up the demand for goods.
While prices may be low, what's high? Fear.
According to the people that track fear and greed on Wall Street, "Extreme Fear" was ruling the market for several weeks, driving down equities. One week ago, it was near the worst possible levels of fear.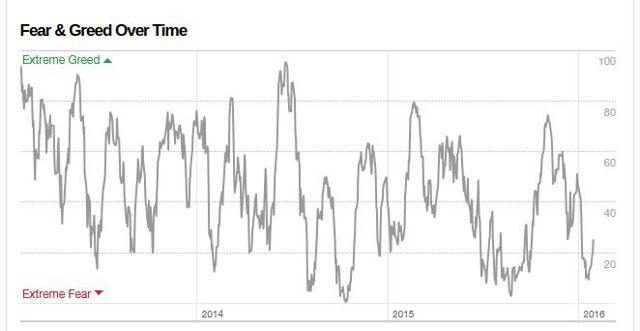 Click to enlarge
Image Source: CNN Money
This index tracks seven key indicators. They are Put and Call Options, Market Volatility, Stock Price Breadth, Junk Bond Demand, Market Momentum, Safe Haven Demand, and Stock Price Strength. As of Friday, five out of seven indicators were still indicating "Extreme Fear," but greed has returned to the options market and volatility is neutral.
Short-term traders may see this as an opportunity to take profits on short positions and get long some stock names. Financial stocks in particular may benefit if the Federal Reserve continues on the path of rate hikes in 2016. Bank of America's (NYSE:BAC) stock, trading below book value and at 8 times forward earnings, looks attractive. It's near the bottom of the 52-week range and also just received an upgrade from a well-known analyst.
Another option might be to buy the Financial Select Sector SPDR ETF (NYSEARCA:XLF), which is 16.1% off of the recent highs. The average price-to-book ratio for this index fund is about 1.29, indicating that these financial stocks are trading at some of the lowest historical levels on record. In fact, holdings like American International Group (NYSE:AIG) and Citigroup (NYSE:C) are trading at significant discounts to book value.
Disclosure: I/we have no positions in any stocks mentioned, and no plans to initiate any positions within the next 72 hours.
I wrote this article myself, and it expresses my own opinions. I am not receiving compensation for it (other than from Seeking Alpha). I have no business relationship with any company whose stock is mentioned in this article.